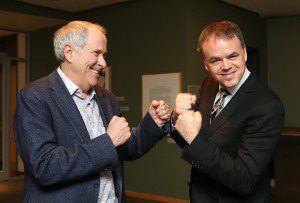 The Great Canadian Debates create a lively setting in which influential speakers can hash out some of the hottest topics Canada faces in front of a live audience.
The Debates returned for the 2015-16 season with a debate in Toronto on terrorism and two debates in Ottawa on Syrian refugees and Canada's Supreme Court.
The 2016-17 schedule featured:
Past debates saw high profile newspaper columnists, professors, economists and others to debate topics such as the civil service's right to strike, Muslim immigration to the West, free speech at Canadian universities and whether America should welcome Canada's oil.
Previous debaters include Postmedia columnist Andrew Coyne, former Liberal leader Stéphane Dion, economist William Watson, former Stephen Harper adviser Tom Flanagan, columnist and author David Frum, Globe and Mail journalist Jeffrey Simpson, former Alberta energy minister Ted Morton and former Liberal cabinet minister Sheila Copps.
The Debates often spill over into the editorial pages as well, with the Ottawa Citizen and iPolitics frequently publishing opinion pieces by each of the debaters.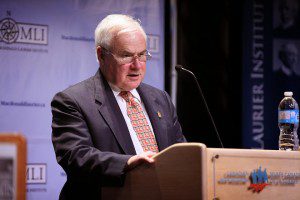 The Hon. Peter Milliken, who served as speaker of the House of Commons until 2011, has in the past served as the Debates' moderator.
***
For more information on sponsorship opportunities, click here.
2016-17
June 6, 2017: Resolved: The government must act to save journalism in Canada, featuring Andrew Coyne (opposed) and John Honderich (in favour)
May 2, 2017: Resolved: Our broken health care system is infringing the rights of Canadians, featuring Ujjal Dosanjh (opposed) and Dr. Brian Day (in favour)
March 28, 2017:  Resolved: Canadian history is nothing to be ashamed of, featuring Noah Richler (opposed) and Jack Granatstein (in favour)
Oct. 25, 2016: Resolved: Canada must stop coddling its spoiled seniors, featuring Susan Eng (opposed) and Margaret Wente (in favour)
2015-16
May 31, 2016: Resolved: Canada's Supreme Court has usurped the proper role of Parliament, featuring Irwin Cotler (opposed) and Conrad Black (in favour)
May 2, 2016: Resolved: Mass resettlement to Canada is the best thing for the country, and the best thing for Syrian refugees, featuring Elizabeth May (opposed) and David Frum (in favour)
April 18, 2016: Resolved: The terrorist threat to Canada has been exaggerated, featuring Chris Alexander (opposed) and Jonathan Kay (in favour)
Nov. 19, 2015: Resolved: Canada's Senate is beyond saving and must be abolished, featuring Stanley Hartt (opposed) and Tasha Kheiriddin (in favour)
2014-2015
May 26, 2015: Resolved: Canada's democracy is in crisis, featuring John Pepall (opposed) and Andrew Coyne (in favour)
April 29, 2015: Resolved: Too many Canadian kids are going to university, featuring Lloyd Axworthy (opposed) and Ken Coates (in favour)
March 31, 2015: Resolved: Canadians should stop worrying about income inequality, featuring Chrystia Freeland (opposed) and F.H. Buckley (in favour)
2013-2014
March 27, 2014: Resolved: Free speech in Canadian universities is an endangered species, featuring Daniel Drache (opposed) and Barbara Kay (in fa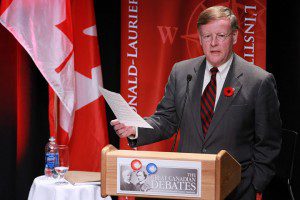 vour)
Feb. 20, 2014: Resolved: Muslim immigration is no threat to Canada or the West, featuring Salim Mansur (opposed) and Doug Saunders (in favour)
Nov. 26, 2013: Resolved: The right to strike has no place in the public sector, featuring Jim Stanford (opposed) and Tom Flanagan (in favour)
Oct. 24:, 2013: Resolved: President Obama should accept Canada's ethical oil, featuring Andrew Nikiforuk (opposed) and Ted Morton (in favour)
2012-2013
June 20, 2013: Resolved: The government of Quebec can decide unilaterally on secession from Canada, featuring Stéphane Dion (opposed) and Daniel Turp (in favour)
May 9, 2013: Resolved: Wealth has too much power in Canada, featuring William Watson (opposed) and Armine Yalnizyan (in favour)
March 21, 2013: Resolved: The Liberal party has no future in Canadian politics, featuring John Duffy (opposed) and Michael Bliss (in favour)
Nov. 7, 2012: Resolved: The War of 1812 has been over-hyped, featuring Jack Granatstein (opposed) and Jeffrey Simpson (in favour)
Oct. 4, 2012: Resolved: Canada no longer needs the CBC, featuring Mark Starowicz  (opposed) and Andrew Coyne (in favour)
History wars (2011-2012)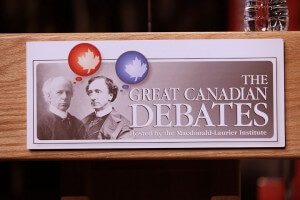 May 10, 2012: Resolved: Power corrupts Canadian prime ministers, featuring Sheila Copps and Andrew Coyne
March 14, 2012: Resolved: Monarchy is a dangerous anachronism, featuring Michael Bliss and John Fraser
Nov. 11, 2011: Resolved: After Afghanistan the Canadian Forces should keep the peace rather than wage war, featuring Michael Byers and J.L. Granatstein
Sep. 27, 2011: Resolved: Pierre Trudeau: Canada's most disastrous Prime Minister, featuring David Frum and Lawrence Martin