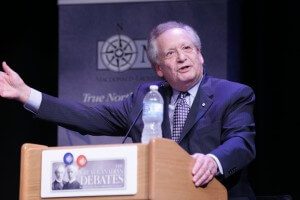 The Senate: An anachronistic body that shields itself at every turn from the will of the people, or an institution that has repeatedly played an important role in making Canada a well-governed nation?
Tasha Kheiriddin and Stanley Hartt hashed out those views in the first Great Canadian Debate of 2015-16 on Thursday, Nov. 19 at the Canadian War Museum in Ottawa.
Kheiriddin, a commentator on public policy, argued in favour of the motion "Canada's Senate is beyond saving and must be abolished". Hartt, a lawyer and former chief of staff to prime minister Brian Mulroney, argued against.
For a recap of the debate from the MLI Twitter account, click here.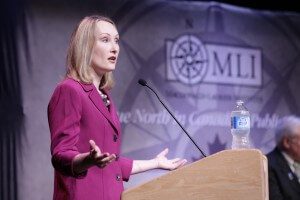 The two debaters also authored op-eds in the National Post.
Hartt argued that the Senate cannot be abolished. Therefore, it must be saved.
Kheiriddin made the case that the time for fine-tuning Canada's senate is long past – it needs wholsesale pruning.
This was the latest event in the Great Canadian Debates, an ongoing series organized by the Macdonald-Laurier Institute.
CPAC will be airing the debate in its entirety on Saturday, Nov. 21 at 9 a.m. and again at 7 p.m., then again on Sunday, Nov. 22 at 5:30 p.m.
GCD #1 2015-16: Canada's Senate is beyond saving and must be abolished
Getting underway at the Great Canadian Debate on the Senate #GCD2015 pic.twitter.com/5VBEWNBLoJ

— Macdonald-Laurier (@MLInstitute) November 20, 2015
Those who agree with the motion Canada's Senate is beyond saving and must be abolished #GCD2015 pic.twitter.com/iyq8nKpL7Z

— Macdonald-Laurier (@MLInstitute) November 20, 2015
Those who disagree with the motion Canada's Senate is beyond saving and must be abolished #GCD2015 pic.twitter.com/SIf2YePLK5 — Macdonald-Laurier (@MLInstitute) November 20, 2015
.@TashaKheiriddin begins her opening remarks pic.twitter.com/ZBgtONnEHi — Macdonald-Laurier (@MLInstitute) November 20, 2015
Amending the appointment process will not save the Senate, says @TashaKheiriddin #GCD2015 — Macdonald-Laurier (@MLInstitute) November 20, 2015
The problem with the Senate is there is no easy way to get rid of Senators who behave badly: @TashaKheiriddin #GCD2015 — Macdonald-Laurier (@MLInstitute) November 20, 2015
Canadians also get poor value for money from what they spend on the Senate, says @TashaKheiriddin #GCD2015 — Macdonald-Laurier (@MLInstitute) November 20, 2015
The notion that we should preserve the Senate because getting rid of it would be difficult is nonsense: @TashaKheiriddin #GCD2015 — Macdonald-Laurier (@MLInstitute) November 20, 2015
If the Liberals are going to pursue electoral reform, @TashaKheiriddin says why not fix the Senate at the same time? #GCD2015

— Macdonald-Laurier (@MLInstitute) November 20, 2015
Stanley Hartt begins his opening remarks! pic.twitter.com/xKAQps3hmd

— Macdonald-Laurier (@MLInstitute) November 20, 2015
Stanley Hartt says it is "a thankless task" to defend the Senate given the actions of individual Senators #GCD2015 — Macdonald-Laurier (@MLInstitute) November 20, 2015
"My thesis is simple: The Senate cannot be abolished and therefore must be saved", says Stanley Hartt #GCD2015 — Macdonald-Laurier (@MLInstitute) November 20, 2015
.@TashaKheiriddin is wrong to think it would be possible to reform the Senate, says Hartt. Doesn't she remember Meech Lake? #GCD2015 — Macdonald-Laurier (@MLInstitute) November 20, 2015
"Yes, there have been some bad apples in the Senate", says Hartt, but that's no reason to get rid of the whole apparatus #GCD2015 — Macdonald-Laurier (@MLInstitute) November 20, 2015
Hartt: We very well may end up with a worse body once the Senate is "reformed" #GCD2015 — Macdonald-Laurier (@MLInstitute) November 20, 2015
.@TashaKheiriddin begins her rebuttal: No matter how well-intentioned appointees to the Senate are, they will be partisan #GCD2015 — Macdonald-Laurier (@MLInstitute) November 20, 2015
"Let's grow up as a democracy" and get rid of the Senate: @TashaKheiriddin #GCD2015

— Macdonald-Laurier (@MLInstitute) November 20, 2015
Stanley Hartt begins his rebuttal: They have a good appointment system in the United Kingdom, he says #GCD2015

— Macdonald-Laurier (@MLInstitute) November 20, 2015
Time for questions! #GCD2015 pic.twitter.com/Uvev8EHhZD — Macdonald-Laurier (@MLInstitute) November 20, 2015
On to the concluding statements! #GCD2015 — Macdonald-Laurier (@MLInstitute) November 20, 2015
If we do not abolish the Senate, we will continually be asking ourselves "Can we do better?": @TashaKheiriddin #GCD2015 — Macdonald-Laurier (@MLInstitute) November 20, 2015
Stanley Hartt's closing remarks: @TashaKheiriddin has not established that the Senate even CAN be abolished #GCD2015 — Macdonald-Laurier (@MLInstitute) November 20, 2015
Those who side with @TashaKheiriddin: the Senate must be abolished #GCD2015 pic.twitter.com/NzJUhI7X9b — Macdonald-Laurier (@MLInstitute) November 20, 2015
Those who, like Stanley Hartt, oppose the motion #GCD2015 pic.twitter.com/CobnRdG6N8 — Macdonald-Laurier (@MLInstitute) November 20, 2015
And that's a wrap! Thanks for attending (and following along) #GCD2015 pic.twitter.com/sUpguAyRmv

— Macdonald-Laurier (@MLInstitute) November 20, 2015