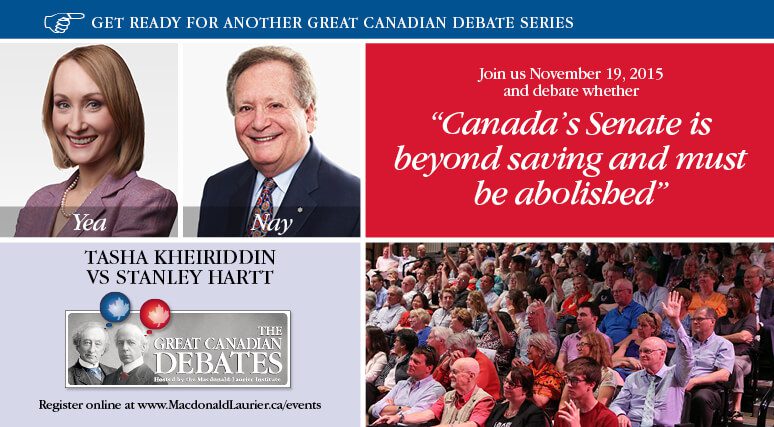 The Macdonald-Laurier Institute's series returns on Nov. 19 with a look at the future of Canada's Upper Chamber
OTTAWA, November, 16, 2015 – Is the Senate an ineffective, expensive and undemocratic institution? Or are we overlooking the important work our Upper Chamber performs for our democracy?
Tasha Kheiriddin will face off against Stanley Hartt over the future of Canada's Senate in the first event on the 2015-16 Great Canadian Debates schedule, taking place on Thursday, November 19 at the Canadian War Museum in Ottawa.
The two will take opposing sides on the motion: Canada's Senate is beyond saving and must be abolished.
Kheiriddin, an expert on public policy and regular commentator in the news media, will argue in favour. Hartt, a lawyer and former chief of staff to prime minister Brian Mulroney, will argue against.
The event will be moderated by Peter Milliken, former speaker of the House of Commons.
Where: The Canadian War Museum in Ottawa

When: Nov. 19, 2015 at 7 p.m.

What: The first entry in the Macdonald-Laurier Institute's 2015-16 Great Canadian Debates schedule

Who: Tasha Kheiriddin and Stanley Hartt
For tickets, click here.
***
The Great Canadian Debates, organized annually by the Macdonald-Laurier Institute, create a lively setting in which influential speakers can hash out some of the hottest topics Canada faces in front of a live audience.
The Macdonald-Laurier Institute is the only non-partisan, independent national public policy think tank in Ottawa focusing on the full range of issues that fall under the jurisdiction of the federal government. Join us in 2015 as we celebrate our 5th anniversary.
If you are a reporter interested in covering the debates, please contact Mark Brownlee, communications manager, at 613-482-8327 x105 or email at mark.brownlee@macdonaldlaurier.ca.