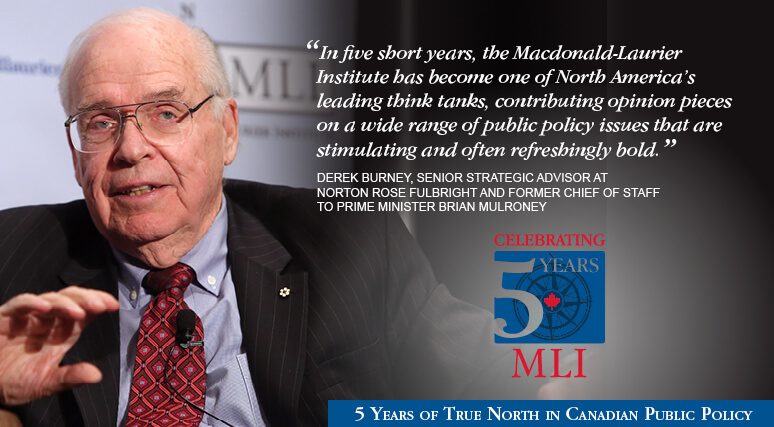 Stimulating and often refreshingly bold.
That's how Derek Burney, a former chief of staff to Prime Minister Brian Mulroney, describes the Macdonald-Laurier Institute contributions to thought leadership as it marks its fifth anniversary.
"In five short years, the Macdonald-Laurier Institute has become one of North America's leading think tanks, contributing opinion pieces on a wide range of public policy issues that are stimulating and often refreshingly bold", says Burney, currently a Senior Strategic Advisor at Norton Rose Fulbright.
"They not only challenge conventional wisdom but offer innovative and compelling prescriptions on how Canada's national interest could be better served. Bravo".
Burney was instrumental in the 1980s in helping to negotiate the Canada-U.S. free trade agreement – a topic he discussed at an MLI event in 2014.
Throughout 2015, MLI is marking five years of true north in Canadian public policy by celebrating its unique contributions to thought leadership in Canada.
This includes our work on fixing Canadian health care, unmasking the true impact of "social licence" claims over natural resource projects, explaining why balanced budgets matter and our work on Aboriginal prosperity.
Several other influential Canadians have also passed along their congratulations. This includes international trade expert Lawrence Herman, economist William Watson and historian Jack Granatstein.
For all of the details of MLI's celebrations, check out our fifth anniversary page.