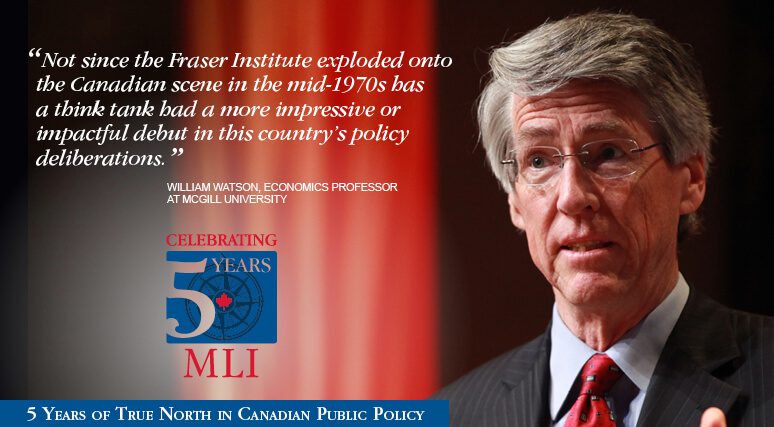 McGill University economist William Watson has chimed in with words of praise for the Macdonald-Laurier Institute's fifth anniversary celebrations.
"At the age of 5, Mozart composed his first minuet. At 5, John Stuart Mill already spoke Greek. The MLI hasn't been quite that precocious but not since the Fraser Institute exploded onto the Canadian scene in the mid-1970s has a think tank had a more impressive or impactful debut in this country's policy deliberations", says Watson.
Watson is a past participant in the Great Canadian Debates, MLI's series of debates about matters important to Canada. In May 2013, he argued against the motion "wealth has too much power in Canada".
He also penned an item for "Canada's Looming Fiscal Squeeze: Collected essays on solutions", an MLI essay collection looking at how the federal government can offset a decrease in revenue brought on by a large swath of the population retiring.
Throughout 2015, MLI is marking five years of true north in Canadian public policy by celebrating its unique contributions to thought leadership in Canada.
This includes our work on fixing Canadian health care, unmasking the true impact of "social licence" claims over natural resource projects, explaining why balanced budgets matter and our work on Aboriginal prosperity.
Several other influential Canadians have also passed along their congratulations. This includes historian Jack Granatstein, political strategist Tom Axworthy and Canadian Council of Chief Executives' President and CEO John Manley.
For all of the details of MLI's celebrations, check out our fifth anniversary page.