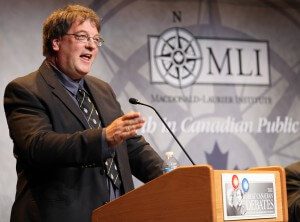 Ken Coates and Lloyd Axworthy squared off over the value of a university degree in the second Great Canadian Debate of 2015, held April 29, 2015 at the Canadian War Museum in Ottawa.
Macdonald-Laurier Institute Senior Fellow Coates argued in favour of the motion "Too many Canadian kids are going to university". Axworthy, the President of the University of Winnipeg, argued against.
Peter Milliken, the former speaker of the House of Commons, moderated the debate.
For a review of the contents of the debate, click here.
To watch CPAC's video of the debate, click here.
The two debaters authored op-eds in the National Post explaining their positions.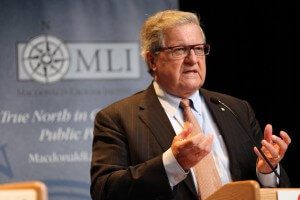 Axworthy argued in his op-ed that all Canadians should have the opportunity to go to university.
"We should be affirming the right and need for Canada to offer opportunity and access to any of its citizens to have the choice to attend university", Axworthy writes.
Coates made the case that Canada's post-secondary education system is pushing too many kids who don't have the necessary skills towards university education.
"We do have too many students or, more accurately, too many of the wrong students, in our universities at present", Coates writes.
The next debate will take place on May 26, when Postmedia columnist Andrew Coyne and author John Pepall will debate whether Canada's democracy is in crisis.
CPAC aired the full debate on Friday, May 1. The video is also available on CPAC's website.
Great Canadian Debate #2: Are too many Canadian kids going to university?
.@brianleecrowley introduces the debaters: @kenscoates and Lloyd Axworthy pic.twitter.com/sPWd7DGPcx

— Macdonald-Laurier (@MLInstitute) April 29, 2015
Former HoC speaker Peter Milliken gets the debate started #GCD2015 pic.twitter.com/TcKBYMj9bS — Macdonald-Laurier (@MLInstitute) April 29, 2015
Those in the crowd who are opposed to the motion "Too many Canadian kids are going to university" #GCD2015 pic.twitter.com/FvVrnAdqRm

— Macdonald-Laurier (@MLInstitute) April 29, 2015
Those in favour of the motion #GCD2015 pic.twitter.com/jgQuZbPpgS — Macdonald-Laurier (@MLInstitute) April 29, 2015
.@kenscoates delivers his opening remarks in support of the motion #GCD2015 pic.twitter.com/c6lygNOrAm

— Macdonald-Laurier (@MLInstitute) April 29, 2015
.@kenscoates says he shares with Lloyd Axworthy a view on the value of a university education and the need to attract those with low-incomes — Macdonald-Laurier (@MLInstitute) April 29, 2015
However, he says, the university system risks being watered down by taking on students who aren't prepared #GCD2015

— Macdonald-Laurier (@MLInstitute) April 29, 2015
.@kenscoates says we have a "specialist economy" that privileges particular skills, such as those learned at polytechnics and colleges — Macdonald-Laurier (@MLInstitute) April 29, 2015
"We can't look back and say it worked back then and therefore it will work going forward": @kenscoates on employability of arts grads

— Macdonald-Laurier (@MLInstitute) April 29, 2015
Young people should take a view of the whole system and not focus too much on the university system: @kenscoates #GCD2015 — Macdonald-Laurier (@MLInstitute) April 29, 2015
.@kenscoates says university grads are getting jobs but they are often lower-quality #GCD2015

— Macdonald-Laurier (@MLInstitute) April 29, 2015
.@kenscoates questions the value of a university degree: are they providing critical thinking skills? He's skeptical. — Macdonald-Laurier (@MLInstitute) April 29, 2015
Universities are bringing in too many Canadian kids who have a large chance of failure: @kenscoates #GCD2015

— Macdonald-Laurier (@MLInstitute) April 29, 2015
Bringing in weaker students who don't do readings or assignments makes it difficult for professors to teach, Coates says #GCD2015 — Macdonald-Laurier (@MLInstitute) April 29, 2015
"We have to make sure we protect the quality and integrity of a university degree": @kenscoates #GCD2015

— Macdonald-Laurier (@MLInstitute) April 29, 2015
.@kenscoates says we should do away with the notion that only smart people go to universities. They also go to colleges, polytechnics — Macdonald-Laurier (@MLInstitute) April 29, 2015
"We need a student population that is curious and fascinated with the world": @kenscoates wraps up his opening remarks #GCD2015

— Macdonald-Laurier (@MLInstitute) April 29, 2015
Lloyd Axworthy begins his opening remarks #GCD2015 pic.twitter.com/CeNpZ4ieKQ — Macdonald-Laurier (@MLInstitute) April 29, 2015
Axworthy says we've neglected a serious discussion about post-secondary education for too long #GCD2015 #cdnpse

— Macdonald-Laurier (@MLInstitute) April 29, 2015
Axworthy says we have to be very careful before we dismiss the current system of post-secondary education #GCD2015 — Macdonald-Laurier (@MLInstitute) April 29, 2015
"What we should be doing is substantially growing" the reach of higher education: Axworthy #GCD2015

— Macdonald-Laurier (@MLInstitute) April 29, 2015
There are an increasingly large number of Canadians who don't get to post-secondary education or even through high school: Axworthy #GCD2015 — Macdonald-Laurier (@MLInstitute) April 29, 2015
He warns that "playing around with the system" could cut off access. Calls Coates' advocacy for a 30 per cent drop in enrolment "scary"

— Macdonald-Laurier (@MLInstitute) April 29, 2015
"They're going to get better for a privileged elite in this country": Axworthy on cutting enrolment at universities #GCD2015 — Macdonald-Laurier (@MLInstitute) April 29, 2015
Axworthy worries about access for underprivileged Canadians – those who don't get to go to summer camps, etc. #GCD2015

— Macdonald-Laurier (@MLInstitute) April 29, 2015
Axworthy calls Coates' argument that some university students aren't hard-working "absolutely wrong" #GCD2015 — Macdonald-Laurier (@MLInstitute) April 29, 2015
.@kenscoates begins his rebuttal to @lloydaxworthy: Profs should not be doing remedial teaching to students #GCD2015

— Macdonald-Laurier (@MLInstitute) April 29, 2015
.@kenscoates agrees with @lloydaxworthy that university system should be creating more money for low-income Canadians to access university — Macdonald-Laurier (@MLInstitute) April 29, 2015
.@kenscoates says the tax system is creating too many breaks for high-income Canadians sending their kids to university

— Macdonald-Laurier (@MLInstitute) April 29, 2015
.@lloydaxworthy begins his rebuttal: A high drop-out rate is not just a symptom of lazy students #GCD2015 — Macdonald-Laurier (@MLInstitute) April 29, 2015
.@lloydaxworthy cites language skills, difficulties for single mothers as examples of why students drop out #GCD2015

— Macdonald-Laurier (@MLInstitute) April 29, 2015
Part of the problem with post-secondary education, says @lloydaxworthy, is that universities don't have enough autonomy #GCD2015 — Macdonald-Laurier (@MLInstitute) April 30, 2015
Now for questions from the audience #GCD2015 pic.twitter.com/eYtEGuNzzd

— Macdonald-Laurier (@MLInstitute) April 30, 2015
"It shouldn't be a competition between college and university. They should be working together": @lloydaxworthy #GCD2015 — Macdonald-Laurier (@MLInstitute) April 30, 2015
.@lloydaxworthy points out that there are few tax incentives for businesses to hire recent grads #GCD2015

— Macdonald-Laurier (@MLInstitute) April 30, 2015
.@kenscoates' concluding remarks: Thinking that everyone can go to university undermines the experience of post-secondary education — Macdonald-Laurier (@MLInstitute) April 30, 2015
.@kenscoates: Students are becoming progressively less engaged at universities

— Macdonald-Laurier (@MLInstitute) April 30, 2015
Let's limit admission to those students who have a really good chance of succeeding: @kenscoates #GCD2015 — Macdonald-Laurier (@MLInstitute) April 30, 2015
.@lloydaxworthy says critics of universities are looking at where they've been – not where they're going #GCD2015

— Macdonald-Laurier (@MLInstitute) April 30, 2015
Limiting enrolment gives privileges to those who are already well-off, says @lloydaxworthy #GCD2015 — Macdonald-Laurier (@MLInstitute) April 30, 2015
And that's a wrap. Thanks to everyone for coming out! #GCD2015 pic.twitter.com/2kQLxUTkAx

— Macdonald-Laurier (@MLInstitute) April 30, 2015