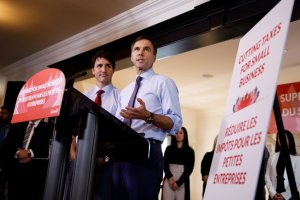 Rather than a "high-tax, high-transfer agenda," governments should focus instead on expanding work and opportunity for all Canadians, write Brian Lee Crowley and Sean Speer.
By Brian Lee Crowley and Sean Speer, October 3, 2018
A series of MLI studies, commentaries, op-eds, speeches, and presentations have long warned about the limits of an over-emphasis on income redistribution and an inattention to economic growth and opportunity. The principal insight of this body of work is to highlight both the economic harms of high taxation and the deleterious effects of government dependency.
This preoccupation is entirely compatible with being in favour of progressive policy reform and responding to legitimate public concerns about economic dislocation or the "fairness" of public spending and policies that unduly favour certain companies, sectors, or individuals over others. Indeed we favour such policy reforms, when done right.
There are nascent concerns in Canada that policy-makers must be cognizant of. Forty percent of Canadians are concerned about losing their jobs to automation and other technological innovation. A late 2017 poll found that more than one-third think they're doing worse compared to those 25 years ago and nearly 60 percent expect their circumstances will only worsen. And a poll conducted during the 2018 Ontario election showed that nearly three-quarters believe that the economy is "rigged" to the advantage to wealthy citizens and large firms. It's irresponsible for policy-makers to neglect these sentiments.
This is especially so since, as MLI scholarship has shown, headlines about Canada's low unemployment rate overstate the real state of the economy and opportunity therein. The utility of the unemployment rate is diminished by our aging population and longer school duration and, as a result, can cause us to overlook regional, demographic, and other challenges. Measuring the employment rate for workers in their prime years between the ages of 25 and 54 provides a better sense of our economic performance and access to broad-based opportunity. The current employment rate for this cohort signals the risk of stagnation and the potential for economic unrest.
MLI has thus been active in thinking and writing about these issues as part of what we've come to call our Real Jobs for Real People project. We've published commentaries and papers on the role for targeted programming to help low-income families and support workers affected by industry dislocation. We've also written about the case for expanding the Working Income Tax Benefit (now Canada Workers Benefit) to help the working poor scale the "welfare wall" and take on more employment hours or accept a new job without being financially penalized. And we've produced various reports and op-eds in favour of putting an end to crony capitalism and replacing it with a more neutral economic policy framework that supports competition, entrepreneurship, and business formation across the economy.
The key is to place an emphasis on enabling the conditions for growth, work and opportunity. We've started from the premise that government has an essential role to play in rewarding entrepreneurship and innovation, encouraging investment and job creation, and ultimately in promoting and celebrating the dignity of all work.
The key is to place an emphasis on enabling the conditions for growth, work and opportunity.
Our newest paper, A Work and Opportunity Agenda for Canada, builds on these key themes at a time when policy-makers seem instead to emphasize equity over growth, fairness over dynamism, and unconditional transfers over paid work.
The paper critiques what we call the a "high-tax, high-transfer agenda" and instead sets out an alternative agenda focused on expanding work and opportunity for all Canadians. A "work and opportunity agenda" isn't merely a slogan or a branding exercise. It challenges the basic assumptions of the current emphasis on raising taxes on high-income earners and spreading the proceeds to those farther down the income scale in the form of large, unconditional cash transfers. This approach, we argue, is not just economically harmful, but it also misunderstands and poorly serves the people it's ostensibly aiming to help.
As an alternative, our "work and opportunity agenda" is chiefly about creating the conditions for a dynamic, growing economy and giving people the tools to participate in it. Basically our overarching goal is two-fold: (1) bolster economic growth and (2) empower Canadians – including underrepresented groups (such as Indigenous Canadians and persons with disabilities) and working-class people – to find and keep paid work.
Such an agenda starts first and foremost by learning the lessons from Canada's "redemptive decade" in the 1990s when the federal and provincial governments enacted sweeping economic and fiscal reforms to reduce the size and scope of government, extract fewer resources from the market economy, and in turn enable businesses, investors, and workers to save and invest more and ultimately generate new economic activity.
The "redemptive decade" should be understood as a time when policy-makers understood the need to shift the focus from high taxation and redistribution (including public employment) to fiscal discipline, de-regulation, investment, and growth. It's a formula that gave Canada world-leading economic growth, investment, and job creation as well as significant reductions in poverty. Present-day policy-makers would be wise to relearn these lessons. A pro-growth, macro-policy framework is an essential ingredient for work and opportunity.
In addition, we set out seven more targeted policy areas to bolster a work and opportunity agenda for Canada:
Improve Indigenous education and social services;
Support resource development;
Strengthen Canada's intellectual property regime;
Support affordable and responsible home ownership;
Favour pro-work labour policies;
Open up internal trade; and
Eliminate intergovernmental overlap and duplication.
These areas for reform are based on MLI's inventory of analysis and prescriptions to expand broad-based access to work and opportunity. They draw on the work of MLI scholars including Ken Coates, Dwight Newman, Blaine Favel, Richard Owens, Jane Londerville, Philip Cross, and various others with different backgrounds, perspectives, and expertise. These are issues and topics that ought to transcend partisanship and ideology.
We're cautiously optimistic that we're seeing early signs of progress on the broad contours of our "work and opportunity agenda" from both the federal and provincial governments. The Trudeau government has recently agreed to strengthen our IP regime as part of the new US-Mexico-Canada Agreement (USMCA). The Ford government has committed to reforming Ontario's income support programs to better promote work. The Pallister government in Manitoba has signaled new ambitions on interprovincial trade. And the Council of the Federation has talked about rationalizing intergovernmental activities and functions. These developments could no doubt be implemented faster and bigger but they're at least steps in the right direction.
It's perhaps a sign that people are starting to realize we've reached the limits of a "high-tax, high-transfer agenda." This would be good news. Growth, work and opportunity are what Canada needs.
 Brian Lee Crowley is Managing Director and Sean Speer is a Munk Senior Fellow at the Macdonald-Laurier Institute. They are authors of the MLI study, A Work and Opportunity Agenda for Canada.
(Image credit: PMO)