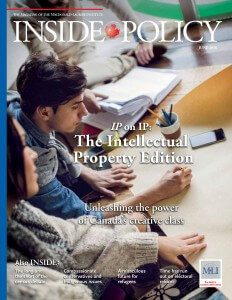 If the Trudeau government's Innovation Agenda is to "build a more innovative country," it will need to do more than simply direct taxpayer resources to certain companies or sectors. It must create the conditions for innovation, argue Sean Speer and Michael Robichaud.
By Sean Speer and Michael Robichaud, June 13, 2016
Innovation is the new byword in Ottawa these days. The prime minister's recent public tutorial on quantum computing has received millions of views online. The minister of industry (now titled the minister of innovation, science and economic development) is tasked with developing a new "Innovation Agenda." Variations of "innovation" appear 106 times in March's federal budget. And there are even calls for the government to "innovate the way we innovate." It is no wonder, therefore, that The Economist has written that our "geeky prime minister wants to make the country more inventive."
The big question, of course, is: what does this all mean for government policy? It is still too early to say. The minister's mandate letter provides little insight besides the usual smattering of "strategic investments" in different sectors and export-oriented companies. The budget talks about a "bold new plan" but most of the ideas are recycled "investments" in the same sectors and organizations that typically receive federal funding. Neither document leaves much reason to believe that the new "Innovation Agenda" will differ significantly from the "Science, Technology and Innovation Strategy," or the "Science and Technology Strategy," or whatever came before it.
The point is that the Trudeau government is far from the first to experiment with different policies to help entrepreneurs and established firms to scale their businesses and invest in research and development. The record is subpar. And the risk, then, is that the "Innovation Agenda" takes the form of direct and indirect public subsidies to certain companies or sectors with minimal progress in meeting the goal of making the country more inventive.
The Trudeau government is far from the first to experiment with different policies to help entrepreneurs
Consider tax credits for Labour-Sponsored Venture Capital Corporations (LSVCCs), for instance. Several Canadian governments have provided tax incentives for these corporations with Ottawa's tax credit costing $140 million in 2011 at the federal level alone. Yet the evidence shows this has been a poor public investment. LSVCCs tend to have higher rates of un-invested capital (that is, they invest less than the amount of venture capital they raise) and have produced poorer rates of return than other venture capital funds. Government tax incentives have had the result of distorting the relationship between investment and returns and led investors to put capital into LSVCCs in spite of their weaknesses. This has displaced more effective venture capital funds and reduced the capital available to Canadian entrepreneurs. And still the Trudeau government has reversed its predecessor's decision to eliminate the federal tax credit.
It is not just failed tax credits that Ottawa is planning to revive. The budget also announced more funding for regional economic development schemes and new "frameworks" for clusters, accelerators, and incubators. But these ideas are hardly new. Ottawa has dedicated considerable financial resources to regional economic development and business innovation for several years. The outcomes have been underwhelming.
In their 2003 study, Brooking No Favorites, economists Jack Mintz and Michael Smart reviewed the Atlantic Canada Opportunities Agency's spending between 1988 and 2000 and found a disproportionate share (on average 40 percent higher) was directed to recipients located in government-held ridings suggesting that politics can skew financing decisions. In 2013, in his paper Corporate Welfare at Industry Canada since John Diefenbaker, policy researcher Mark Milke evaluated federal business subsidies from the department of industry over a 50-year period and found documented cases of dubious government financing to hot dog firms, ice cream shops, pizza restaurants, and gas bars and convenience stores. These findings are unfortunately consistent with a broader body of research.1
Poor outcomes should not be unexpected. Government possesses no informational or technological advantage over private financiers. It is also prone to political impulses – not market ones – dictating financing decisions. The consequence is the government selects "winners" and "losers" with limited investment experience or expertise and partly through a non-economic lens. There is nothing "geeky" about throwing good public monies after bad.
Government possesses no informational or technological advantage over private financiers.
The key takeaway, then, is, if the Trudeau government's Innovation Agenda is to "build a more innovative country" (as the budget puts it), it will need to do more than simply direct taxpayer resources to certain companies or sectors. It must create the conditions for innovation, no matter how big or small, or whether a firm is "high-growth" or politically connected. The central point about innovation is that it involves a new product, technology, or process that we do not yet know about and probably could not have conceived of. We need an Innovation Agenda that creates an environment where such an idea can be financed, developed, brought to market, and earn a return on the initial investment.
Herein the lies case for a world-leading intellectual property (IP) regime.
The role of IP rights in supporting innovation is not complicated. It does not require a large bureaucracy, expert panels, or billions of dollars in "strategic investment." It is a simple proposition: When firms are operating in an environment in which their right to exclude others from the returns on their research investments is robust and relatively simple to attain, then they have more of an incentive to invest in research and development (R&D). The result is a more inventive economy, where the payoffs associated with thinking creatively are greater, and innovative activity is a less risky endeavour.
We need an Innovation Agenda
This is not an abstract point. It has tangible implications. Politicians, economists, and journalists – including from The Economist – use "innovation" as a surrogate for "invention." And there are means to measure how inventive a country is. The number of patent applications per capita or total spending on R&D, for instance, are pretty good proxies for inventiveness or innovation.
How does Canada fare? Relatively poorly. World Bank data show that R&D spending as a proportion of GDP is lower in Canada than the European Union or world averages, and much lower than that of the US.2 And with respect to the number of patent applications filed per million people, Canada again lags well behind the US and other innovation powerhouses like Japan, South Korea, Germany, or Israel.
What is the explanation for our poor relative record on inventiveness? It is not a lack of public resources. As discussed, Canadian governments have experimented with a range of direct and indirect subsidies and incentives for decades. A new suite of tax credits or direct payments to businesses programs is unlikely to be the answer.
One area of policy reform that could make a difference is the intellectual property regime where, according to a recent study, Canada is lagging its competitors. The US chamber of commerce's Global Intellectual Property Center (GPIC) has consistently ranked Canada as having a weak IP regime. Indexing a number of variables related to the "robustness" of a country's protection and enforcement of IP rights on a scale from 0 to 30, the GPIC rated Canada second to last of G-8 countries – trailed only by Russia – and more than 10 points below the United States.
And even after an ambitious round of reforms undertaken by the last government – aimed at strengthening IP rights, freeing the application process of red-tape, and cracking down on counterfeiting – this year's version of the report still slotted Canada somewhere between Poland and Taiwan, and well below most other nations with comparable levels of GDP per capita.
Why does this matter? There is a large body of research that draws a clear relationship between a jurisdiction's IP regime and its inventiveness. The most recent GPIC study draws on this empirical research to highlight this relationship. Economies scoring above the median for the robustness of their IP regimes, for instance, produce on average 70 percent more technological, creative, and knowledge-based output than those scoring below it. Moreover, countries with stronger IP laws are 50 percent more likely to exhibit high levels of private sector R&D spending, and countries that offered the strongest patent protection enjoyed a rate of patenting that was a staggering 30 times higher than in those at the bottom of the index. The key takeaway, then, is that IP policy is a key ingredient to an effective Innovation Agenda.
Now, of course, improving Canada's IP regime is hardly a silver bullet. There are many factors that contribute to inventiveness, including competitive taxation, high-quality infrastructure, a skilled labour force, and so on. But the importance of strong IP protections to a pro-innovation agenda should not be understated, and the total absence of any discussion of intellectual property rights in the minister of industry's mandate letter is a glaring omission.
The Trudeau government has an opportunity to embrace IP reform as a key plank in its new Innovation Agenda. It will invariably make a bigger contribution to Canada's inventiveness than any number of "strategic investments."
Positioning Canada as a world leader with respect to IP policy can help the prime minister achieve his geeky yet important objective of turning Canada into a more inventive and innovative economy now and in the future. Just as in computing, sound institutional hardware is required before the software of ideas can be channelled into useful – and lucrative – outcomes. Here is where IP reform can contribute to the goal of making Canada more inventive.
Sean Speer is a Senior Fellow at the Macdonald-Laurier Institute. Michael Robichaud is a University of Toronto law and public policy student.