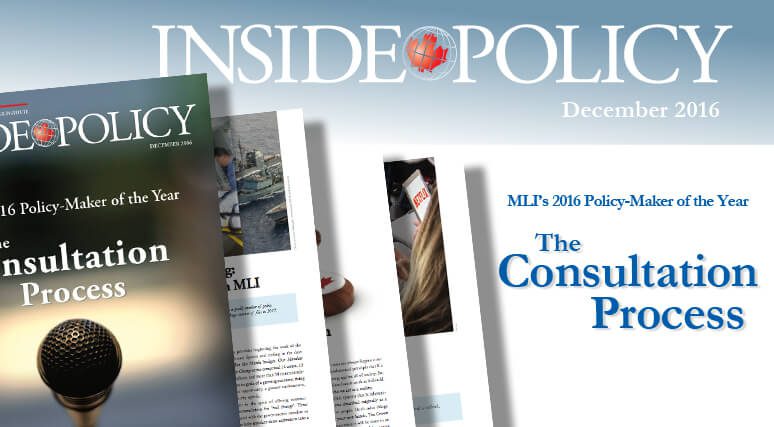 Getting feedback from the public via the consultation process dominated the policy scene in 2016
OTTAWA, Dec. 14, 2016 – Everything from postal delivery to national defence has been poked, prodded and examined by panels, boards and commissions of all sizes in 2016.
That's why, with no one individual dominating the policy scene in the past year, the Macdonald-Laurier Institute has named "the consultation process" as its policy-maker of the year in the December 2016 edition of Inside Policy.
As Marni Soupcoff writes in her cover essay "Almost every important area of policy is under review, and most not-so-important ones are too", with some 80 separate federal consultations of some kind under way in the last year.
Then again, as Scott Reid writes in his commentary, shouldn't governments gather evidence, learn, and try to understand what Canadians want before making decisions? In his opinion, "The takeaway for fair-minded observers is that when governments ask for your opinion, more times than not, they actually want it."
To read the full version of the magazine, click here.
Finally, regarding our cover feature, MLI Munk Senior Fellow Sean Speer writes that since the government is asking, MLI has done a good deal of important research on these policy issues already. He has some ideas for the government as it moves on to the policy making phase following all these consultations.
Also in this issue:
This is the last issue of the year. Merry Christmas and happy holidays from MLI.
***
Inside Policy, the flagship magazine of the Macdonald-Laurier Institute, is published six times a year.
The Macdonald-Laurier Institute is the only non-partisan, independent national public policy think tank in Ottawa focusing on the full range of issues that fall under the jurisdiction of the federal government.
For more information, please contact Mark Brownlee, communications manager, at 613-482-8327 x105 or email at mark.brownlee@macdonaldlaurier.ca.