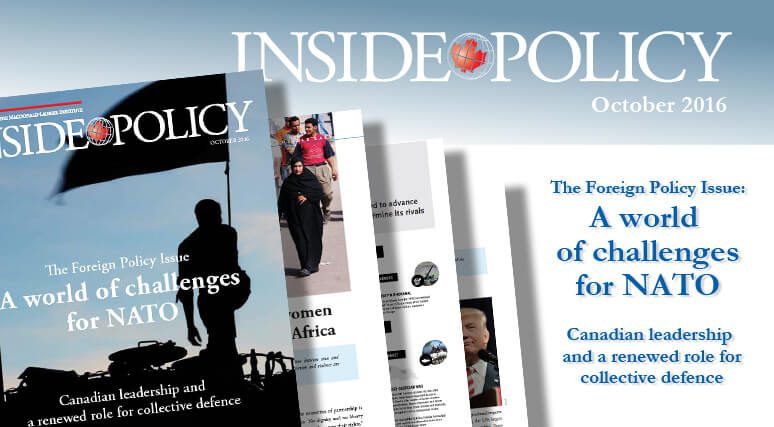 The October 2016 edition of Inside Policy focuses on foreign policy
OTTAWA, Oct. 14, 2016 – The Cold War is long over, but there's still plenty for the North Atlantic Treaty Organization to do. That's the message from MLI Munk Senior Fellow Shuvaloy Majumdar and his co-author, documentary filmmaker Marcus Kolga, in the cover story for the October 2016 edition of Inside Policy. This issue focuses on foreign policy.
To read the full edition of the magazine, click here.
It is a different world from the Soviet era, but Russian President Vladimir Putin seems intent on re-establishing his nation's former glory, and destabilizing his rivals in the process. Majumdar and Kolga write that Canada has a leadership role to play as NATO faces challenges in the Ukraine, the Baltics and Arctic, along the alliance's southern flank in Syria, and even in cyber space.
This issue of Inside Policy features a variety of articles on the changing global scene. Here is the complete table of contents:
***
Inside Policy, the flagship magazine of the Macdonald-Laurier Institute, is published six times a year.
The Macdonald-Laurier Institute is the only non-partisan, independent national public policy think tank in Ottawa focusing on the full range of issues that fall under the jurisdiction of the federal government.
For more information, please contact Mark Brownlee, communications manager, at 613-482-8327 x105 or email at mark.brownlee@macdonaldlaurier.ca.