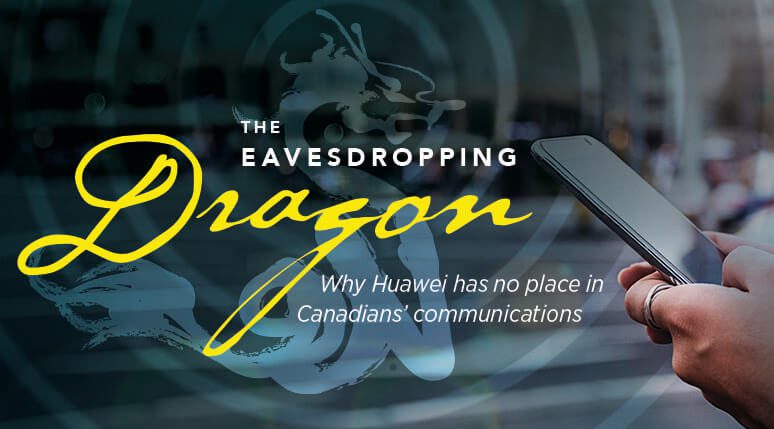 OTTAWA, ON (November 20, 2020): On November 18, 2020, a Conservative motion calling for swift action on Chinese state interference in Canada, and a decision on whether to allow Huawei into Canada's 5G networks, was passed with the support of the Bloc and NDP in the House of Commons. The opposition motion calls for the Canadian government to present its plans within 30 days.
This firm stance by Parliament on China shows that the Macdonald-Laurier Institute's voice is being heard by decision-makers in Canada. Action on such vital issues for Canadians could not come sooner. Two years ago, MLI's Brian Lee Crowley and former national security advisor Richard Fadden wrote that Canada must put its security first and join allies such as New Zealand, Australia and the United States, which had already acted to preserve their future networks from the strategic interests of the Chinese Communist Party.
Prior to that Globe op-ed appearing, and since then, numerous MLI reports, events, videos and opinion pieces have explored in detail the relationship between Huawei and the Chinese state, and its threat to Canada's national security and relations with key allies. The conclusion has been the same. MLI experts have been urging the federal government to ban Huawei from our 5G network and address Chinese aggression, which has proliferated into Canadian politics and society.
According to MLI Senior Fellow Charles Burton, "we must ban Huawei's involvement in 5G. Anything less is a capitulation of our security interests to the PRC."
Despite these risks, the federal government has continued to delay making any decision explicitly banning Huawei from Canada. "Canadians deserve to reap the benefits of 5G and will do so, but not at the cost of our national security and that of our allies," writes MLI Senior Fellow Jonathan Berkshire Miller. "Rather than abdicating this decision to the private sector, it is time for Canada to make a decision that best serves its interests."
China's "sharp power" efforts remain among the most pressing challenges facing Canadian policy-makers as we enter the post-COVID era. But we are not without strategies and tools to address these issues. In his report, MLI Senior Fellow J. Michael Cole points to how Beijing has applied its influence operations to other countries; examples that Canada could learn from. At an event hosted by MLI, in partnership with the Taiwan-based Prospect Foundation, a panel of distinguished policy experts explored how to confront China's aggression.
As Burton notes, commenting on the week's events in the Ottawa Citizen and referring to the detention of two Canadians by Chinese authorities, it's "little wonder that Beijing clearly perceives that holding Kovrig and Spavor is working out well, keeping Canada from retaliating for China's flouting of accepted norms of international diplomacy and trade. It's time Canada did the right things."
For more information or for comment on this important issue, media are invited to contact:
Ai-Men Lau
Communications Officer
613-482-8327 x111
ai-men.lau@macdonaldlaurier.ca