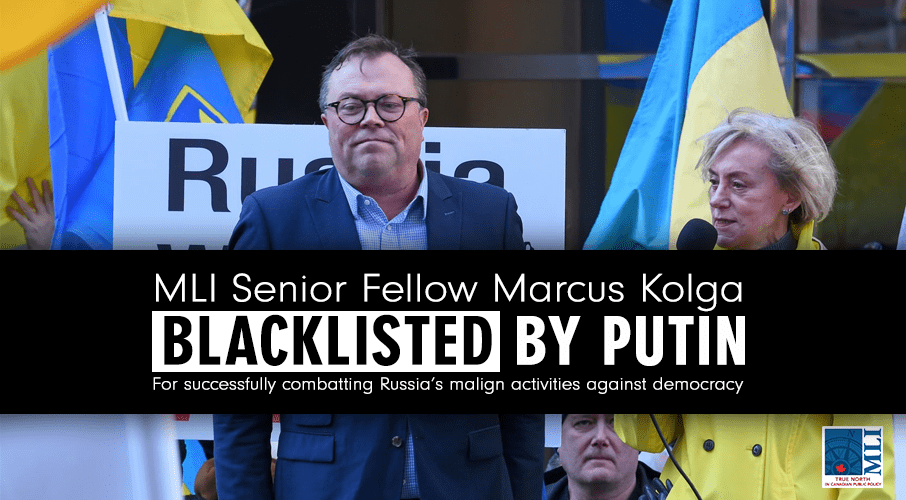 OTTAWA, ON (March 15, 2022): MLI Senior Fellow Marcus Kolga has been sanctioned by the Russian government, in a clear testament to his effectiveness in advocating for sanctions against Kremlin oligarchs and human rights abusers, identifying and fact-checking Russian disinformation, and fighting against malign foreign interference from the regime.
"We welcome the Kremlin's confirmation that MLI leads the country in bringing attention to the misdeeds, brutality and mendacity of the Putin regime, not least in Ukraine," says MLI Managing Director Brian Lee Crowley.
"Canadians can count on us to continue to speak up in defence of our national interests in the face of foreign threats and intimidation and in favour of the collective security that defends and protects free democratic societies like ours."
The Russian "blacklist" also targeted the prime minister, government ministers, MPs, and members of civil society, following remarks by Ukrainian President Volodymyr Zelenskyy in the House of Commons earlier today. Kolga received this badge of honour in recognition of his work in getting Canada to adopt Magnitsky legislation, his leadership as the founder of MLI's DisinfoWatch project, and his outspoken media presence in the face of Russia's naked aggression in Ukraine and elsewhere.
"Marcus Kolga continues to be a preeminent voice and fearless proponent for the interests, values and freedoms shared by Canada and our allies," says MLI's Indo-Pacific Program Director, Jonathan Berkshire Miller.
Kolga's award-winning work has included countless op-eds in major papers, including a 2019 op-ed that warned about the importance of exporting Canadian energy products to Europe to offset Russian oil and gas. He has authored several papers for the Institute, including on Russian disinformation, election interference, and Russia and China's neocolonial ambitions in Africa. He's been an active participant in webinars, podcasts, and more.
In the last 30 days alone, Kolga has been cited over 600 times by the media, including CTV, CBC, Global News, Toronto Star, National Post, Globe and Mail, Le Devoir, and much more.
As noted by MLI Foreign Policy Program Director Shuvaloy Majumdar, "my friend and colleague Marcus Kolga is a fierce advocate for human dignity, and no greater recognition of his fearless work can be conferred than by the Kremlin's sanctions today."
This is not the first time that Russia and its sympathizers have attempted to coerce the Macdonald-Laurier Institute or our fellows. We have stared down threats from Russia, as well as attempted intimidation from China's "wolf warrior" diplomats and authoritarian thugs from all corners of the world.
MLI will remain undeterred. Indeed, we celebrate how great an impact our work has had on Canadian public policy; the more the world's despots try desperately to silence us, the more we will continue leading the charge.
Reflecting on the news, Kolga says that he is "honoured to have been named to Putin's blacklist alongside leaders such as Ukrainian Canadian Congress President Alexandra Chyczij. I am pleased to be in such great company as I continue my work in advocating for policy solutions that stand up for Canada's interests and values at home and abroad."
For more information, media are invited to contact:
Brett Byers
Communications and Digital Media Manager
613-482-8327 x105
brett.byers@macdonaldlaurier.ca