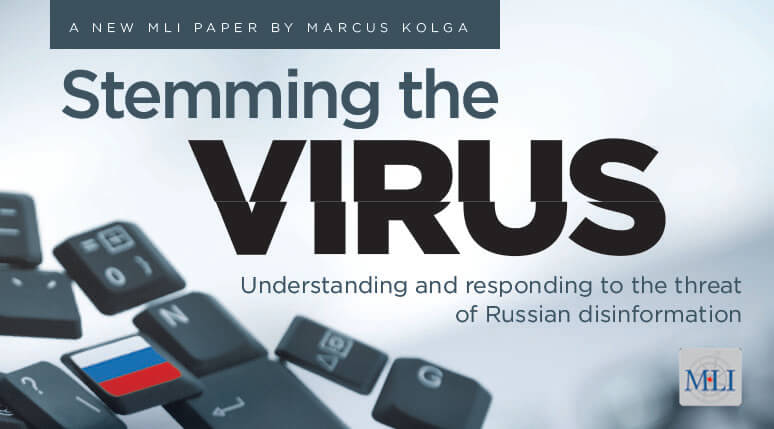 OTTAWA, ON (January 17, 2019): In recent years, the Russian government has made no mystery of the fact that it is engaged in disinformation campaigns throughout the world.
During the 2013-2014 Euromaidan uprisings in Ukraine, Russia had secretly used actors to falsely allege that so-called Ukrainian "fascists" had committed atrocities. Kremlin agents had also manufactured evidence to help cover up Russian state involvement in the downing of Malaysian Airlines flight MH17. Perhaps most worrisome has been the growing evidence of Russian interference in election processes across a number of Western nations, not least the United States.
Canada is not immune to such "active measures." For instance, Canadian troops deployed to Latvia have been the target of crude disinformation activities. And, as Prime Minister Trudeau has revealed, Canada was also the target of Russian cyber threat activity during the 2015 federal election. With the 2019 federal elections on the horizon, what should Ottawa do to defend against Russian disinformation?
According to a new MLI paper titled Stemming the Virus: Understanding and responding to the threat of Russian Disinformation, the Canadian government should prepare for a protracted and aggressive information warfare campaign emanating from the Kremlin.
(Editor's Note: The section now titled "business and civil society" has been revised and clarified. The infographic on p.14, which incorrectly mentioned Irrussianality, has also been corrected. Other minor editorial changes (including on p. 31) have been made to distinguish even more clearly between agents of influence and certain Canadian individuals and organisations who might sincerely hold pro-Russian views. We regret any confusion the earlier version might have created. )
"As Canada approaches the 2019 federal elections, the government must pay closer attention to disinformation and influence campaigns that target Canadian media, decision-makers, civil society, and other groups," writes report author and MLI Senior Fellow, Marcus Kolga.
"Canada's response must be robust and take into account all sources and methods of how foreign information warfare and democratic interference are conducted."
According to Kolga, the Kremlin is engaged in a form of total information warfare against Canada and its allies. The goal of this campaign is to "tear apart our society and undermine our trust in our government, media institutions, and each other." Russia's activities constitute a virus of sorts, says Kolga, "infecting and then replicating itself independently within western societies."
In order to inoculate ourselves against this virus, Kolga argues that we must first understand and thereby diagnose the strategy, tactics, production, weaponization, and dissemination of Russian disinformation activities. To do that, this paper examines the activities of some of the key disinformation actors in the Kremlin's propaganda network, including media channels, government organized non-governmental groups, civil society organizations, sympathetic academics, social media, and agents of influence.
"Information warfare and active measures are not new tools for the Kremlin and other adversaries. However, the intensification and effectiveness with which western democracies have been bombarded with Kremlin disinformation is particularly worrisome."
In terms of concrete action, Kolga recommends that the government create a dedicated office for safeguarding Canadian democracy against manipulation by disinformation, foreign intelligence active measures, cyber attacks, and influence campaigns. This office, which Kolga coins as the National Centre for Strategic Communications and Digital Democracy, would be responsible for five primary actions:
Monitor, detect, and identify disinformation and influence campaigns;
Develop strategies to combat and disarm disinformation and influence campaigns;
Increase cyber literacy and security awareness for personal, corporate, and political use;
Work with social media and other tech companies to curb the spread of disinformation, identify bots and trolls, ensure privacy is protected, etc;
Expand existing and develop new international partnerships with various domestic and international organizations to help carry out monitoring, detection, and counter-disinformation activities.
Kolga argues that when developing strategies and policies to combat foreign disinformation, "governments must do so with the fundamental understanding that it is our democracy that is being targeted for subversion."
Importantly, Canada is not alone when it comes to developing solutions. Kolga concludes by suggesting that Ottawa must work in concert with its allies to address the Kremlin's relentless campaign, not only by monitoring disinformation, but by actively raising awareness and educating media, policy-makers and all Canadians about the threats and how to recognize them.
"As long as Vladimir Putin remains in power, so too does the menace of information warfare and the escalating danger of allowing our own democracies to spin into the venomous political dysfunction… We must be prepared for a very long fight."
To learn more about the nature of Russian disinformation campaigns, the threat that they pose to Canada, and what policy-makers should do to respond, read our latest paper here.
***
NEW: MPs, former diplomats and cabinet ministers, democracy activists and others laud Stemming the Virus. Read their feedback here.
Marcus Kolga is a Senior Fellow at the Macdonald-Laurier Institute's Centre for Advancing Canada's Interests Abroad. He is an international award-winning documentary filmmaker, journalist, digital communications strategist, and a leading Canadian expert on Russian and Central and Eastern European issues.
For more information, please contact:
Brett Byers-Lane
Communications and Digital Media Manager
613-482-8327×105
brett.byers-lane@macdonaldlaurier.ca