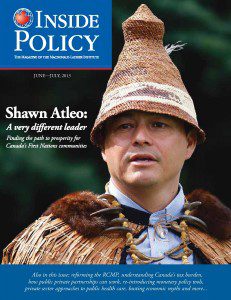 MEDIA RELEASE
OTTAWA, June 21 2013 – The latest edition of the Macdonald-Laurier Institute's flagship publication Inside Policy is now available.  Every edition of Inside Policy brings readers the in-depth analysis, cutting edge commentary and sound public policy options that has made MLI one of the top three new think-tanks in the world.
This Aboriginal policy-themed issue opens with a cover story entitled "Shawn Atleo: A very different leader". Written by prominent policy thinker and political observer Robin Sears and based on extensive interviews with Atleo himself, the piece gives readers clear, insightful reflections  on  an Assembly First Nations' National Chief who in many ways stands apart from his  predecessors and represents a new era of Aboriginal engagement with Canada.
Also on the Aboriginal policy theme, readers will find discussion of the launch of MLI's groundbreaking project on Aboriginal Canada and the natural resource economy. Project co-leaders, Ken Coates, Canada Research Chair at the University of Saskatchewan and Brian Lee Crowley, MLI's managing director, talk about the positive models that are emerging across Canada for Aboriginal partnership  in resource development.
Also in Inside Policy you can read about Douglas Bland's controversial paper "Canada and the First Nations: Conflict or Cooperation". The paper caused a media stir when it was released, warning of some of the possible outcomes facing Canada if the country fails to get the relationship with Aboriginal communities right in resource development.  Douglas Bland is Professor Emeritus at Queen's University in Kingston, Ontario and served for more than thirty years as in the Canadian Armed Forces, retiring as a Lieutenant Colonel.
Ken Coates and Brian Lee Crowley present their plan to rescue Northern Gateway and build the framework for future infrastructure projects with "The Way Out: New thinking about Aboriginal engagement and energy infrastructure to the West coast."
Carolyn Bennett, MP and Liberal critic for Aboriginal Affairs, contributes a thoughtful article explaining why it is time for Aboriginals to be regarded as partners in resource development and partners in creating prosperity for all Canadians, Aboriginal and non-Aboriginal, on-reserve and off.
For many communities in Canada's North, winter roads are the only means of transportation underlying the lack of infrastructure for communities now at the frontier of Canada's resource economy. Is it time to build permanent infrastructure to Canada's North to provide a vital, stable link to remote communities?  Mark Quinn, former senior advisor and Chief of Staff to a Minister of Indian Affairs & Northern Development believes so and after reading his article "Is it time to build a road to prosperity in the far North?" you may too.
MLI's Philip Cross's paper "Busting six economic myths about Canada's resource sector" throws cold water on criticism that Canada's economy is hurt more than helped by natural resource development.  This paper neatly dismantles the myth of "Dutch disease" mauling Canada's R&D, innovation or "value-added" industries by showing that the extractive sector in fact contributes to their growth.
With new Governor Stephen Poloz taking the helm at the Bank of Canada this month, former Deputy Chief Economist at the Department of Foreign Affairs and International Trade (DFAIT) Dan Ciuriak argues for a return to a "Made in Canada" monetary policy.
MLI is also pleased to present an excerpt from Bob Plamondon's new book "The Truth About Trudeau: A fresh take on the October Crisis".  Bob Plamondon is one of Canada's leading political commentators public policy experts and author of three critically acclaimed best sellers on Canada's political history.
What can the private sector do to improve a creaking public healthcare system? Paul Corrigan, former policy advisor to UK Labour prime minister Tony Blair, brings new perspective to an old debate in Canada by talking about how Blair's New Labour government harnessed the private sector in the UK to improve public health care.
Click here for the latest edition of Inside Policy