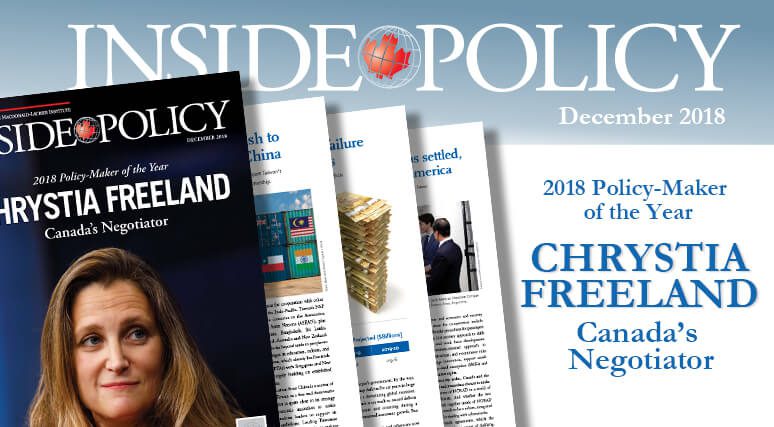 OTTAWA, ON (December 18, 2018): The Macdonald-Laurier Institute is pleased to name Foreign Affairs Minister Chrystia Freeland as Policy-Maker of the Year in the December edition of its national magazine, Inside Policy.
Freeland managed a range of difficult foreign policy issues in 2018, from hard-nosed negotiations with the Trump administration to growing tensions with Russia and Saudi Arabia. As documented in Jennifer Campbell's cover story, "Canada's foreign minister has taken on a troubled world and come out on top in 2018."
And to quote retired MP and human rights activist, Irwin Cotler, "Sometimes you hear the phrase, the world needs more Canada; I think the world needs more Chrystia Freeland."
Her impact was felt most acutely when it came to Canada's successful negotiation of the new US-Mexico-Canada trade agreement. There, MLI Research Advisory Board Member Christopher Sands points to Freeland's "remarkable" ability to build "trust across national and partisan divisions."
MLI's Policy-Maker of the Year is awarded to individuals, organizations, and groups that have had the most substantial impact on Canadian policy. This title is awarded annually. Previous winners include former Foreign Affairs Minister John Baird, Former Head of the Bank of Canada Mark Carney, Justice Minister Jody Wilson-Raybould, Senator and Head of the Truth and Reconciliation Commission Murray Sinclair, and many other esteemed policy-makers.
According to MLI senior fellow Marcus Kolga, also writing in this issue, Freeland has made "Canada a leader on several foreign policy fronts like human rights, security, and working with Canada's allies to maintain the rule-based order."
Yet, as other articles in this issue of Inside Policy reveal, there is still plenty that still needs to be done on Canada's foreign policy file. J. Michael Cole, editor of the Taipei Times, and MLI Munk Senior Fellow Duanjie Chen provide their own sobering warnings on the danger posed by China's "sharp power" operations against the West, which Ottawa must pay greater head.
Of most immediate concern has been the spectre of the Chinese telecommunications giant Huawei's involvement in 5G mobile networks. Former national security advisor Richard Fadden and MLI Managing Director Brian Lee Crowley are very clear about the need for Canada to join most of our Five Eyes partners in denying Huawei entry to our own 5G network.
Canada would also do well to improve trade with our fellow democracy Taiwan rather than being fixated on China, which comes with its own set of problems – a point raised by Scott Simon. Laura Dawson in turn suggests that Canada can use the opportunity provided by the recent signing of USMCA to embrace our old ally, the United States to a greater degree.
Also in this issue, beyond foreign policy, MLI Munk Senior Fellow Sean Speer warns about the need for Ottawa to make tough choices when it comes to its fiscal deficits. He also joins Crowley in offering thoughts on how to create conditions for a more dynamic Canadian economy. And MLI Munk Senior Fellow Philip Cross highlights some good economic news with the recent LNG projects in BC.
This issue also includes insightful articles on Canadian defence procurement, pharmacare, the worrying wage trends in the modern economy, Ottawa's use of carbon taxes, and the need for greater clarity on consultations on natural resource projects with First Nations.
To read the articles in full, check out our December issue of Inside Policy here.
***
'Inside Policy' is the Macdonald-Laurier Institute's quarterly magazine. Focused on the most pressing issues facing Canadian policy-makers, 'Inside Policy' servers as the definitive source for thought leadership at the federal level. 
For more information please contact:
Brett Byers-Lane
Communications and Digital Media Manager
613-482-8327 x105
brett.byers-lane@macdonaldlaurier.ca