Jumping from 9th to 6th place out of 15 countries, Canada weathered the initial stages of Omicron better than most due to high vaccination rates. Yet this success has come at a major relative cost, including that Canada was the second most stringently locked down country over the course of the pandemic.  
OTTAWA, ON (January 20, 2022): With the Omicron variant at its apex, is Canada finally finding its footing in its response to the COVID-19 pandemic? MLI's COVID Misery Index (CMI) has returned for a special Omicron update to provide a comprehensive overview of 15 countries' pandemic performances.
What is the CMI? Click here for more information about the Index and its methodology.
Jumping from 9th to 6th place, Canada appears to have weathered the initial wave of Omicron better than most of its peers. Hospitalizations, deaths, and caseloads remain lower than most of its peers, and excess death rates in Canada have been reduced significantly. This success appears to be largely attributable to Canada's very high vaccination rates.
"Canada's position in the CMI reflects a significant improvement since we first began tracking it 10 months ago," says MLI Senior Fellow and creator of the CMI, Richard Audas. "Canada is looking to the endemic stages of COVID-19 both with some reasonable successes in hand and significant lessons to learn."
However, challenges remain for Canada. Most especially, lockdown measures and other public health restrictions in Canada have been far more stringent and longer lasting than in most peer countries. Canada places 14th out of 15 on this measure.
Additionally, persistently poor economic performance across a variety of measures means there is still significant room for improvement. Indeed, new to this update of the CMI are measures of inflation, on which Canada scores 11th out of 15. As MLI Munk Senior Fellow Philip Cross has warned, inflation in Canada appears neither transitory nor easily contained – and will likely be with us for the foreseeable future.
"Overall, Canada has paid a far higher price than its peers to achieve success in the pandemic," argues Audas. "Canadians remained locked in their homes longer and the economy placed under greater strain than many of our peers, who achieved similar or better health outcomes across the pandemic."
Check out the full, interactive CMI here for more information, or scroll down below to read more key highlights from this most recent update.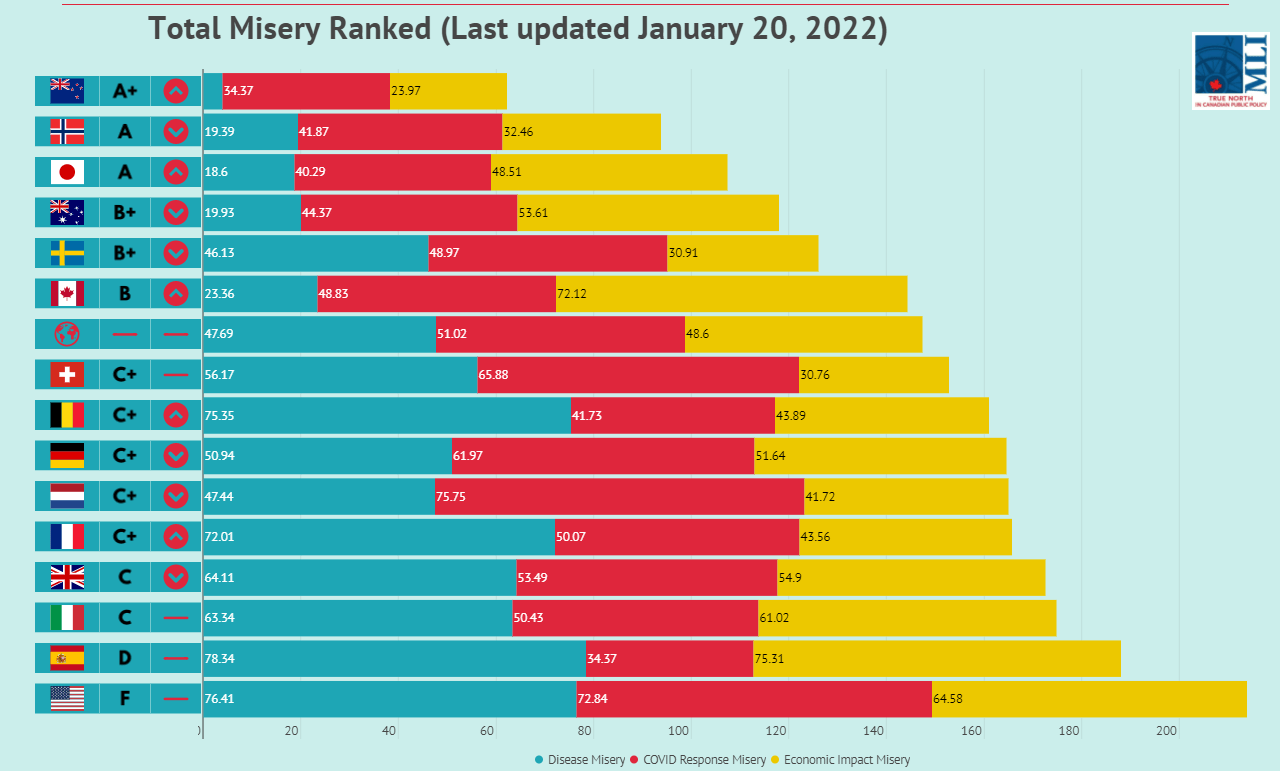 Key Findings
When the CMI first started, Canada placed 11th out of 15 peer countries with high excess deaths, poor vaccination rates, and extremely poor economic outcomes. Canada's jump in standings is mostly a result of its success throughout 2021 in getting shots in arms.
By contrast, the United States has had precisely the opposite trajectory for the same reason: while it had initial success in vaccinating the population in late 2020 and early 2021, its rate has since dropped dramatically as vaccine uptake remains relatively weak. The US has borne the brunt of COVID-19's impact on human health and, while not as economically miserable as Canada, performs worst overall in terms of inflation and unemployment.
The top three countries on the CMI are Australia, New Zealand, and Norway. All three countries have better health outcomes than Canada, with far fewer punitive restrictions overall, and at far less economic cost. This suggests that Canada could have been more successful at protecting human wellbeing by employing a different strategy.
Canada is in 4th place in terms of its "Disease Misery" score, getting a B+ overall. This indicator tracks factors such as cases per capita, COVID-19 deaths, excess deaths, ICU and hospitalizations per capita, and more.
Though Canada performs well in many measures of public health, our country's health care system appears far less equipped to manage spikes in caseloads that other countries can absorb more readily. As a result, harsh lockdown measures were deployed, and Canada ranks 14th out of 15 in terms of the severity and length of strict public health measures.
Canada ranks 7th in terms of "Response Misery," scoring a B grade. This score measures factors such as vaccination rates, tests per case, and lockdown stringency. Canada remains somewhat slow in booster shots administered, though it should be noted that this is improving rapidly.
Canada remains near the bottom, at 14th place, on "Economic Misery," getting a failing grade overall. Sky-high unemployment, public borrowing, and elevated inflation are largely to blame for the poor performance. Canada's GDP has performed relatively average compared to peers.
According to Audas, the CMI has been "a meaningful touchstone for a better understanding of how countries have responded to the pandemic over its entire course, shining more light on both the best and worst practices among countries in the developed world.
"Ultimately, focusing on human wellbeing comprehensively is valuable, and some countries have had far more success in doing so. Canada should seek to learn from this data and apply it to future policy-making in both pandemic and non-pandemic contexts."
For more information, consult the links below.
Additionally, media are invited to contact:
Brett Byers
Communications and Digital Media Manager
613-482-8327 x105
brett.byers@macdonaldlaurier.ca