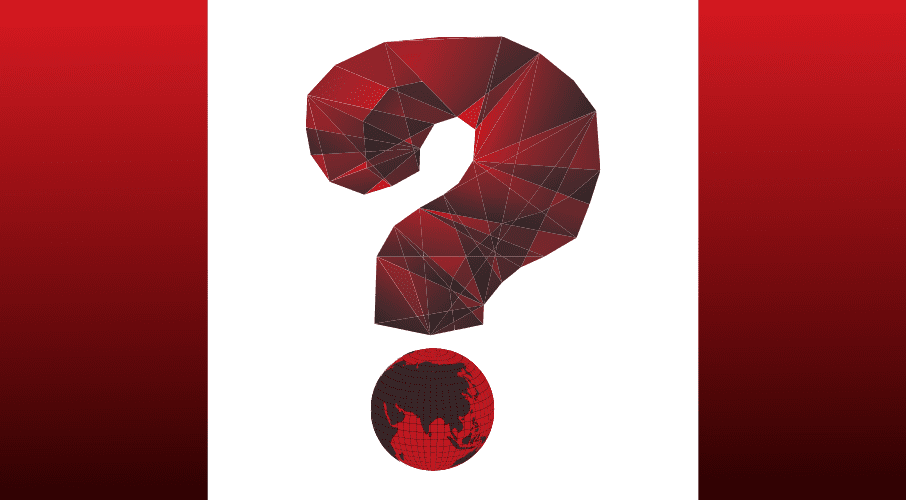 By Stephen Nagy, March 21, 2022
The Indo-Pacific region is the economic centre of global growth and the central locus for opportunity and instability. Countries such as Denmark, France, Germany, the United States, Japan, and Australia have put forward Indo-Pacific strategies to articulate their engagement in the region. The same can be said of the European Union (EU) and the Association of Southeast Asian Nations.
Yet Canada has been conspicuously absent from this growing list of actors with Indo-Pacific strategies. This raises questions about the direction of Canadian foreign policy. Why hasn't it been able to create an Indo-Pacific strategy? Is it a political issue? Or is it about a long-term pattern of disinterest in this region?
Canada has significant economic interests in Indo-Pacific. According to Canada's Trade Commissioner Service, Canada's merchandise trade with the region has increased significantly over the past decade, from $139 billion in 2011 to a peak of $205 billion in 2018, before falling slightly to $198 billion in 2020. The same is true for trade in services with the region, which has grown by 66 percent since 2011. In 2020, it stood at $37 billion.
Any disruption in the sea lines of communication in the region or regional conflict would negatively impact the Canadian economy.
Canada's largest trading partners in the region include Japan (US$9.2 billion), China (US$18.8 billion), and South Korea (US$3.5 billion). Canadian energy, agricultural and critical materials have destinations the Indo-Pacific and Canada's continued growth as a country in terms of immigration continues to draw considerable amounts of human talent from the region including India (32 percent), China (8 percent) and the Philippines (4.3 percent) in 2021.
With so much at stake, why has Canada not been able to create an Indo-Pacific strategy?
There are five primary reasons for this absence. The first is Canada's traditional orientation towards the United States, reflected by the fact that US$291.7 billion (74.7 percent of total exports) of Canada's trade is within North America. The rest of Canadian trade is largely to the EU and the Indo-Pacific region.
Second, the lack of a clear vision and raison d'être for having an Indo-Pacific strategy. It's difficult to create a strategy, as one former High Commissioner said in a closed-door discussion, with "Canada being great at tactically engaging within the region, but at the strategic level, Canada continues to not be able to elucidate a strategy for cultivating it's long-term interests within the Asia-Pacific or the Indo-Pacific region."
Third, politics at home. Over the past 20 years, Canadians have not been literate about the opportunities and challenges in the Indo-Pacific, including North Korea launching ballistic missiles over Japan, China's assertive behaviour in the East and South China Seas, or the bust up on the Himalayan plateau between India and China. This dissonance has been magnified by the COVID-19 pandemic and now the Ukraine crisis.
Simply put, politicians have not been able to communicate what these mean for the average Canadian. As a result, Canadian citizens do not understand why the region is important for Canada. Additionally, Prime Minister Justin Trudeau's progressive foreign priorities are often seen as a mismatch for the region. Leaders in the region are often left wondering if the Trudeau government is interested in talking about trade and security or cultural and identity issues.
Fourth, China's United Front Work Department (UFWD) continues to negatively influence the Indo-Pacific strategy debate. The UFWD proactively strives to influence Chinese-Canadians to vote for pro-China candidates who often see initiatives such as the Indo-Pacific strategy primarily through an anti-China lens.
Fifth, but not least, the Trump administration's diplomatic approach led to some Canadian hesitancy in developing an Indo-Pacific vision. Few in Ottawa wanted an Indo-Pacific strategy to be associated with Trump's explicitly anti-China policy – one that had racial undertones in the way the former President Donald Trump and former Secretary of State Mike Pompeo spoke about the China and the COVID-19 pandemic.
Notwithstanding these five points, there are numerous reasons why Canada should be engaged in the Indo-Pacific.
First, in the wake of China's abrogation of the Sino-British Joint Declaration, threats to forcefully unify with Taiwan, its rejection of the 2016 July Permeant Court of Arbitration decision against China's South China Sea claims, and the recent Russian invasion of Ukraine, the importance of defending a rules-based order against revisionist powers like Russia and China has now become self-evident.
Second, Canada has a deep-seated interest in working with allies and friends in preventing the proliferation of weapons of mass destruction and an arms race in the Indo-Pacific. Aside from the fact that any North Korean intercontinental ballistic missile attack on the US would fly over Canadian airspace, weapons proliferation in the Indo-Pacific to state and non-state actors would make the region more unstable.
Third, as we saw with the COVID-19 pandemic, Canada has a national interest in forging cooperation to deal with non-traditional security issues that will not stay within the region.  These include climate change, food, water and energy security issues and transnational diseases that can destabilize economies and disrupt supply chains.
Fourth, Canada needs to be part of the rules-making process that determines how trade, the digital economy and other aspects of governance are developed within the Indo-Pacific region. Not being at the table potentially means that the region's institutions will not take into consideration Canadian interests.
For Canada to achieve these four core tenets, it will need to first articulate Canadian interests within the Indo-Pacific region. These include but are not exclusive to: contributing to rules-based institutions in the region; supporting a rules-based order: and securing access to the region.
Canada needs to pursue policies in support of these interests. For instance, we need to prioritize like-minded partners to work with both in a bilateral format but also in a multilateral format to achieve our national interest including with Japan, Australia, the United States, South Korea, Taiwan, and EU states. Our shared commitment to rule-of-law provides a common foundation for cooperation in the region.
This does not mean a progressive foreign-policy first approach to the region. Non-democratic states like Vietnam play an important role in trade, as evidenced by the Comprehensive and Progressive Trans-Pacific Partnership (CPTPP). Likewise, many of the region's non-traditional security challenges such as climate change, illegal fishing, transnational diseases, among others, cannot be dealt with effectively without a partner in Beijing.
Canada also needs to invest in cultivating human capital at home and networks abroad through the creation of an informed community of Canadians such as a Chamber of Commerce of the Indo-Pacific and the establishment of Indo-Pacific think tanks to conduct research on the region. Together with think tanks and funding specifically targeted at the region, Canada needs to devote resources to diverse language training for Canadians and the establishment of an Indo-Pacific curriculum. Support for Japanese, Korean, Bahasa, Vietnamese, Hindi, Mandarin, and other languages of the Indo-Pacific will be part developing Indo-Pacific cultural capital to secure Canadian interests.
Furthermore, Canada needs to carve out a role in pre-existing institutions that are providing public goods in the security, economic and development realm within the region. The Quadrilateral Security Dialogue, the Australia-UK-US (AUKUS) agreement, the Comprehensive and Progressive Agreement for Trans-Pacific Partnership (CPTPP), the Regional Comprehensive Economic Partnership (RCEP), and the Resilient Supply Chains Initiatives are pre-existing opportunities for Canada to anchor itself within the region.
Lastly, Canada needs to ensure that its engagement is distinct from but complementary to the United States. Although many overlapping values with United States, we also have a distinctly Canadian approach to how we engage in support of human rights, development, and dialogue. Canada's efforts in 2017 to bring together like-minded countries to discuss the denuclearization of North Korea is a good example. So is Canada's proactive work to create a coalition of countries that would push back against the arbitrary detention of citizens after the arrests of Michael Spavor and Michael Kovrig.
Foreign Affairs Minister Mélanie Joly and Defence Minister Anita Anand received mandate letters from Prime Minister Trudeau in December 2021, directing them to develop a plan for the Indo-Pacific region.  Risking marginalization in the Indo-Pacific region, the question for allies and friends of Canada is whether that mandate will finally result in a Canadian Indo-Pacific strategy.
Stephen Nagy is a senior associate professor at the International Christian University in Tokyo and a senior fellow at the Macdonald-Laurier Institute.