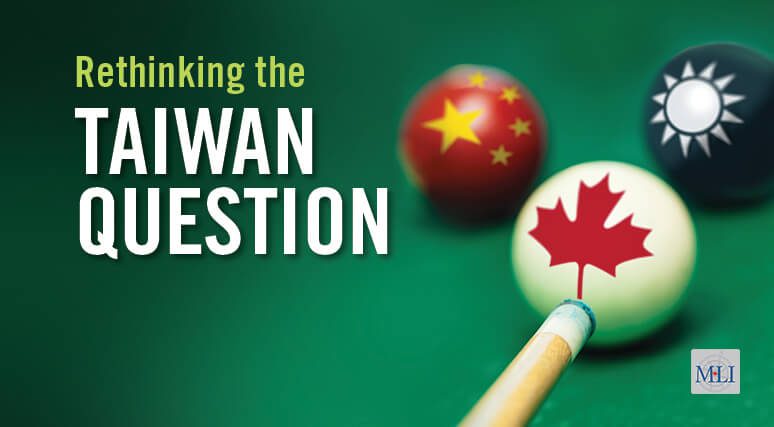 OTTAWA, ON (September 6, 2018): A lot has happened since the Pierre Trudeau government recognized the People's Republic of China back in 1970, but Canada has not yet shown it's willing to modernize its approach to Taiwan to keep up with the changing times.
The current approach remains heavily rooted in an outdated "One-China" policy initially designed to coax the People's Republic out of isolationism and sideline a Taiwanese dictatorship. Now, China is an increasingly belligerent world power, and Taiwan a threatened democracy that closely shares Canada's values and interests.
With that in mind, MLI has released a new report titled Rethinking the Taiwan Question: How Canada can update its rigid "One-China" policy for the 21st century.
Authored by MLI Munk Senior Fellow Dr. Eric Lerhe, former Commander of the Canadian Pacific Fleet, this paper examines the origins and evolution of Canada's approach to the One-China policy, as well as the approaches of some of our major Western allies. Lerhe finds that while there is no one size fits all approach to China and Taiwan, Canada does have a fair bit of room to liberalize dealings with Taipei, particularly as it relates to security collaboration.
"Canada has largely continued its decades-long caution on all aspects of its very limited relationship with Taiwan," writes Lerhe, "A very strong case can be made for a complete review of Canada's one-China policy."
Lerhe's work suggests that, with a growing number of states wanting to send a clear signal to China for not responding to engagement and taking increasingly risky action against Taiwan, it's time for Canada to join these efforts as well.
While any effort to improve cooperation with Taiwan must be done with skill and a full understanding of the risks involved, this paper sets out a number of very achievable recommendations, such as increasing our naval presence in the region, joining multinational military exercises which could include Taiwan, and pursuing limited intelligence-sharing agreements.
Furthermore, the paper addresses a number of non-security issues, including expanding diplomatic ties, reducing restrictions on Canadian officials' visits to Taiwan and related conferences, and working with our allies to extend membership to Taiwan in international bodies.
The full report is available here.
With Taiwan's security situation under even greater threat since the election of the pro-independence Tsai government in 2016, there is a clear opportunity for Canada to stand up in defence of democracy and show leadership on the world stage.
"At least five Western nations are ready to ally and confront China when its conduct is particularly egregious. Canada needs to support this group," says Lerhe.
While China may react with some hyperbolic outrage to the policy changes recommended in the paper, Lerhe points out that almost all recommendations are based on policies already successfully pursued by our allies.
Moreover, Lerhe concludes: "Doing nothing to defend a threatened democracy signals that Canada, a fellow middle power, is also ready to, however briefly, cease defending the rules-based international order that has protected it and allowed it to prosper these last seventy years."
To learn more about Canada's approach to the One-China policy and why it's past time to rethink our engagement with Taiwan, read the full report here.
***
Dr. Eric Lerhe is a Munk Senior Fellow at the Macdonald-Laurier Institute. He formerly served as a Commodore in the Royal Canadian Navy as well as the Commander of the Canadian Fleet Pacific.
For more information please contact:
Brett Byers-Lane
Communications and Digital Media Manager
613-482-8327 x105
brett.byers-lane@macdonaldlaurier.ca