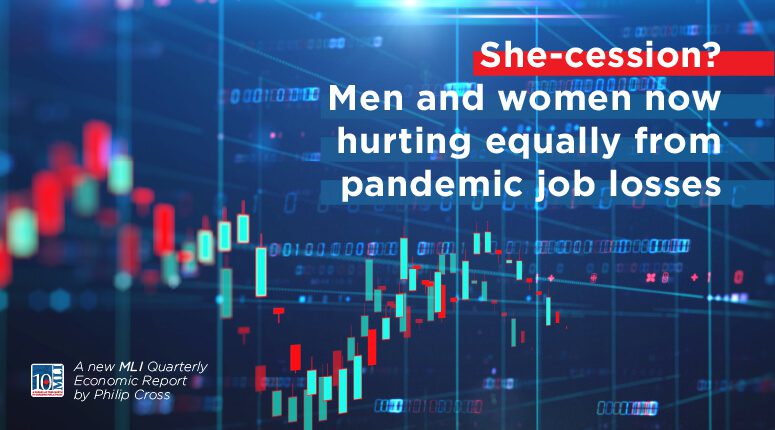 OTTAWA, ON (October 9, 2020): In the recent Throne Speech, the Governor General articulated the government's view that Canada is undergoing a so-called "she-cession" – an economic downturn that is disproportionately affecting women.
If true, this would have significant impact on what policy responses Canada should apply to engage in an economic recovery. However, as Philip Cross explains in MLI's newest quarterly economic report, titled "She-cession? Men and women now hurting equally from pandemic job losses," economic fallout from the pandemic and lockdown appears to have affected women and men relatively equally.
"What is exceptional about this recession is not that employment for women fell slightly faster than for men, but the severity of decline for both sexes," writes Cross. While there are slightly more negative outcomes for women, Cross finds that these differences are "statistically insignificant."
Despite the suggestions from some that a lack of childcare is suppressing women from returning to the labour force, Cross identifies a lack of demand for labour as the root cause for a lack of a labour market bounce back. He notes that Quebec, despite its provincially subsidized daycare, has also seen declining labour force participation among women.
"Whether looked at in the aggregate or through the recovery of the industries that most employ them, there is little to differentiate between the terrible losses that both men and women have suffered this year. To single out one group as having experienced exceptional hardship highlights the pitfalls of identity politics."
More generally, Canada's economy is still struggling in its recovery. Although MLI's most recent LEI update points to significant growth, this growth remains narrowly based, relying heavily on strength in the housing market. Furthermore, Canada's recovery remains unequal across industries, with many service sector businesses struggling, due to the difficulty of maintaining social distancing as a result of their business models.
"The recovery is being hampered by a weak or non-existent upturn in demand for some services," argues Cross, citing the well-known challenges facing travel-related services, restaurants, entertainment, and more. The economy is still moribund for services that rely on high-density employment in downtown offices, including "office administrators, security staff, janitors, food courts and even dry cleaners."
Despite major declines in employment and productivity, household incomes have been surging. In some cases, these surges have been driven by CERB payments, although this increase in incomes has hardly been needs-based. Perhaps some 27.4 percent of payment recipients are from high-income households, and with incomes surging and spending diving, the personal savings rate jumped from 7.6 percent to 28.2 percent.
With much of Canada facing the second wave of COVID-19, Cross argues that we must avoid harsh lockdown measures that are, at this juncture, both largely unnecessary to protect human life and hugely damaging to the economy. As Cross explains, Canada's economy was "already teetering on the brink of a downturn before the pandemic," and with a narrowly-based recovery still in is nascent days, Canada cannot take another hit like it did at the beginning of the second quarter.
Lastly, Cross warns that the economic recovery cannot afford to be hampered by political projects. He writes that "fostering a recovery from such a devastating loss has to be the focus of policy-makers, not catering to particular segments of the labour force or the electorate."
To learn more, read the full report here.
***
Philip Cross is a Munk Senior Fellow with the Macdonald-Laurier Institute. Prior to joining MLI, Cross spent 36 years at Statistics Canada specializing in macroeconomics.
For more information, media are invited to contact:
Ai-Men Lau
Communications Officer
613-482-8327 x111
ai-men.lau@macdonaldlaurier.ca