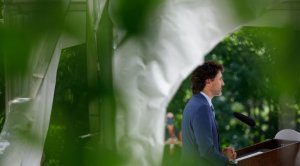 Canada needs a renewed commitment to multilateralism entrenched in a more focused cooperation with our allies, writes Joshua Walsh.
By Joshua Walsh, October 9, 2020 
When Canada lost its bid for the rotational seat at the UN Security Council, Liberals quickly asserted that they did not see the results as Canada losing the race but rather that two great nations – in this case, Ireland and Norway – won. While the incongruity of such a statement is obvious, what is all the more apparent is the Liberal denial of the underlying implications of their failed campaign.
Obtaining the seat was never a necessity in the first place, but the failure to capture it for a second time in a row (Harper's Conservatives also lost their bid in 2010) unveiled the severity of our nation's descent on the global stage. Far from what Prime Minister Trudeau proclaimed in 2015, Canada is not "back." If anything, it is "far back."
The train leaving the global leadership station, however, departed over a decade ago, and has kept a steady course despite the change in conductor. Under the Liberals, rhetoric has been used as a veil to conceal the closing gap between the two brokerage parties on foreign policy.
Canadian foreign policy has been distancing itself from the liberal internationalism of Lester B. Pearson – a doctrine deeply rooted in a commitment to multilateralism through open-ended membership in global organizations, diplomacy, and a championing of supranational institutions. Both parties have steered the nation away from this doctrine through a weakened commitment to multilateralism – one engrained in a vision based on moral values, principles, and narrow cooperation.
Under the past two Canadian governments, our integration into the US economy was deepened, impeding our capacity to commit to multilateralism. On defence, Trudeau's commitment followed the path set by his predecessor with Canadian participation in military operations fighting radical extremism in the Middle East and Russian aggression in Eastern Europe.
Moreover, while Liberals crow about their Feminist International Assistance Policy, their record tells a different story. Official development assistance now stands at a low 0.26 percent of gross national income, behind previous Conservative spending.
While the Liberals may campaign from the "Left," the reality is much more "Right" leaning, with budget increase in defence and security, a diminished refugee policy, increased troop contributions to NATO, and lukewarm engagement in peacekeeping operations.
This new doctrine has proven ineffective for one major reason: the exercise of our soft and hard power has been constrained and largely utilized as a channel to appeal to specific domestic bases. Notable examples include the Harper government's rapprochement with Israel and tough stance on Russia following the annexation of Ukraine to appeal to important diasporas at home; whereas Trudeau pleases his domestic base with rhetorical commitments to gender equality, environment, and reconciliation.
As such, true multilateralism has been relinquished to the bottom of the political agenda. For a middle power like Canada, multilateralism is an optimal way to navigate between the unattractive realities of subservience to the United States and a chaotic international system of eroding norms.
Yet, in a world increasingly characterized by great power competition, the backsliding of democracy, and American unilateralism, it seems counterproductive to re-align our foreign policy to the open-ended membership prescription of liberal internationalism. As a middle power, Canada has limited leverage as a broker of liberal values. Instead, it can play a much more prominent role as a member in an organization of like-minded countries and allies.
The current approach endorsed by both Liberals and the Conservatives alike is not an ill-fitted doctrine for Canadian foreign policy; it has simply been inappropriately applied. Canadians have much to gain from an increasing multilateral role with like-minded countries and allies alike who are in desperate need of renewed leadership. Such cooperation could be further broadened to members of the Five Eyes, NATO, the EU, the CPTPP (Comprehensive and Progressive Agreement for Trans-Pacific Partnership), and more.
Notably, this approach does not require a decreasing role in other international organizations. However, it does require greater attention being paid to our allies with whom we can strengthen liberal democratic values and serve as a proud defendant of these values against the power of authoritarian regimes like China, Iran, and Russia.
The election of Donald Trump is a prime example of how we were, once again, forced to recalibrate our foreign policy towards the US. A renewed commitment to multilateralism entrenched in a more focused cooperation with our allies and like-minded countries would let Canada serve as a broker of liberal democratic values against ramping actions from illiberal states, while also partly loosening Ottawa from Washington's tight grip.
Canada's prestige on the international stage comes from our commitment to peace and security around the world but, unlike the great powers of this world, we cannot achieve this alone and must work through multilateral channels.
Joshua Walsh is an MA candidate at the Norman Paterson School of International Affairs at Carleton University specializing in diplomacy and foreign policy.