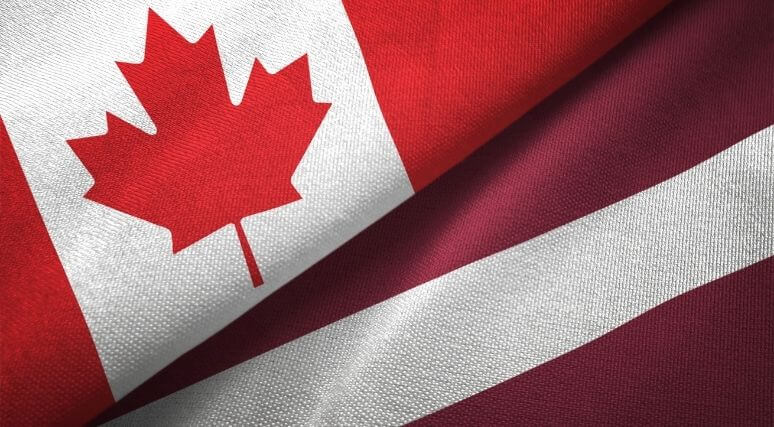 A more informed understanding by the public is necessary to ensure our domestic bipartisan political consensus underpins the Latvia mission, write Alexandra Richards, Christian Leuprecht, Alexander Moens and Alexander Lanoszka.
This article is abstracted from the recent edited volume, titled Lessons Learned from the Enhanced Forward Presence, 2017-2020, published by the NATO Defence College.

By Alexandra Richards, Christian Leuprecht, Alexander Moens and Alexander Lanoszka, January 26, 2021
Canada's commitment as the Framework Nation for the eFP battlegroup in Latvia is currently the country's largest foreign deployment. At present, about 540 military personnel form the Canadian contingent in that Baltic country. It is one of the few Canadian Armed Forces' (CAF) overseas missions that has not been scaled back due to COVID-19 and the pressures it created on the CAF's operational capacity. This mission remains a high priority for Ottawa.  Four years into this mission, the timing is propitious to take stock of what it has achieved thus far and where it may be coming up short.
Background
In 2014, Russia annexed Crimea in Europe's first territorial annexation since 1945. This action changed the security environment in Europe and left many NATO allies, particularly those on NATO's eastern flank, fearful of aggression and interference from an emboldened Russia. In response, NATO created a Readiness Action Plan, which established measures to reassure worried allies and enhance NATO's ability to respond to a crisis in Europe. 
NATO members agreed at the 2016 Warsaw Summit to create battalion-sized combat-ready battlegroups, to deploy to Latvia, Lithuania, Estonia, and Poland to deter Russia and to reassure those northeastern allies of its commitment to collective defence. Framework Nations, working closely with their Host Nations, would provide the central components of the battlegroups while a majority of other NATO allies, on a voluntary and rotational basis, would supplement these components with additional personnel and equipment.
The eFP deployment model is new to NATO as member states directly assist other member states with the unanimous endorsement of the North Atlantic Council. It is also the first time that multinational forces have been integrated below a brigade level. The eFP deployment model may help the Alliance achieve better multinational optimization; member states that operate and train together improve division of labour within missions, multilateral collaboration, competences and capacities, will likely have higher confidence in mission success when deployed together in the future for other tasks.
Since 2017, Canada has served as the Framework Nation for NATO's eFP battlegroup in Latvia while Germany, the United Kingdom and the United States serve as Framework Nations for Lithuania, Estonia, and Poland, respectively. By October 2020, Battlegroup Latvia consisted of roughly 1500 troops with over 500 Canadians and the rest being supplied by nine other participating NATO member states. 
Canada's involvement in the battlegroup is motivated by several factors. First, Europe is one of the most important economic and security partners for Canada. As Russian aggression challenges the stability and unity of Europe, Canada has a vested interest in ensuring the territorial integrity of the Baltic states and Poland. 
Second, this mission also speaks to Canada's identity. Over one million Canadians are of Ukrainian descent and many Canadians are from European countries with direct experience of Soviet repression. As a result, there was significant domestic pressure for Canada to contribute to NATO's efforts in East Central Europe. Third, the Trudeau government's foreign policy has a renewed commitment to multilateralism and has strongly opposed Russia's actions in Ukraine. As the eFP aligns well with the Ottawa's interests, it is small wonder that the mission was extended in May 2018 through March 2023. 
The eFP's Successes and Challenges 
Canada's experience in the eFP has been largely successful. In its leadership role, it has managed unprecedented multinationality within the battlegroup, trained consistently for combat readiness, added deterrence towards Russia, countered Russian disinformation campaigns, and built strong civil-military relations. To be sure, challenges remain related to interoperability amongst the four eFP battlegroups, concerns about possible reinforcements, and political challenges regarding the low domestic visibility of the mission in Canada. 
Multinationality is always a challenge to military efficiency. Every six months, Battlegroup Latvia – the most multilateral battlegroup – undergoes a rigorous training and certification process to ensure that the battlegroup qualifies as "fully integrated and battle ready." The level of interoperability achieved through this process is unequalled within NATO and suggests that, while multinationality is a challenge, it can be managed effectively. There are also political and strategic benefits to multinationality in the eFP, such as improved burden-sharing within the Alliance and signalling NATO resolve and unity to Russia. That multinationality allows Canada to take on a leadership role with limited personnel and resources, given that forces are augmented with others from various NATO member states, is an additional benefit.
A recently published volume, edited by several of the authors, finds general agreement among leading experts from Host and Framework Nations that the eFP has enhanced regional regional deterrence and defence as it increases the costs of aggression for Russia. Politically, the multinationality of eFP signals unity as over two-thirds of Alliance members have "skin in the game" in the Baltics and Poland. An attack by Russia would likely trigger a larger NATO response, especially since most NATO allies have military assets within the region. Militarily, the additional personnel and equipment could slow a Russian advance.  The eFP battlegroups in Lithuania and Poland could reduce the likelihood that the Baltics are cut off from reinforcements given their relative proximity to the corridor that connects the Baltic countries with most of European NATO.
However, concern exists that multinationality complicates the chain of command, creating uncertainty and possibly slowing the response of the eFP battlegroups in confronting an imminent threat. This problem is due to conflicting rules of engagement and equipment. Additionally, the eFP would require reinforcement from NATO's Very High Readiness Joint Task Force (VJTF). Led in 2020 by Turkey, the VJTF is not regionally aligned and so it could be preoccupied with another crisis, making it unavailable to assist the eFP. 
While NATO is taking steps to address some of these issues, including developing a wider division-level command and control structure, Canada and other states should take further steps to boost the conventional defence value of the eFP, such as adding additional firepower to the eFP battlegroups and enhancing regional cooperation between the battlegroups and host nations. By sharing lessons and developing tactical synergies, regional cooperation stands to bolster interoperability between eFP battlegroups, which would increase the defensive value of the eFP and the social and military cohesion of the Alliance.
Russian disinformation aimed at undermining the legitimacy of the eFP has occurred across all four battlegroups. Although countering asymmetric threats including disinformation is the primary responsibility of the Host Nations, eFP battlegroups have leveraged public diplomacy and strategic communication to counter disinformation. Community outreach, social media campaigns, and attendance at community events have built trust and support of local populations and shown that the battlegroups are there to help, not occupy. 
In Latvia, Canada has also established Task Force Latvia (TFL), which acts as a permanent Canadian Liaison to the Latvian Brigade Headquarters and ensures continuity of messaging across battlegroup rotations. Additionally, TFL and the Canadian embassy have taken a whole-of-government approach so that political, economic, and military actions and messages are thematically consistent and well-integrated. Russian language disinformation attacks in Latvia have been decreasing, which suggests that these measures have been effective and could be deployed elsewhere.
Finally, despite how Canada has effectively communicated the aims and objectives of the eFP to Latvians, Ottawa has made little systemic effort to communicate the benefits of the eFP and NATO involvement to members of the Canadian public. The successful and aligned work of the CAF and Canadian diplomats has little domestic visibility among the general public, journalists, and academics. The Canadian government is underplaying the vital role of NATO in its foreign policy and the security assurance the eFP battlegroups have added through multinational adaptation. This strategy may, to some extent, shield the eFP from politicization, but it could also threaten the future of the eFP considering how its very existence depends on the future for the eFP without four Framework Nations and the requisite troops apportioned by NATO member countries. 
COVID-19 is straining budgets across the Atlantic Alliance. If the objective and progress of the mission are not communicated effectively, Framework Nations such as Canada may find it more difficult to justify their commitment to the eFP and related expenses to their domestic electorates. Thus far, Canadian multilateral interests and principled goals are well served in the eFP. A more informed understanding by the public is necessary to ensure our domestic bipartisan political consensus underpins the Latvia mission. 
Alexandra Richards is a Ph.D. candidate and co-instructor in the NATO Field School and Simulation program in the Department of Political Science at Simon Fraser University.
Christian Leuprecht is Class of 1965 Professor in Leadership at the Royal Military College of Canada, cross-appointed to Queen's University and senior fellow at the Macdonald-Laurier Institute. 
Alexander Moens is the founder and Director of the NATO Field School and Simulation Programme and department chair, professor in the Department of Political Science at Simon Fraser University, and senior fellow at the Macdonald-Laurier Institute.
Alexander Lanoszka is assistant professor of international relations in the Department of Political Science at the University of Waterloo and the Balsillie School of International Affairs.