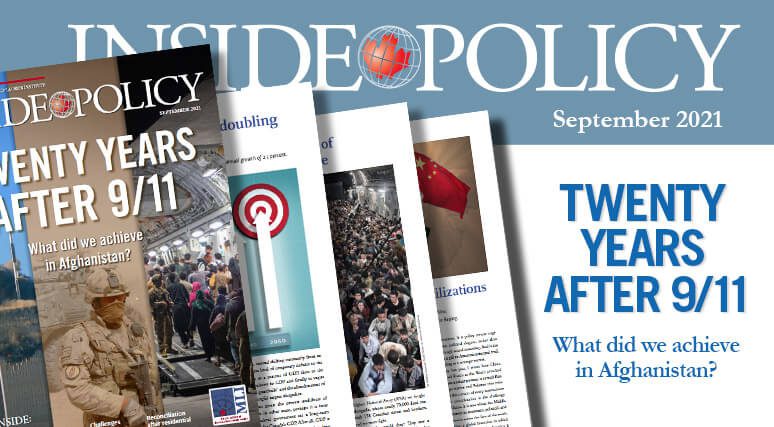 OTTAWA, ON (September 10, 2021): This weekend marks the 20th anniversary of the 9/11 terrorist attacks – a moment of commemoration, mourning, and reflection for many. It also has come to mark the final Western withdrawal from Afghanistan, raising serious questions about the coalition's achievements, what we owe to our allies we left behind, and what the future holds for the people of Afghanistan.
In our latest issue of Inside Policy, MLI's authors and experts reflect on these questions and more, making sense of a dynamic and challenging situation in Afghanistan. We are particularly honoured to feature an address by Amrullah Saleh, Afghanistan's acting President and the leader of the anti-Taliban resistance, as part of our cover feature. His message to Canadians was provided exclusively to MLI and has been transcribed for this issue of the magazine.
"Freedom is not dead, it's wounded. Liberty is not dead, it's wounded. Afghanistan is savable," states Saleh, who urges Canadians to not give up on the millions of Afghans who seek peace and pluralism in their country.
When considering Afghanistan, articles by Shuvaloy Majumdar and Khorshied Nusratty urge Canadians not to forget the plight of those who are the principal victims of the Taliban's advance: women who face a return to the veritable dark ages of Taliban rule. Richard Fadden examines what global consequences will arise from the US withdrawal and Chris Alexander explores Pakistan's role in waging a proxy war against Afghans.
Also in this issue of Inside Policy, Christian Leuprecht provides an analysis that looks critically at the West's intervention in Afghanistan, whereas Majumdar examines the greater strategic consequences of leaving the country to its fate: particularly, how this aids a nexus of revisionist actors led by China. Additionally, Sarah Teich and Daniel Eisen remind us about the need to support the victims of terrorism.
Yet Afghanistan is not the only pressing issue facing Canada. This issue of Inside Policy also explores:
Beijing's hostage-diplomacy, with Kovrig and Spavor marking over 1000 days captive in China;
The consequences of shackling innovators with excessive regulation;
The challenges facing federal firearms legislation;
Why Canada should commit to doubling its GDP by 2050;
Indigenous reconciliation and the debate over burial sites at residential schools, and more.
We hope you enjoy the latest edition of Inside Policy.
To read the latest edition, click the button below.

***
For more information media are invited to contact:
Brett Byers
Communications and Digital Media Manager
613-482-8327 x105
brett.byers@macdonaldlaurier.ca