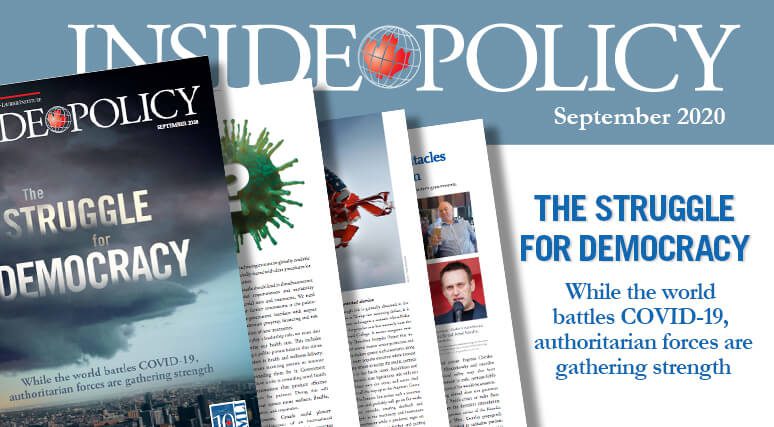 OTTAWA, ON (September 30, 2020): MLI is devoting our latest issue of Inside Policy to discussing the fight for democracy around the world and how Canada should respond. As we enter a new and uncertain era of geopolitics, it is more important than ever for Canada to combat COVID-19, address the economic devastation from the pandemic, and work with our allies to safeguard against the ongoing erosion of democracy.
Chris Alexander explains why we need to support those fighting on the streets for democracy in Belarus. Balkan Devlen highlights the growing uncertainty around the US presidential election. J. Michael Cole explores the struggle for democracy against the Chinese Communist Party in both Hong Kong and Taiwan. Cole reminds us of the dangers of giving into China's demands. Yet, as noted by Charles Burton, Canada cannot go it alone in pushing back against authoritarian China. We must instead work closely with our allies in this fight. Pierre Jolicoeur, Anthony Seaboyer, and Marcus Kolga examine how China and Russia have proven particularly adept at intimidation, disinformation, and influence campaigns.
Of course, we must also remain vigilant in the fight against the COVID-19 pandemic – or the next pandemic, as Harvey Schipper adds. The COVID-19 outbreak that began in China has since spread around the world, resulting in accelerating fatalities, lockdowns, and an unprecedented economic slowdown. Only now is Canada finally moving beyond its lockdown to tentatively open up some sectors of its economy. Philip Cross urges that while we fight against a resurgence of COVID, we must also focus on rebuilding the economy.
Other issues also demand our attention – the oil and gas sector is central to Indigenous plans for their economic future according to Ken Coates and JP Gladu. Yet, as Stephen Buffalo and Ken Coates note, Indigenous peoples are now increasingly afraid that their economic progress might be curtailed by the Liberal Party's Green plan.
In addition to our coverage on the global fight for democracy, this issue of Inside Policy also covers the full-range of public policy issues facing Canada's decision-makers, including:
Race in policing
Canada's economic recovery challenges
Innovation in Canada
The role of Facebook in the news
We hope you enjoy the latest edition of Inside Policy.
***
For more information media are invited to contact:
Brett Byers
Communications and Digital Media Manager
613-482-8327 x105
brett.byers@macdonaldlaurier.ca