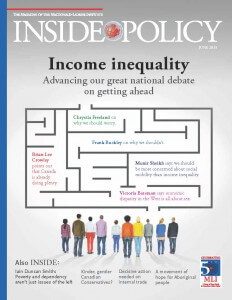 New edition of the Macdonald-Laurier Institute's magazine advances the great national debate on getting ahead
OTTAWA, June 5, 2015 – Concerns about income inequality are everywhere these days. Claims that the "one percent" are eating up a larger portion of society's wealth are multiplying, as are movements designed to offset the disparity with the less well-off.
But is income inequality really deserving of the attention it earns?
In the new edition of Inside Policy, the magazine of the Macdonald-Laurier Institute, leading economic thinkers from around the world weigh in on the income inequality debate.
To read the full version of the magazine, click here.
Liberal Member of Parliament Chrystia Freeland and George Mason University Professor Frank Buckley stake out opposing views on the severity of the problem.
Freeland laments a "winner-take-all phenomenon" in which those at the very top of the income scale take more and more from the middle and lower classes.
Buckley, however, disagrees. He calls Canada "one of the fairest societies in the world" and argues that more harm than good can come of trying to even out wealth disparity.
Other contributions to the income inequality debate include:
Former Statistics Canada Chief Statistician Munir Sheikh argues that the ability to move into higher income brackets should be a greater focus than evening out the disparity between them.
MLI Managing Director Brian Lee Crowley says many critics ignore what Canada is already doing to tackle income inequality.
CapX contributor Victoria Bateman argues that the real story about income inequality is the gulf between the world's wealthy and poor women.
Iain Duncan Smith, United Kingdom Secretary of State for Work and Pensions, explains how British Conservatives have reclaimed the issue of helping the poor from the Left.
This issue also features the latest contributions to the most important public policy debates.
Philippe Legrain says protectionist Germany is poorly placed to lead the European Union in the digital age, Stanley Hartt argues that Prime Minister Stephen Harper needs to show his softer side in the upcoming federal election, Neil Desai says Canadians need to better understand how technology can fight terrorism and Ailish Campbell and Brian Kingston lay out the priorities for improving internal trade.
***
Inside Policy, the magazine of the Macdonald-Laurier Institute, is published six times a year.
The Macdonald-Laurier Institute is the only non-partisan, independent national public policy think tank in Ottawa focusing on the full range of issues that fall under the jurisdiction of the federal government. Join us in 2015 as we celebrate our 5th anniversary.
For more information, please contact Mark Brownlee, communications manager, at 613-482-8327 x105 or email at mark.brownlee@macdonaldlaurier.ca.