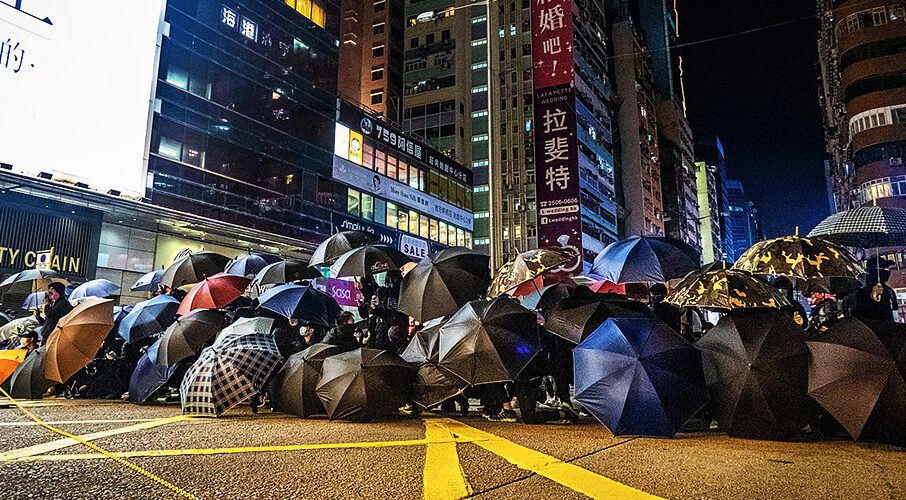 The time for nations to act in unison has never been more apparent. It is essential that democracies around the world unite and co-ordinate a robust response to China's aggression in Hong Kong, write Benedict Rogers and Dean Baxendale. 
By Benedict Rogers and Dean Baxendale, September 18, 2020
Overnight, this spring, Hong Kong went from being one of Asia's most open cities to a Chinese city directly under Communist Party control thanks to the imposition of a draconian new national security law in the face of massive protests.
The erosion of Hong Kong's liberties had already begun several years ago, but the new security law marks a dramatic escalation. Pro-democracy slogans and songs are banned, dissident books have been removed from libraries and the school curriculum is being censored in a new era of indoctrination. Activists, including the billionaire media tycoon Jimmy Lai and student leader Agnes Chow, have been arrested, and over 200 police raided the newsroom of Apple Daily, the only Chinese-language pro-democracy mass circulation newspaper, owned by Lai.
Under the security law it is now a criminal offence for Hong Kongers to talk to foreign politicians, activists and journalists. In addition, the law has an extraterritorial clause, meaning in effect that anyone, anywhere in the world, whether or not they are from or in Hong Kong, could breach the law. Theoretically, we are a committing a crime under Hong Kong's security law by writing and publishing this article in Canada. More seriously, Hong Kong police have reportedly issued arrest warrants for six Hong Kong activists now in exile, including Nathan Law, the highest-profile democracy campaigner to flee the city, and Samuel Chu, an American citizen.
How has the world responded to this all-out assault on Hong Kong's freedoms and the international-rules based order?
The United States has imposed targeted sanctions on 11 Chinese and Hong Kong government officials, including Beijing's puppet Chief Executive in Hong Kong, Carrie Lam. Several countries, including Canada, Australia, Germany and the United Kingdom (UK), have suspended their extradition agreements with Hong Kong. The UK announced a generous package for Hong Kongers who hold British National Overseas (BNO) passports, enabling them to come to the UK on a "pathway to citizenship".
These are welcome steps, but so much more is needed.
The free world must realize that if the Chinese regime's assault on Hong Kong's freedoms goes unchallenged, Taiwan will be next in Beijing's sights. And if China succeeds in subjugating Taiwan, the keystone of the First Island Chain strategy that is seen as containing China, there will be little left to slow China's domination of the Indo-Pacific. As a Pacific nation, this means that our own liberties are at stake. So, it is essential that democracies around the world unite and co-ordinate a robust response.
An international contact group of like-minded countries – western democracies together with allies in the Asia-Pacific region such as Japan, India and Taiwan – should be established to coordinate efforts. Not every country is going to adopt the same measures, but the crisis requires a global response.
Countries that are willing to impose targeted Magnitsky-style sanctions should do so together, for greater impact.
Countries willing to open their gates to vulnerable Hong Kongers who need to flee their city should work together to coordinate a lifeboat rescue package.
And however, flawed the United Nations is, governments that believe in human rights should work for the establishment of a UN Special Envoy and Special Rapporteur to monitor and report on the human rights situation in Hong Kong. A three-pronged approach – punitive, humanitarian and diplomatic – is required.
Canada is in a unique position, given its standing within the global community of nations as an advocate for Gender, LGBTQ, and Human Rights worldwide. But many of the signs over the past few years seemed to demonstrate a lack of forthright advocacy for citizens oppressed in Xinjang (Uyghurs) or Hong Kong. More disturbing is the seeming control that the Chinese Embassy and its consulates have played in organizing anti-democracy rallies in the streets of Toronto, Ottawa, and Vancouver.
One such rally was enthusiastically promoted and attended by Michael Chan, Ontario's former Immigration Minister. Similarly, former Ambassador John McCallum was quoted as saying "Canada has benefitted greatly from our friendship with China and we have more in common with them than the US."  Observers in the opposition seemed to have a different take.
In December 2019, Conservatives tabled a motion in the House of Commons to create the Special Committee on Canada–China Relations(CACN), an important new forum for MPs to examine all aspects of Canada's relationship with China critically. Although Liberals voted against the creation of the new committee, Conservatives, Bloc Québécois, NDP, and Greens all came together to do the right thing and get the motion passed.
The committee has held numerous public hearings, and the August session on Hong Kong was particularly lively and brought home the urgency for action by Canadian parliamentarians. Reports and motions issued by the CACN, as well as studies in the Industry Committee and actions undertaken by the Subcommittee on International Human Rights all point to a growing multi-partisan political consensus on China.
This, combined with the creation of the Inter-Parliamentary Alliance on China, demonstrates that a politically diverse international cohort of parliamentarians are aligned in their belief that coordinated action is needed to push back against China's aggression.
The time for nations to act in unison has never been more apparent, and on September 22, we organized a global tele-conference; Hong Kong: A Way Forward. Hosted by the Macdonald Laurier Institute in Canada and European Values Centre in Europe, it features some of the most prominent politicians, academics, policymakers, and human rights advocates on China and the Hong Kong crackdown. All Canadians interested in preserving freedom and democracy for all global citizens, should join this historic event.
Benedict Rogers is a human rights activist and co-founder of Hong Kong Watch. Dean Baxendale is an international publisher based in Toronto.