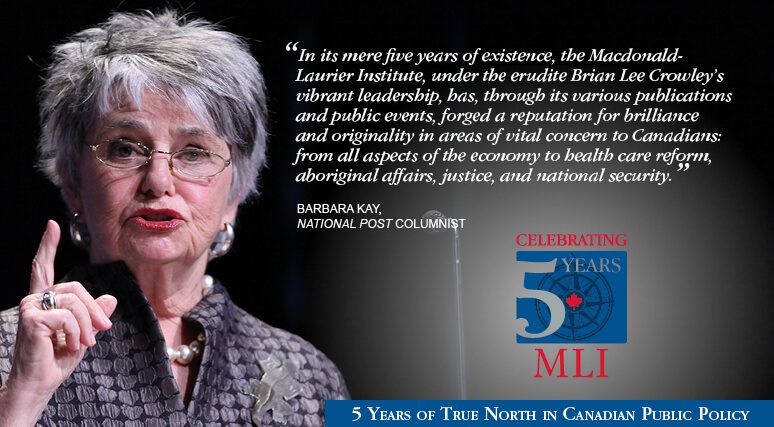 National Post columnist Barbara Kay is marking the Macdonald-Laurier Institute's fifth anniversary celebrations by praising the institute's "brilliance and originality" in thought leadership on matters of national importance to Canadians.
Managing Director Brian Lee Crowley has helped make MLI a leading voice on everything from the economy to health care reform, aboriginal affairs, justice, and national security, says Kay.
"In its mere five years of existence, the Macdonald-Laurier Institute, under the erudite Brian Lee Crowley's vibrant leadership, has, through its various publications and public events, forged a reputation for brilliance and originality in areas of vital concern to Canadians", writes Kay.
Kay is a past participant in MLI's Great Canadian Debates, a series of debates looking at issues of vital concern to Canadians.
In March 2014, Kay debated in favour of the motion "Free speech in Canadian universities is an endangered species". York University professor Daniel Drache argued against.
Kay says MLI's thought leadership has been an important source for understanding the main issues Canada is facing.
"The MLI provides the kind of evidence-based, analytic excellence that conservative journalists rely on to better understand the political, cultural and economic traditions that have formed, and the trends that continue to shape, Canada's unique national estate", says Kay.
Throughout 2015, MLI is marking five years of true north in Canadian public policy by celebrating its unique contributions to thought leadership in Canada.
This includes our work on fixing Canadian health care, unmasking the true impact of "social licence" claims over natural resource projects, explaining why balanced budgets matter and our work on Aboriginal prosperity.
Several other influential Canadians have also passed along their congratulations. This includes historian Jack Granatstein, political strategist Tom Axworthy, and Canadian Council of Chief Executives' President and CEO John Manley.
For all of the details of MLI's celebrations, check out our fifth anniversary page.