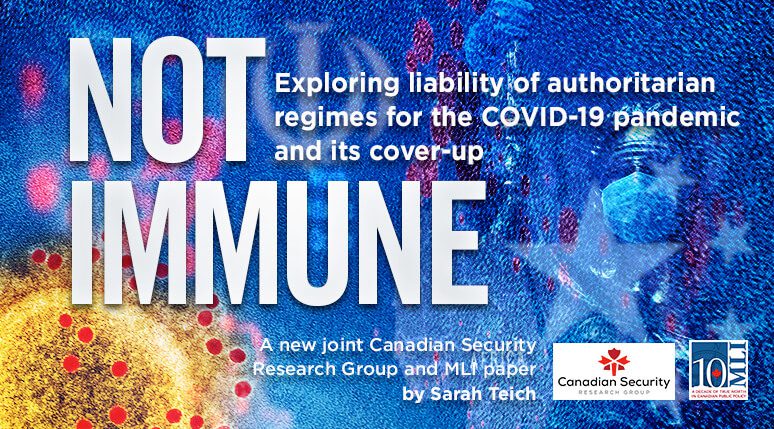 OTTAWA, ON (July 15, 2020): In a new MLI joint publication with the Canadian Security Research Group, titled, "Not Immune – Exploring liability of authoritarian regimes for the COVID-19 pandemic and its cover-up,"  Sarah Teich examines the full extent to which authoritarian regimes like China and Iran are legally liable for the COVID-19 disaster, and what can be done to hold them accountable.
Simply put, Teich, an expert in human rights and security law, demonstrates that we can take them to court (or use other avenues of recourse) for global crimes including abusing human rights, subverting human health, suppressing information, and likely causing the deaths of hundreds of thousands of people and trillions of dollars in economic damage. We can also seek compensation.
Just this week, it was reported that Chinese virologist Dr. Li-Meng Yan fled to the US after alleging that Beijing actively withheld research critical to understanding COVID-19, concealed the extent of the outbreak, and silenced whistleblowers. These serious allegations add to a large body of evidence of the regime's deliberate mishandling of the pandemic at its outset which likely contributed greatly to its global spread.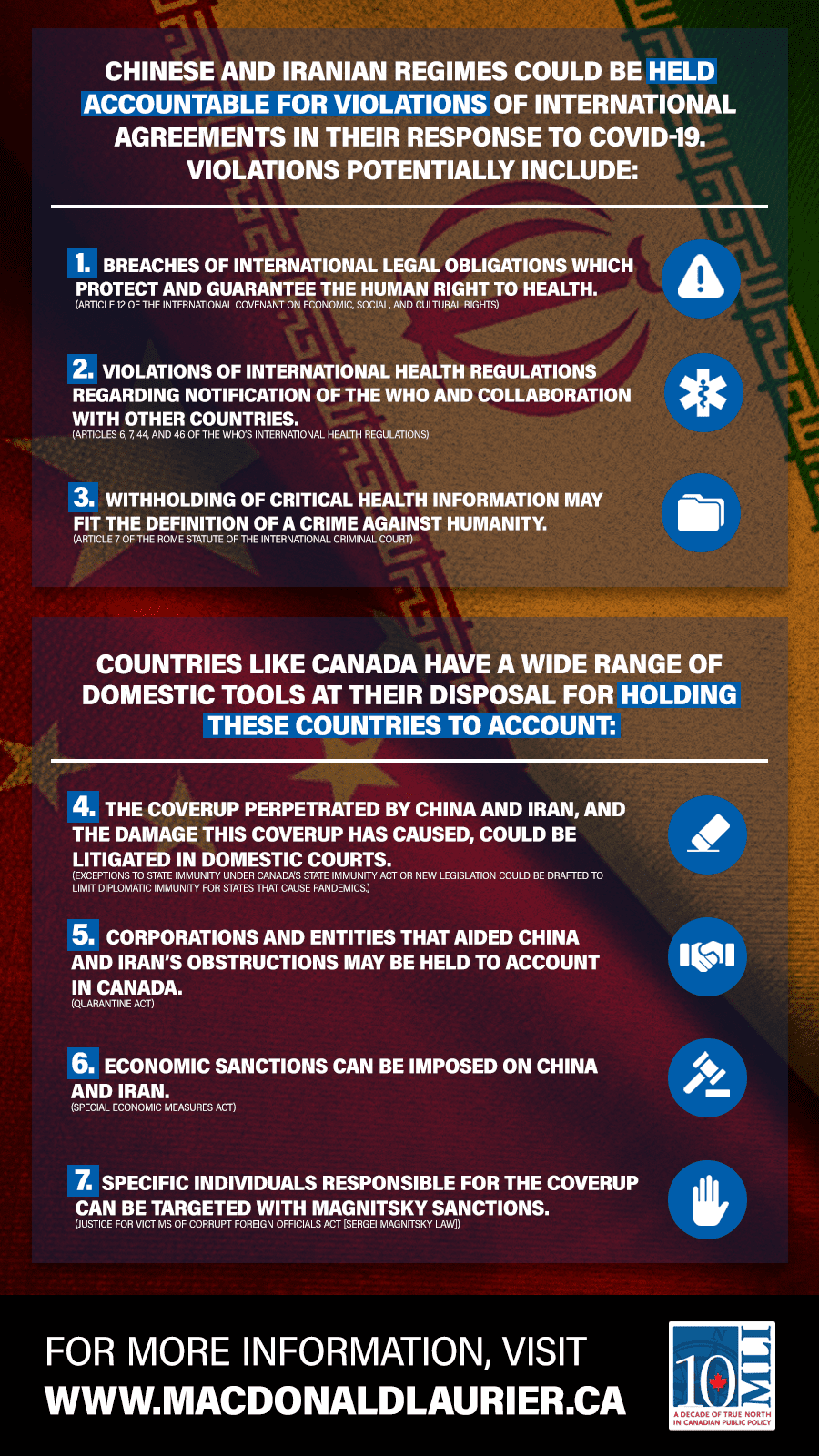 The Iranian government also reportedly buried evidence, intentionally underreported data, and sacrificed the health and safety of its citizens in favour of maintaining power and stability.
According to Teich, "the Chinese and Iranian regimes likely breached their international legal obligations in a number of key international agreements," as a result of their cover-up activities, including "the International Covenant on Economic, Social, and Cultural Rights (ICESCR), the World Health Organization's International Health Regulations (IHR)," and more.
Canada and other governments have a wide array of legal avenues that could be pursued to seek accountability from China and Iran. As the author explains, these avenues include "the UN Office of the High Commissioner for Human Rights, the Director-General of the WHO, the International Criminal Court, and the UN Security Council, respectively."
Countries could also seek accountability through organizations like the International Court of Justice, the Permanent Court of Arbitration (PCA), or in China's case, the World Trade Organization dispute resolution mechanism. Bilateral investment treaties may similarly be used.
Accountability could also be sought in the Canadian and US domestic legal systems. In the Canadian case, this could include suing China or Iran in domestic courts; seeking accountability from Chinese and Iranian corporations under the Quarantine Act; imposing economic sanctions on China and Iran using the Special Economic Measures Act; sanctioning officials under the Sergei Magnitsky Law; and passing novel legislation to specifically address liability for COVID-19.
In total, Teich finds more than a dozen ways that the Chinese and Iranian regimes can, and should, be held to account.
In his foreword to the paper, internationally respected human rights lawyer David Matas writes that "with any wrongdoing, the sooner those responsible are held responsible, the greater the deterrent and prevention effect. Immunity is a licence for repetition."
"The priority of governments right now is on public health and security, as it should be," states Teich. "But accountability for the pandemic should be our next priority."
To learn more, read the full publication here.
***
Sarah Teich is a Canadian attorney and consultant based in Toronto, Canada. She holds a Juris Doctor degree from the University of Toronto, an MA (magna cum laude) in Counter-Terrorism and Homeland Security, and undergraduate degrees in Psychology and Sociology from McGill University.
For more information, media are invited to contact:
Brett Byers
Communications and Digital Media Manager
613-482-8327 x105
brett.byers@macdonaldlaurier.ca