OTTAWA, ON (September 17, 2021): As Canada votes Monday in an election that will be pivotal for a return to health and prosperity for Canadians, MLI's work shows higher spending has not proven the solution to COVID's challenges; the major political parties, however, do not seem to have got the memo.  All of them propose even higher levels of spending and debt. Our review of Canada's COVID pandemic performance compared to 14 peer countries reveals that:
The impact on Canadian jobs has been severe, with increased unemployment and far less progress towards returning to pre-pandemic levels when compared with other countries. Canada's unemployment rate is 7.5 percent, still nearly 2 percent above the pre-pandemic level.  Only the US has had a more persistent increase in unemployment; however, their joblessness was much lower to begin with.
While the election platforms of the leading federal parties promise tens of billions of dollars in new spending, compared to our peer countries Canada has already taken on enormous amounts of public debt to fight the pandemic that will likely take generations to repay.
Comparable figures for peer countries are not yet available for new rankings on GDP growth, but the second quarter of 2021 saw a 1.1 percent contraction of GDP in Canada and estimates for the remainder of the year are being revised downwards. An area of particularly poor performance for Canada seems likely to get worse.
Despite these high spending levels, when compared with peers, Canada has been slow to bring waves of the virus under control quickly, while restricting access to care for non-COVID-related illness, resulting in high levels of excess deaths.
The United States, which enjoyed early vaccine successes but plateaued at low vaccination rates, is now the worst performer overall. Canada's vaccination rates have been at or near the top of the index in recent months but seem to be levelling off. Canada will need to sustain its performance on vaccinations to avoid the worst of a fourth wave of the pandemic.
The MLI COVID Misery Index, updated today, is the only comprehensive tool available to Canadians to monitor the impact of the virus and government pandemic measures on the country. It compares 15 peer nations by capturing the effects on human health (Disease Misery), the efficiency of governments' responses (Response Misery) and the economic costs associated with each country's approaches (Economic Misery). Canada remains in 9th place out of 15 peer countries, scoring a C+ overall.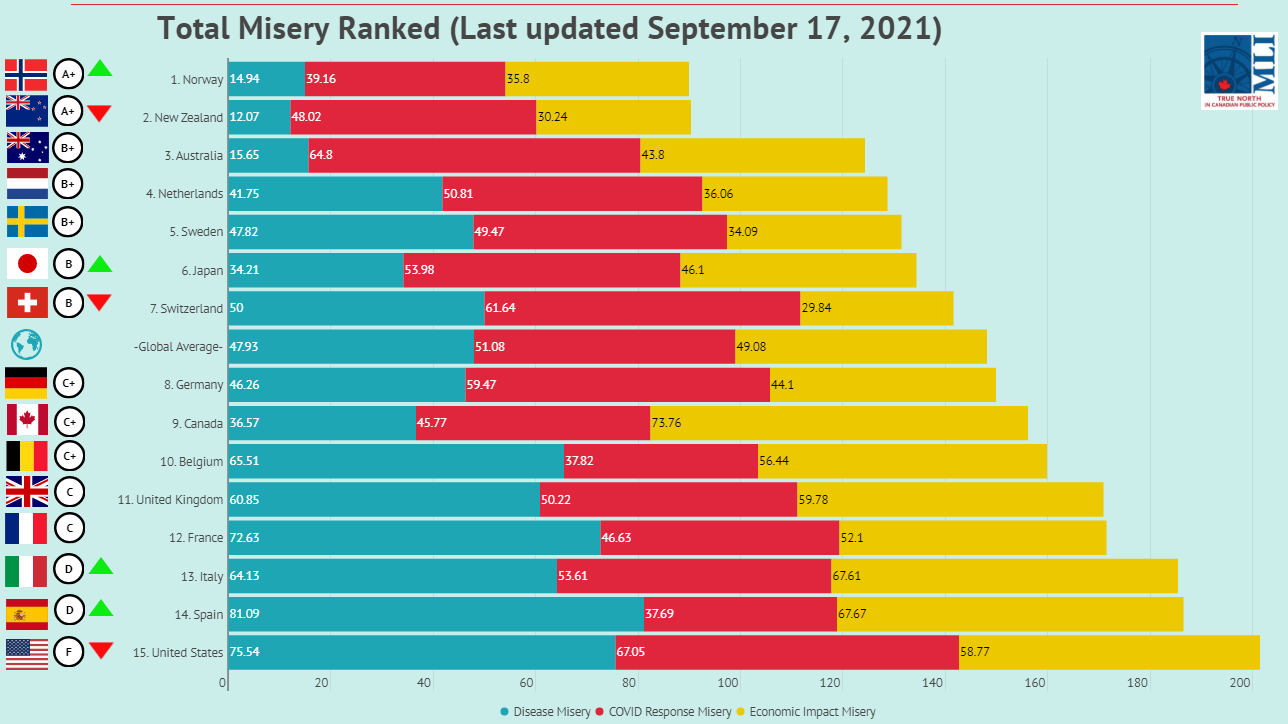 Economic Misery
Canada maintains an F grade on the economic impact of the pandemic, worst of all peer countries. While we are still awaiting figures to compare all countries on measures for GDP growth and public debt, updated figures on unemployment have again lowered Canada's ranking. Only the US has had a more persistent increase in unemployment; however, they started from a much lower rate.
"With all major political parties insisting on continued high spending, the CMI suggests that this is not the correct path forward to protect human health and wellbeing," notes Richard Audas, MLI Senior Fellow and creator of the CMI. "The costs associated with this strategy will clearly be a burden for future generations, and the benefits at best have been uncertain."
Disease Misery
Canada's Disease Misery score remains relatively unchanged with Canada remaining in 5th place in this category, receiving a B+. Though Canada has kept cases and deaths officially attributed to COVID-19 low, Canada's reproduction rate score – that is, the measure of how many new people each person with COVID-19 infects – has worsened somewhat. This indicates that, when compared with peers, Canada has been slower in terms of bringing waves of the virus under control quickly.
The one blemish on Canada's record for managing Disease Misery is a persistently high rate of excess deaths for the population aged 15 and older. Canada shifted gears quickly to prepare the health system for an onslaught of COVID cases but, in so doing, restricted access to care for just about everything else. According to Audas, "we anticipate that these delays to access and treatment will have long-term implications and will disproportionately affect those already experiencing other health disadvantages."
Response Misery
On Response Misery, Canada has slid from 2nd to 4th place and again receives a B+ grade. Canada's drop is mostly attributable to other countries catching up to Canada on vaccinations. Canada's score in this category is most negatively impacted by our public health restrictions which have been significantly more burdensome than those of our peers on average over the past year and a half.
With Canada's rate of vaccine uptake slowing, there remains a risk associated with variants of concern, such as the Delta variant. Though the United States and United Kingdom were once leaders on vaccinations earlier this year, their plateauing occurred with far too few Americans and Britons vaccinated, meaning that the costs to human health and prosperity are continuing to drag on as the virus spreads.
"Canada cannot afford to be complacent. Already, a heavy price has been paid, and to stave off additional misery, continuing to improve our vaccinations is absolutely essential," argues Audas. "If we fail in this task, the fourth wave and our reaction to it could further damage human wellbeing."
For more information, consult the links below.
Additionally, media are invited to contact:
Brett Byers
Communications and Digital Media Manager
613-482-8327 x105
brett.byers@macdonaldlaurier.ca