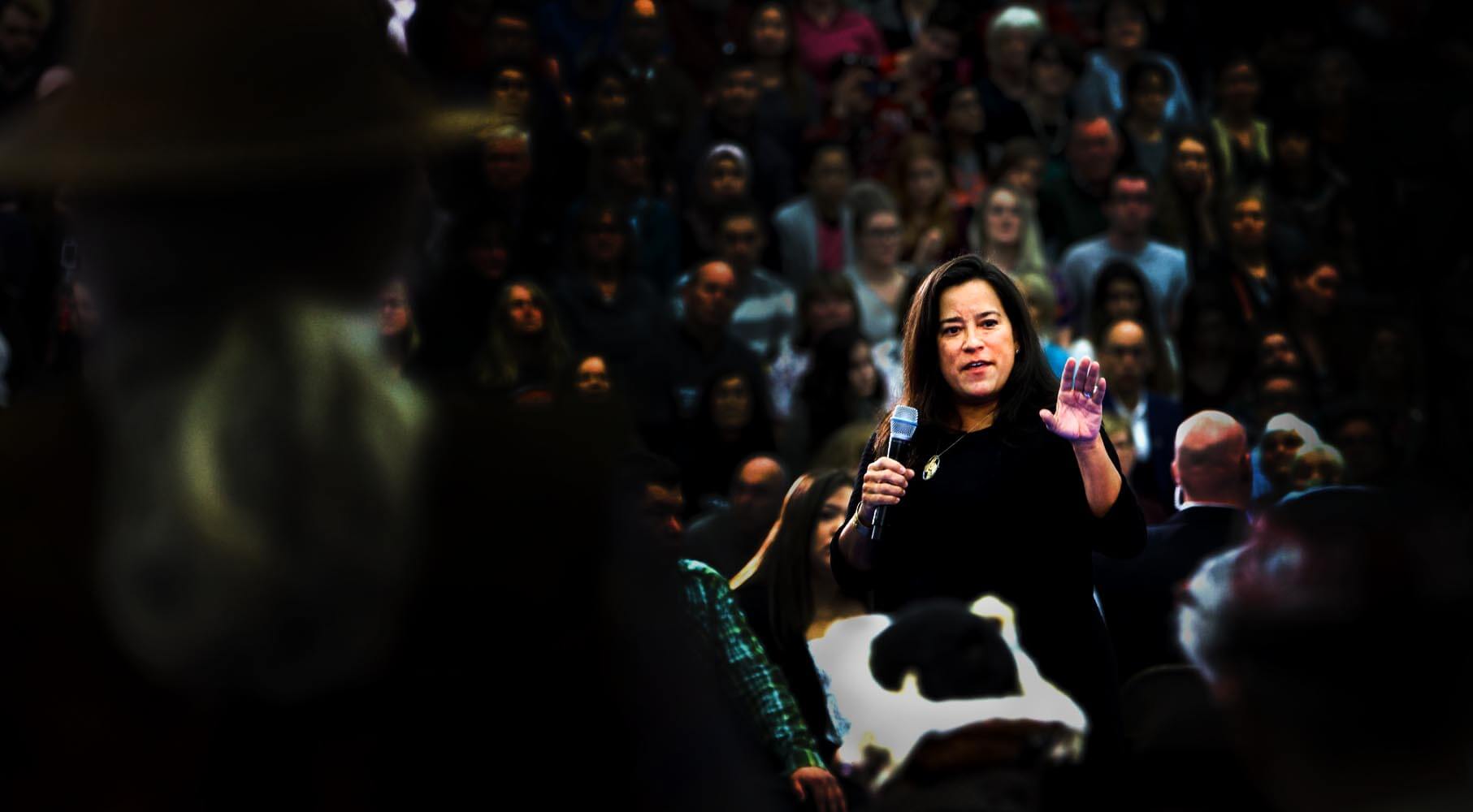 The pursuit of Indigenous autonomy is a legitimate, constructive and viable strategy for the future, write Ken Coates and Brian Lee Crowley.
By Ken Coates and Brian Lee Crowley, April 25, 2019
One of the most curious features of the SNC-Lavalin controversy has been the inability of the federal government to settle on an account of why Canadians should distrust and dislike Jody Wilson-Raybould.
She has been criticized for not speaking French, for being difficult to work with, for nominating a Supreme Court candidate that the Prime Minister did not like, for not warning the Prime Minister (enough times) that the Prime Minister's Office's (PMO) approach to SNC-Lavalin was inappropriate, for being insufficiently principled to resign when first confronted with PMO interference, for taping a conversation with the Clerk of the Privy Council and for not understanding the job of Attorney General. These attacks have apparently left Ms Wilson-Raybould's popularity and credibility undented.
The continuing search of the "killer narrative" that will finally discredit the former Justice Minister and her colleague, former Treasury Board minister Jane Philpott, however, has now moved from the comedic to the ridiculous. The story now circulating in official circles in Ottawa is that Ms. Wilson-Raybould was pursuing some form of radical sovereigntist Indigenous agenda from her cabinet position against the opposition of the prime minister and her cabinet colleagues.
The irony is that few ministers have come to office with their political priorities so clear, so well enunciated and so widely known. An Indigenous activist of great talent, Ms. Wilson-Raybould has long advocated for new approaches to this vital relationship and for the strengthening of Indigenous self-government. Indeed, as has been widely reported, the prime minister intentionally made Ms Wilson-Raybould the first Indigenous woman to hold the Justice ministry – and a crucial reason was that he saw in her the voice and personality to drive a powerful reformist agenda through a recalcitrant civil service and political establishment.
Ms. Wilson-Raybould was given perhaps the single most important place in cabinet, after the Prime Minister, to affect substantial and sustainable change with Indigenous communities. She also clearly knows that the Government of Canada is more an impediment to Indigenous revitalization than a "saviour" of Indigenous communities. The key is to banish colonial relationships to the political dustbin and forge new methods of collaboration, based on respect and real political partnership within Canada. Yet a transition of this magnitude, seeking to overcome generations of paternalism and centralized control (to say nothing of bureaucratic intransigence), was destined to be difficult, even painful.
People of good will can still disagree, as the Minister of Crown-Indigenous Relations Carolyn Bennett and likely Clerk of the Privy Council Michael Werneck clearly did, with the approach preferred by Ms. Wilson-Raybould and others. But the suggestion that Ms. Wilson-Raybould's approach was somehow an attack on the integrity of Canada, rather than a struggle to define a new relationship between Canada and Indigenous people, distorts her work out of all recognition.
Ms. Wilson-Raybould came to Ottawa to make a difference. She wanted, as the Prime Minister repeatedly said he also desired, to reset the relationship between the Government of Canada and Indigenous peoples. But the Liberal government and the Prime Minister simply did not understand the nature of the challenges and the extent of the promises that they made to Indigenous peoples and to the country.
A new approach had to be transformational, and not incremental. To the degree that Minister Wilson-Raybould was encouraging an expansion of Indigenous decision-making power and political independence – and that was a clear objective – there was nothing inherently radical or separatist in the general Indigenous approach. Indigenous communities were not going to get seats at the UN, and treaty and Aboriginal rights cases were not going to be heard by the International Court of Justice. Indeed, the current allegations that she somehow pursued a radical sovereigntist Indigenous agenda, one that was actually opposed by the government, is starkly undercut by the fact that by all accounts the prime minister offered to make her minister of Indigenous Services when he shuffled her out of Justice.
According to the government's own 10 "principles" that would shape future Indigenous-government relations, "All relations with Indigenous peoples need to be based on the recognition and implementation of their right to self-determination, including the inherent right of self-government." This meant, over the long term, getting rid of the Indian Act, changing fundamentally the confrontational legal struggles between the government and Indigenous communities, ensuring greater Indigenous control over education, lands, and the crucial question of membership, and restructuring into larger regional and cultural groups that would bring economies of scale into governance operations.
Wilson-Raybould's position as Minister of Justice and Attorney General was intended to give her a central if not predominant role in pushing this agenda. The priority has always been to accomplish Indigenous objectives within Canada, with a substantial retreat of the Government of Canada from the Indigenous field and the insertion of Indigenous communities and governments as key actors in Confederation. Rather than a radical sovereigntist agenda, it was actually a core component of the government's own declared approach on Indigenous-government relations, even if it ultimately struggled to gain traction among some of Wilson-Raybould's cabinet colleagues.
Maybe Ms. Wilson-Raybould wanted to go faster than the Prime Minister and most of the rest of the cabinet. But can you blame her?  The Prime Minister raised expectations higher and faster on Indigenous issues than in any other area of Canadian policy. Waving the Indigenous sovereignty flag as though this is an attack on the integrity of the Canadian federation is unacceptable and inaccurate. Worse, it is counterproductive to the effort at real reconciliation. As a federation, Canada's sovereignty has always been divided between federal and provincial orders of government. Adding a new order of (Indigenous) government that also enjoys a share of sovereignty within the laws and under the Constitution of Canada is hardly a radical departure.
In the 19th century, the United States came to terms with the idea of Indigenous sovereignty, focusing particularly on the authority of Indigenous governments on reservations, what they called "domestic dependent nations." Canadians continue to waffle on this issue. Indigenous peoples can and must manage their affairs, when they seek the right to do so. Indigenous communities are aware of their strengths, the abilities of their governments, and their capacity to take the level of control that they desire. Where they have done so, in many communities and on major files, the results have been both productive and highly promising.
Former Minister of Justice Jody Wilson-Raybould sought to reconcile Indigenous aspirations, prime ministerial promises and the realities of Canadian politics and government. The Ottawa gossip system is telling the country that she was overly persistent, constantly reminding officials and cabinet colleagues of the need for fundamental change and of the government's own promises. Yet far from detracting from her widely-regarded position as a principled advocate for change in the Indigenous-newcomer relationship, it only adds to it.
A new model of Indigenous-government relations is emerging, based on a non-confrontational legal relationship that asks Canada only to respect and apply its own laws and Constitution fairly and expeditiously. It rests, too, on the recognition of the Indigenous right to self-government and effective and meaningful control over their own affairs. Canadians need to appreciate that the pursuit of Indigenous autonomy is a legitimate, constructive and viable strategy for the future.
If the country could banish its paranoia about Indigenous sovereignty, we might finally find an accommodation that provides Indigenous nations, governments and communities with the authority that they need to overcome generations of government repression and paternalism and to set their own course. That future remains within reach, due in large measure to the consistent advocacy of Indigenous political leaders, Ms. Wilson-Raybould among them.
Brian Lee Crowley is Managing Director and Ken S. Coates is a Munk senior fellow at the Macdonald-Laurier Institute.