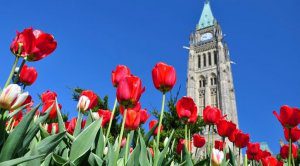 Designating a date as a National Day of Remembrance for Victims of Terrorism was important, but we must do more, writes Sarah Teich.
By Sarah Teich, June 23, 2021
Exactly 36 years ago, Air India Flight 182 was bombed along its Montreal-London-Delhi route. It disintegrated in midair while over the Atlantic Ocean. All 329 people on board were killed, including 268 Canadian citizens. It was the largest mass killing in Canadian history, and the deadliest act of aviation terrorism until 9/11.
The bombing was orchestrated by Babbar Khalsa, a terrorist group comprised of Canadian Sikh extremists known as Khalistanis. The terrorist attack was planned in Canada; it was executed in Canada, when the bombs were planted on the airplane; and it targeted and killed Canadian citizens. This was a uniquely Canadian tragedy.
This is why June 23 was chosen as Canada's National Day of Remembrance for Victims of Terrorism. On this day, Canadians everywhere remember not just the victims of Air India Flight 182, but all who have lost their lives and loved ones to acts of terrorism in Canada and abroad.
Today is an opportunity to reflect– how are we supporting our victims of terrorism? How can we do better? The answers are, unfortunately, that we are not supporting them adequately, and that we must do better.
Canadian victims of terrorism and mass violence have complex, dynamic needs. They require respect and recognition; physical, psychological, and practical support, often over the long term; protection, including from re-victimization and secondary victimization; access to justice; and reparations. Yet too often, they are forgotten, left to pick up the pieces on their own and with little idea how to go about doing so.
We work with victims of terrorism regularly, and they often express hurt that the government does not assist them – monetarily or otherwise. For instance, the Victims Fund, administered by Justice Canada, does not provide compensation to victims of terrorism injured prior to 2007. This means that the family members of victims who were killed in earlier attacks like 9/11 and the Air India bombing receive no compensation from the Victims Fund. Victims of these attacks that we spoke with often have had to pay for decades-worth of therapy and assistance, out of pocket. And then to add insult to injury, they are often taxed on their associated costs.
There is also a prevailing sense of frustration by many victims that they are not respected or recognized by the government, or that they are not treated fairly or equally vis-à-vis other victims' groups, or even vis-à-vis alleged perpetrators of terrorism.
For instance, though Parliament voted to label Iran's Islamic Revolutionary Guard Corps (IRGC) as a terrorist organization, the family members of those murdered by the IRGC on flight PS752 are still waiting for Ottawa to act. This is in stark contrast with the government's apparent ability to act very quickly when it took mere weeks to list the Proud Boys as a terrorist group following their involvement in the Capitol riot. Meanwhile, the IRGC remains un-listed after decades of engaging in terrorism.
Then there is unfairness and inequality between some alleged perpetrators of terrorism, and victims of terrorism. Alleged perpetrators of terrorism in some cases receive millions of dollars in compensation when their Charter rights are breached, while many victims of terrorism are still receiving nothing.
Designating a date as a National Day of Remembrance for Victims of Terrorism was important, but we must do more. Victims of terrorism and mass violence have for too long fallen through the cracks of government priority and support. It's time to do better.
Sarah Teich is an international human rights lawyer, a Senior Fellow at the Macdonald-Laurier Institute, and a legal adviser with the Canadian Coalition Against Terror (C-CAT)