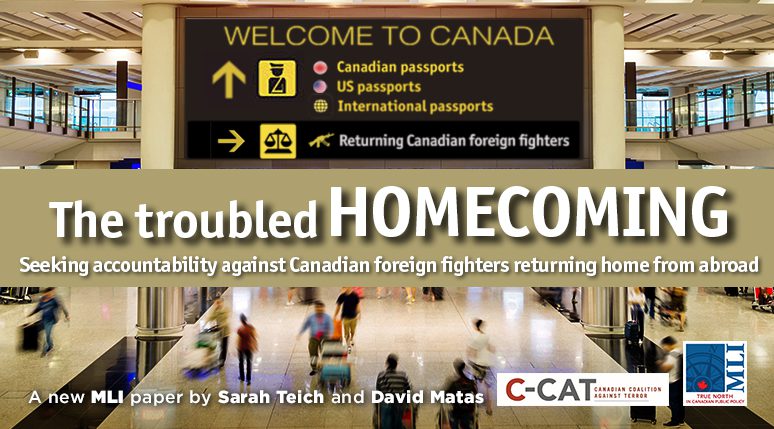 By Sarah Teich and David Matas
March 9, 2022
Executive Summary
This paper analyses the relevant criminal and civil law remedies available to governments and private parties to hold returning foreign fighters accountable for atrocity crimes and human rights abuses committed abroad. In conducting this analysis, the paper identifies certain gaps in the law and policy that Canadian lawmakers may want to consider addressing to ensure that Canadians committing serious crimes abroad do not enjoy impunity for those crimes when they return to this country.
There are four broad avenues under which returning foreign fighters may be held accountable in Canada: criminally by the state upon their return to Canada, through private criminal prosecutions, through public civil remedies, and via private civil remedies.
When fighters are prosecuted by the state, several Criminal Code provisions are relevant. Most pertinent are the offences contained in sections 83.18 and 83.181, which criminalize participation in the activities of a terrorist group if they are undertaken for the purpose of enhancing the ability of the group to commit terrorist activities. This provision is specifically extended to individuals who leave Canada, or attempt to leave Canada, to join a terrorist group for this purpose. Prosecutors should continue to use these provisions to prosecute offences committed by foreign fighters where appropriate. Beyond this, lawmakers might further consider criminalizing membership in a terrorist group (while excluding individuals who had no knowledge of the group's purpose), following the precedent of the Nuremberg Tribunal. Finally, foreign fighters may be prosecuted under Canada's Crimes Against Humanity and War Crimes Act for involvement in genocide, crimes against humanity, and war crimes.
The availability of private criminal prosecutions is limited by the fact that offences committed under Part II.1 of Canada's Criminal Code and under the Crimes Against Humanity and War Crimes Act all require that any prosecutions receive the consent of the Attorney General before proceeding. And, in fact, the Attorney General's consent for private prosecutions of returning foreign fighters may be denied arbitrarily and this decision cannot be judicially reviewed. This should be remedied with clear and public guidelines outlining when the Attorney General's consent will be granted (or withheld).
Not just criminal remedies, but certain public civil remedies are also available for the government to use in seeking redress from foreign fighters returning home. Canadian citizens may have their passports revoked, although they can no longer have their citizenships revoked. Non-citizens may be deemed inadmissible and removed from Canada. Although these public civil remedies are an important complement to the other remedies available, Canada should develop clear guidelines explaining how it intends to respond to returning foreign fighters, and those guidelines should generally prioritize criminal prosecutions over deportations or revocations, as prosecutions are often more effective at limiting impunity.
Finally, private citizens may launch civil lawsuits against returning foreign fighters using tort law and/or the Justice for Victims of Terrorism Act (JVTA). Such lawsuits can enable victims to seek redress from perpetrators directly, although there are victim eligibility restrictions under the JVTA and receiving any awarded compensation can be difficult when the perpetrator has no assets in Canada.
The paper makes several recommendations, including that Canadian lawmakers may want to consider amending Part II.1 of the Criminal Code to criminalize the act of joining a terrorist group (while excluding individuals who had no knowledge of the group's purpose, following the precedent set by the Nuremberg Tribunal); that Canada consider modernizing its treason laws as Australia has done; and that the federal government increase the budget for the Department of Justice's War Crimes Section to enable it to actively prosecute individuals for atrocity crimes.
Further, while the government can revoke a foreign fighter's passport and sometimes even deem a returning foreign fighter inadmissible to the country, Canada should generally prioritize criminal prosecutions over deportations or passport and citizenship revocations as prosecutions are more likely to ensure the fighters receive no impunity for their actions. Finally, victims can launch civil actions, including by using the Justice for Victims of Terrorism Act, to seek compensation for the damages they have suffered, and the Canadian government and/or civil society should empower and assist victims who wish to explore these options.
Several legal avenues are available to those seeking accountability from Canadians who have committed crimes or atrocities abroad and then returned to this country. However, those avenues are not always clear, and there are sometimes gaps in the relevant legislation and in policy. This paper analyses the current tools available across criminal and civil law and identifies those gaps – a first step in ensuring there is no impunity for returning foreign fighters.
Sarah Teich is a senior fellow at the Macdonald-Laurier Institute and a legal advisor to the Canadian Coalition Against Terror. David Matas is a senior fellow at the Raoul Wallenberg Centre for Human Rights.