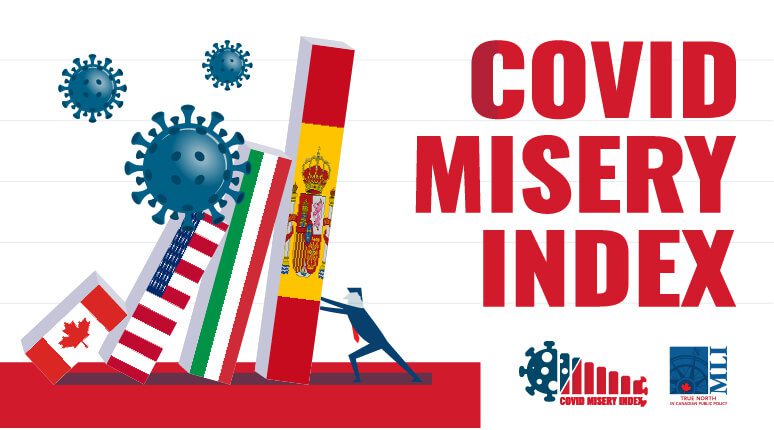 OTTAWA, ON (April 7, 2021): In the latest update of the Macdonald-Laurier Institute's COVID Misery Index, Canada remains in 11th place overall and continues to have the worst showing of all countries measured in terms of response misery. The analysis of the latest figures reveals some negative trends that are flagged by the Index.
While Canadian cases, hospitalizations, and deaths reported by provinces from COVID-19 remain low compared to peers, excess death rates in Canada are particularly worrying. Canada's rate of excess deaths for those aged 15+ places us 12th out of 15 countries* and these rates appear to be climbing.
This development adds to the concerns raised in a recent report from the Canadian Institute for Health Information (CIHI), which has found that Canada's nursing homes had the worst record for COVID-19 deaths among wealthy nations. The findings of the COVID-19 Misery Index are consistent with the CIHI report.
All this comes as countries with more effective vaccination rollouts are witnessing precisely the opposite trend.
"Canada's rate of excess deaths for those aged 85 and over is now well above that of the US."
– Richard Audas
"Canada's rate of excess deaths for those aged 85 and over is now well above that of the US," notes Richard Audas, a health statistician and the designer of the COVID Misery Index. This data suggests that the US program "is working and is allowing a resumption of normal access to health care," among those who have been vaccinated.
With respect to vaccines, Canada's approach has allowed us to marginally outpace the average among our peers in terms of first shots. However, Canada has slid even further behind average when it comes to fully vaccinating its population.
According to MLI Senior Fellow Dr. Shawn Whatley, the poor showing for Canada is an entirely predictable consequence of historical resistance to any meaningful health care reform in this country.
In a recent op-ed, Whatley argued that "our inadequate testing and slow vaccine rollout means there will be more disease, suffering and death than necessary." As he writes, a significant barrier to improving our health care system is the "complacent belief" that at least we are better than the Americans.
Yet the full picture provided by the COVID Misery Index suggests Canada is not in fact better than the United States in its comprehensive response to the pandemic. Perhaps more importantly, Canada continues to fall well behind peers like Norway, Australia, New Zealand, and Japan.
"A quickly worsening COVID outlook, new strict lockdown measures, persistently slow vaccinations, and a climbing excess death rate are all worrying stories to watch in Canada," argues Audas. "Our inefficient response has come at a steep price, and that price is likely to climb as Canada stares down yet another wave of the virus, this time with more deadly variants."
For more information, consult the links below.
Additionally, media are invited to contact:
Brett Byers
Communications and Digital Media Manager
613-482-8327 x105
brett.byers@macdonaldlaurier.ca
*This sample is partial as Japan does not provide this data. Nonetheless, other indicators suggest that Japan likely has performed better on this measure than Canada.