Former Supreme Court justice Louis LeBel, who retired from the court on Sunday, responded to a recently-released Macdonald-Laurier Institute report in an "exit interview" with the Toronto Star.
Last week MLI published a report, authored by Senior Fellow Benjamin Perrin, that declared the Supreme Court as the "Policy-Maker of the Year" for 2014.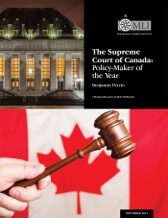 Perrin looked at 10 different cases – which included decisions that struck down Canada's prostitution laws and raised almost insurmountable barriers to Senate reform – and concluded the period between November 2013 and October 2014 was historically significant.
Speaking with the Star, LeBel "pushed back" at some of the paper's findings.
The Star also cited Perrin's paper as part of an editorial on appointing Supreme Court judges.
The editorial says the MLI report is evidence that "the Supreme Court has never been more influential in our public life".
Last week the paper received coverage in a slew of news outlets, including the Postmedia chain of papers, the Canadian Press, the Globe and Mail and with Thomson Reuters.
Perrin also authored an op-ed for the National Post that examined the type of court LeBel's replacement, Suzanne Côté, is joining.
The paper reaches three main conclusions:
The policy and legal impact of the Supreme Court of Canada's decisions of the last year are significant and likely enduring;
The Supreme Court of Canada was a remarkably united institution with consensus decisions on these significant cases being the norm, and dissenting opinions rare; and
The federal government has an abysmal record of losses on significant cases, with a clear win in just one in 10 of them.
Perrin also recommends the federal government take a long look at what contributed to its string of losses.
"If the norm becomes a united Court handing down losses to the federal government, there is a risk of increasing tensions and frustrations by the federal government where the Supreme Court of Canada is viewed as an impediment to legal and policy reforms – this would not be healthy for our democracy or the proper functioning of either body", he writes.
To read the entire "Policy-Maker of the Year" paper, click here.