The Macdonald-Laurier Institute's latest paper, which featured Senior Fellow Benjamin Perrin making the case for the Supreme Court as the "Policy-Maker of the Year" in 2014, earned attention from newspapers and broadcasters across the country.
The paper argues that 2014 was an important year for the Supreme Court – both in its impact on public policy and its relationship with the federal government.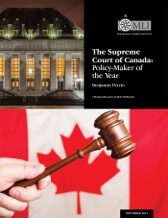 The Globe and Mail wrote a news story about the paper. So did the Ottawa Citizen, which led to coverage in Postmedia newspapers across the country.
Many of them also ran a question and answer piece that the Citizen produced based on an interview with the author.
There, Perrin argued that the federal government needs to take a hard look at what the report shows was an unusual string of losses at the Supreme Court over the past year.
"If the government is serious about the legacy of its agenda being sustained for some time, it needs to pay more attention to the role of the courts (especially lower courts) in either supporting or striking down its agenda and understanding more clearly what are the legal risks of these new laws", he says.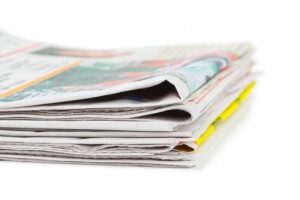 The report arrived on the same day that the government announced a new nominee for the Supreme Court. Montreal trial lawyer Suzanne Côté will join the court to replace Justice Louis LeBel, who is set to retire shortly.
Perrin's work provides some insight into the type of court that Côté will be joining. His report reviewed 10 of the most important decisions between November 2013 and October 2014.
He reached the following conclusions:
The policy and legal impact of the Supreme Court of Canada's decisions of the last year are significant and likely enduring;
The Supreme Court of Canada was a remarkably united institution with consensus decisions on these significant cases being the norm, and dissenting opinions rare; and
The federal government has an abysmal record of losses on significant cases, with a clear win in just one in 10 of them.
Many media outlets featured Perrin's report in the context of Côté's appointment.
The Canadian Press included it in a news story, while CPAC spoke with Perrin in a televised interview about the report.
CBA National Magazine and Thomson Reuters also ran news stories about the report.