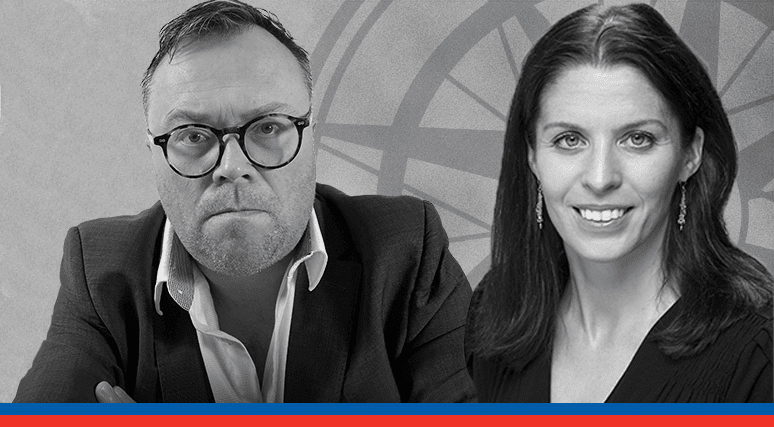 OTTAWA, ON (January 15, 2021): In the first week of 2021, we witnessed an angry mob descend upon the US Capitol, resulting in a shaken country, lives lost, and a seemingly tenuous democracy. This was a stark example of the consequences of information warfare, and a reminder of the need to counter such activities from hostile foreign states.
In the latest edition of MLI's Straight Talk, Elisabeth Braw, a fellow at the American Enterprise Institute, and MLI senior fellow Marcus Kolga discuss the need for building a resilient society to defend against information warfare. This publication is based on a transcript of a recent episode of Pod Bless Canada that features a conversation between the two experts and MLI senior fellow Balkan Devlen, as part of a project supported by the NATO Public Diplomacy Division.
Throughout the conversation, Braw and Kolga discuss how western societies are failing to address the growing information warfare in Europe and Canada.  As Braw notes, "I think the fundamental challenge that we have is the increas­ing distrust of authorities, whether it be government authorities, political parties, or news media in our societies."
"One of the things that I'm seeing is that con­spiracy theorists often try to cast doubt on mainstream media and established journalists," Kolga adds. "Before COVID, I tried in some of my lec­tures to try to humanize journalists. They're constantly accused of having biases, and quite frankly, journalists are human beings, and they do have biases, and we need to sort of acknowledge that."
As economic uncertainty grows and the COVID pandemic continues to wreak havoc, divisions and polarization have only deepened in our society. Braw and Kolga go on to discuss actionable items for decision-makers to implement in order to combat information warfare and foreign disinformation. They stress the need to coordinate a whole-of-government and whole-of-society as part of our response.
Throughout the conversation, Braw and Kolga discuss a wide range of topics including:
Collaboration with international allies and organizations such as NATO;
Looking to successful countries like Taiwan for key lessons;
Integrating the private sector in combatting information warfare; and
Building media literacy and public trust, and more.
"This deepening polarization and the enabling effect that social media has in promoting those narratives represent an existential threat to our democracy and society as we know it today. If we don't address it and work with our international allies in addressing it, we're in for real trouble," warns Kolga.
To read the full Straight Talk Q&A, click here.
***
Elisabeth Braw is a Visiting Fellow at the Ameri­can Enterprise Institute (AEI), where she focuses on deterrence against emerging forms of aggression, such as hybrid and grey zone threats.
Marcus Kolga is documentary filmmaker, writer, human rights activist. He is a senior fellow at the Macdonald-Laurier Institute and director of Disin­foWatch.org.
For more information, media are invited to contact:
Brett Byers
Communications and Digital Media Manager
613-482-8327 x105
brett.byers@macdonaldlaurier.ca