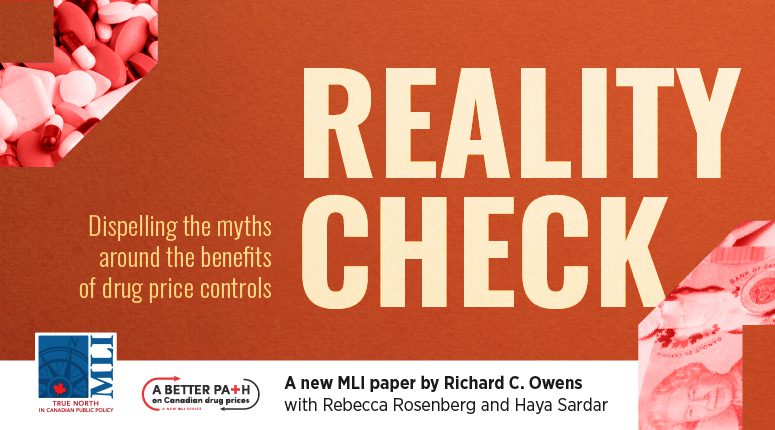 By Richard C. Owens with Rebecca Rosenberg and Haya Sardar
June 28, 2022
Executive Summary
Canada's Patented Medicine Prices Review Board (PMPRB) should be completely dismantled. Its relevance has been greatly reduced by large-scale price negotiations and its utility has been largely superseded by modern pharmaceutical science. Yet one of the PMPRB's most damaging effects is to enforce drug price controls, which is a topic that warrants a broader analysis and is the focus of this paper. This paper identifies – and debunks – 12 myths that circulate in support of drug price controls.
The first myth is at the root of most objections to pharmaceutical pricing: that a patient's "right" to have access to new medications competes with the rights of the patent owner and needs to be accommodated in pharmaceutical policy. A patented medicine belongs to its owners and may be shared on the terms chosen by them. Patients are the market. If their right to pharmaceutical inventions superseded the rights of the inventor, the industry would collapse.
It is unreasonable to expect that all new drugs could be made available to all patients at a low price. Pharmaceutical inventions are complex, risky, and expensive, and entail enormous potential liabilities and regulatory compliance costs. Studies have estimated that drug manufacturers spend from US$350 million to up to US$900 million to bring a small-molecule medicine to market. For biologics, this number rises to US$2.6 billion. This is only the tip of the iceberg and does not include the costs of failed drugs, risk, and opportunity costs.
Some observers allege that the pharmaceutical industry enjoys notoriously high-profit margins, particularly on patented drugs. Far from being too profitable, the pharmaceutical industry isn't profitable enough. Its return on capital is much lower than for many other industries like information technology, automobile production and financial services. Its profits are modest for industry risk levels. It would be in everybody's interest if the pharmaceutical industry were more profitable, because more valuable research would be funded.
Drug price controls delay or prevent access to drugs – and lead to fewer drugs being launched in that market. New medicines increase life expectancy as well as quality of life. The monetary gains can be calculated by the amount of money that is saved because of access to new drugs. According to Innovative Medicines Canada, in 2018 Canada saved $2.1 billion in costs to the health care system because of treatment through drug clinical trials. Such savings will be lost – and mortality costs will rise – if Canada's regulatory process limits or causes undue delays in access to life-saving drugs.
Canada, and in fact all countries, freeload on US drug innovation. While the US produces 22 percent of global GDP (while accounting for only 4 percent of the global population), it accounts for 44 percent of global pharmaceutical R&D expenditure. Canada relies on the US to innovate since we do not, then insists that the US consumer subsidize our access to those innovations. We are shifting the costs that we should rightfully bear onto the backs of others. All countries – Canada included – should promote and help pay their fair share for pharmaceutical innovation.
Canada's approach to pharmaceutical access has been driven more by mistake and cynicism than by compassion. It is not, after all, companies that hinder access by expecting to be paid for their services and the enormous risks they take. It is absurd to think that they should subsidize their own products. Compassion does not authorize us to steal from them in order to save our own money. Expropriation is simply a cheap, expedient way to keep one's own pocketbook shut by dipping into someone else's.
It is past time to open our eyes and accept not only the great benefits of modern pharmaceutical science, but the responsibilities and opportunities that come with meaningful collaboration within the international life sciences industrial ecosystem. Without PMPRB controls, we would have wider and quicker access to new treatments, and, over time, greater wealth from a more robust life sciences industry, stronger economy, and improved health outcomes.