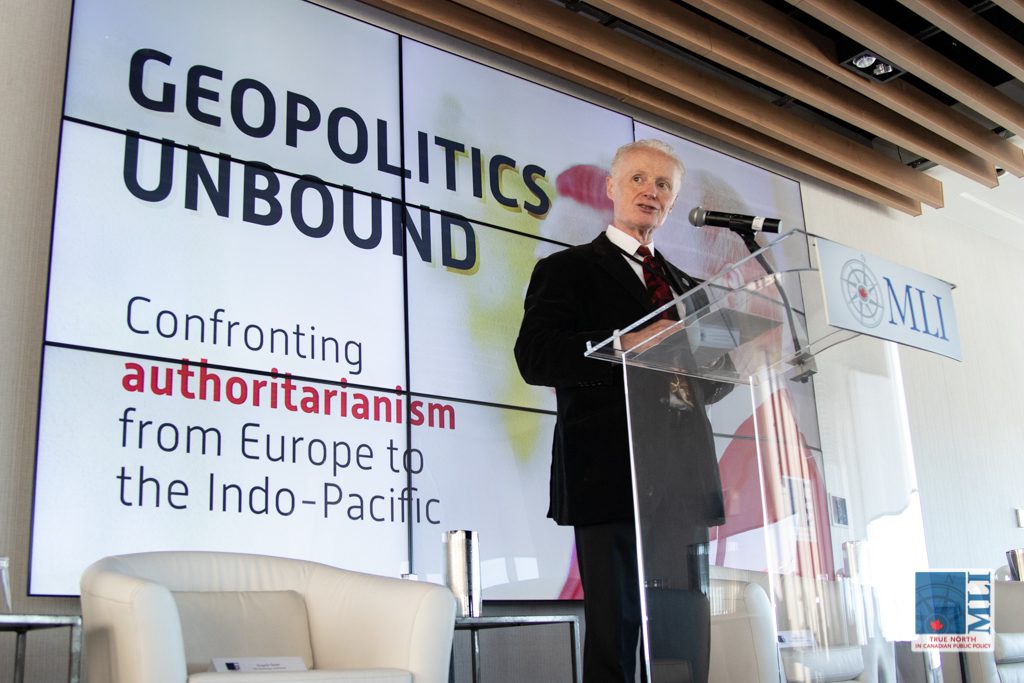 OTTAWA, ON (May 20, 2022): While failing dramatically to topple the government in Kyiv, Russia's invasion of Ukraine has succeeded in finally waking NATO to the threat posed by the Kremlin, uniting global democracies and inspiring a massive realignment of international cooperation.
That was the consensus when international experts met in Ottawa on May 18, 2022 as part of the Geopolitics Unbound conference hosted by the Macdonald-Laurier Institute, with support of the US Embassy in Ottawa.
Following opening remarks by MLI Managing Director Brian Lee Crowley, Katherine Brucker, Deputy Chief of Mission at the US Embassy, and the Hon. Rob Oliphant, Parliamentary Secretary to the Minister of Foreign Affairs, the main panel discussion on Russia's Challenge to NATO in Europe and Beyond centred around a team of Canadian and US experts.
Panellists included Angela Stent, senior nonresident fellow at the Brookings Institution; Lauren Speranza, Director of the Transatlantic Defense and Security program for the Washington-based Center for European Policy Analysis (CEPA); Michael Kimmage, Professor at the Catholic University of America; and MLI Senior Fellow Heather Exner-Pirot.
Moderated by MLI Senior Fellow Marcus Kolga, the panellists agreed that Vladimir Putin's invasion of Ukraine has had the unintended success of uniting NATO members.
While the panellists emphasized the importance of imposing sanctions on Russia, they also noted, in the face of increasingly asymmetric Russian threats, the need to re-imagine and revamp the current Euro-Atlantic security architecture.
"Whether it's political warfare, foreign malign influence, active measures, hybrid," said Speranza, "that is a toolkit that Russia is very good at using and I think is likely to turn more to that given its conventional military failures in Ukraine.
"One big challenge that … we haven't quite figured out yet is how to effectively grapple as a collective defence alliance with these below-threshold threats."
A second panel looked at How the West can respond to Russia-China in the Indo-Pacific, and was moderated by MLI Senior Fellow and Director of the Indo-Pacific Program, Jonathan Miller. Panellists included Admiral Scott Swift, former commander of the US Pacific Fleet; Una Aleksandra Bērziņa-Čerenkova, Head of Riga Stradins University China Studies Centre; Jim Przystup, Senior Fellow and Japan Chair at the Hudson Institute; and James M. Lindsay, Senior Vice President, Director of Studies, and Maurice R. Greenberg Chair at the Council of Relations.
Members of the panel remarked on the effect the Ukraine crisis has had in mobilizing Indo-Pacific democracies towards greater collaboration, particularly in reaction to China's support for Russia's invasion of Ukraine. It was noted that regional security arrangements might be bolstered by further engagement with the Atlantic Alliance. "NATO must put focus on Europe and Asia as regional conflicts show no sign of ending," said Bērziņa-Čerenkova.
The panellists agreed that the creation of a multilateral Indo-Pacific forum would be a crucial first step towards de-escalating potential conflicts, engendering dialogue, and promoting peaceful resolutions. "To have an organization that is committed fundamentally to act in a coherent, coordinated way to address all of the challenges facing the rules-based order and create a forum in which those issues can be discussed," concluded James M. Lindsay.
To see videos and photos of the event, click here.
***
For more information, media are invited to contact:
Skander Belouizdad
Communications Officer
613-482-8327 x111
skander.belouizdad@macdonaldlaurier.ca