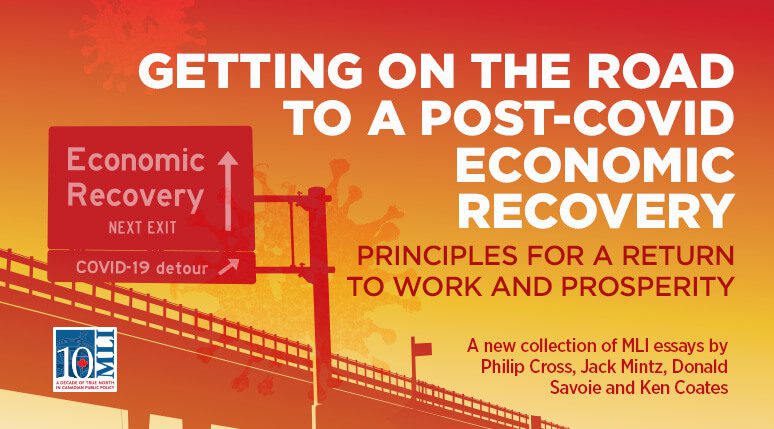 OTTAWA, ON (May 22, 2020): The COVID-19 crisis and subsequent lockdown have left Canadians facing a dark and uncertain economic future. As unemployment climbs, the bills pile up, and economic activity struggles, the decisions made in the next weeks and months will determine the trajectory of Canada's economic recovery.
In a new publication by the Macdonald-Laurier Institute titled "Getting on the Road to a Post-COVID Economic Recovery: Principles for a Return to Work and Prosperity," some of MLI's leading thinkers on economics, public policy, and governance provide a guide for policy-makers as they face a wide range of economic challenges. According to the authors, Canada's federal government should:
start thinking about the post-COVID recovery now;
focus on getting people back to work, not sweeping, costly new programs like a guaranteed annual income;
stop the self-harm and revive the Canadian energy sector;
be prepared to take some harsh medicine for its COVID-19 hangover;
adjust its climate change priorities.
In the first essay, MLI Munk Senior Fellow Philip Cross warns that the state of the economy is likely worse than most economists and policy-makers appreciate. As Cross explains, "the failure of economists to understand how fast and severely the economy is contracting implies that government spending will increase much more than anticipated, while simultaneously the loss of revenue is being under-estimated."
In this context, Cross argues that the federal government must avoid falling into the trap of expanding government programs and extending bailout packages which historically have done little to meaningfully stimulate economic growth. Moreover, Cross writes that Ottawa must be wary of policies that would favour the wealthy and exacerbate existing income inequality.
MLI Distinguished Fellow Jack Mintz also argues that the COVID-19 crisis cannot serve as an excuse to justify a radical expansion of government intervention into the economy. In his essay, Mintz calls on the federal government to refocus its efforts on getting Canadians back to work rather than allowing programs like the CERB to evolve into a long-term basic income
"As we begin to recover from this pandemic, the last form of intervention we need is to discourage people from pursuing new opportunities and jobs that will eventually become available," explains Mintz.
Furthermore, MLI Distinguished Fellow Donald Savoie notes in his essay that, with a ballooning deficit, the federal government will need to make some tough choices to keep its finances stable. However, Savoie warns that, unlike the federal deficit fighting efforts of the 1990s, Ottawa will not be able to offload responsibilities to over-indebted provinces. It will need to take a hard look at the rapid expansion of federal programs and spending over recent years.
Savoie writes that "the impact of COVID-19 is not limited to the private sector. Politicians will need to strike very difficult decisions and sell them to Canadians."
No matter how the government chooses to move forward, the recovery will need to be private sector-led. In a pair of essays, MLI Munk Senior Fellow Ken Coates urges the federal government to unshackle the energy sector in Western Canada. He adds that the economic self-harm the federal government has done to the Canadian oil-and-gas industry must stop.
Coates also says that Ottawa must adjust its climate change priorities in this context. While combatting climate change must remain a priority, this goal cannot come at the expense of a timely return to prosperity for Canadians, or add to the already crushing financial burden on individuals and businesses.
"Canada requires a climate change agenda, just not the one that it is currently following," says Coates.
Together with their their five essays, Cross, Mintz, Savoie, and Coates argue that the goal of a return to prosperity and fiscal sustainability must supersede pre-pandemic political priorities. The focus now must be on limiting the damage to government finances while getting Canadians back to work and the country back to creating wealth as quickly as possible.
To learn more about how Canada ought to pursue a post-COVID economic recovery, read the full collection of essays here.
For more information, media are invited to contact:
Brett Byers
Communications and Digital Media Manager
613-482-8327 x105
brett.byers@macdonaldlaurier.ca