The latest edition of the Macdonald-Laurier Institute's magazine examines the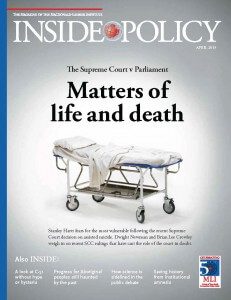 impact of physician-assisted suicide and other recent decisions from the Supreme Court of Canada
OTTAWA, April 2, 2015 – Once again, the federal government has been left to deal with the fallout from a controversial Supreme Court ruling.
So the question now becomes: What should Ottawa do on physician-assisted suicide?
In the new edition of Inside Policy, the magazine of the Macdonald-Laurier Institute, Stanley Hartt urges the government to use caution in drafting new legislation on the issue.
To read the magazine, click here.
The decision to end someone's life is as serious as they come, he says.
"When an incurably ill person is nearing inevitable death, they are extremely vulnerable to external pressures as to the timing of death", he writes.
Many people will feel pressured to ask a physician to speed their deaths. As a result, the question of a patient's competence to make a decision to end their life must be handled carefully.
MLI Managing Director Brian Lee Crowley and Senior Fellow Dwight Newman chart the long-term impact of the Court's recent turn towards judicial activism.
Also in this issue of Inside Policy: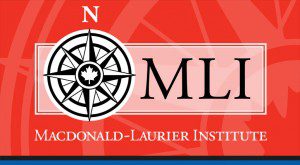 This edition of the magazine also includes the latest contributions to the most important public policy debates.
Scott Newark analyses Canada's new terrorism legislation, Malcolm Cairns reviews Canadian freight rail policy and Crowley says that all politicians are guilty of ignoring expert opinion.
***
Inside Policy, the magazine of the Macdonald-Laurier Institute, is published six times a year.
The Macdonald-Laurier Institute is the only non-partisan, independent national public policy think tank in Ottawa focusing on the full range of issues that fall under the jurisdiction of the federal government. Join us in 2015 as we celebrate our 5th anniversary.
For more information, please contact Mark Brownlee, communications manager, at 613-482-8327 x105 or email at mark.brownlee@macdonaldlaurier.ca.