Latest edition of the magazine of the Macdonald-Laurier Institute examines how to rid Canada of the internal trade barriers that weaken the economy and violate economic rights of Canadians
OTTAWA, Nov. 14 – The drawbacks of barriers to trade within Canada are numerous. Not only do they disrupt economic activity and weaken our international trade prospects, they also defy the most basic principles of Confederation.
So why, then, do these barriers continue to exist?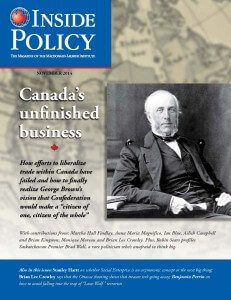 In the new edition of Inside Policy, the magazine of the Macdonald-Laurier Institute, a roster of former politicians, trade analysts and business experts tackles an issue that has plagued Canada for years.
MLI Managing Director Brian Lee Crowley argues that the time for waiting for the provinces to do the right thing has past. Ottawa should step in and create a charter of economic rights that would compel them to remove the red tape that makes doing business across provincial boundaries so difficult.
"Provinces that throw up trade barriers are thus not merely protecting local markets, but are undermining the promise of Confederation, namely that people could buy and sell goods and services and exercise their profession anywhere in the country", Crowley writes.
He quotes Father of Confederation George Brown, whose photo graces the cover of the magazine, and who said in a pro-Confederation speech in 1864 that "the proposal now before us is to thrown down all barriers between the provinces – to make a citizen of one, citizen of the whole".
Other articles on the subject include:
-Former Liberal Member of Parliament Martha Hall Findlay argues that convincing the public of the need for liberalized internal trade requires a new strategy given the political power of the vocal special interests who benefit from the status quo. Appealing to a sense of national unity hasn't worked, she says, so it's time to explain why voters should look out for their own interests.
-Former Agreement on Internal Trade executive director Anna Maria Magnifico, who from 2004 to 2012 helped implement the deal that was supposed to knock down these barriers, gives an insider's account of the squabbling that made it ineffective.
–Monique Moreau, the director of national affairs at the Canadian Federation of Independent Business, shows how red tape and regulation prevents companies from doing business across provincial boundaries.
-The Canadian Council of Chief Executives' Ailish Campbell and Brian Kingston explain how trade barriers weaken Canadian companies' international competitiveness.
-Lawyer Ian Blue argues that it's going to take a concerted effort to overhaul our backwards interprovincial trade legislation – one New Brunswick man caught up in a legal tangle over transporting beer from Quebec won't be enough.
Also in this issue: Robin Sears profiles Saskatchewan Premier Brad Wall, who has his province thinking big and who might go on to bigger things federally. There is also a column by Stanley Hartt on how Canada can change its laws to encourage investing in the social good, plus columns on the recent terrorist attacks in Canada by Brian Lee Crowley and MLI Senior Fellow Benjamin Perrin.
To read the magazine, click here.
If you'd like to buy a print copy or subscribe, click here.
To read back issues of Inside Policy, click here.
***
Inside Policy, edited by James Anderson, is published six times a year. The Macdonald-Laurier Institute is the only non-partisan, independent national public policy think tank in Ottawa focusing on the full range of issues that fall under the jurisdiction of the federal government.
For more information, please contact Mark Brownlee, communications manager, at 613-482-8327 x. 105 or email at mark.brownlee@macdonaldlaurier.ca. On Twitter @MLInstitute