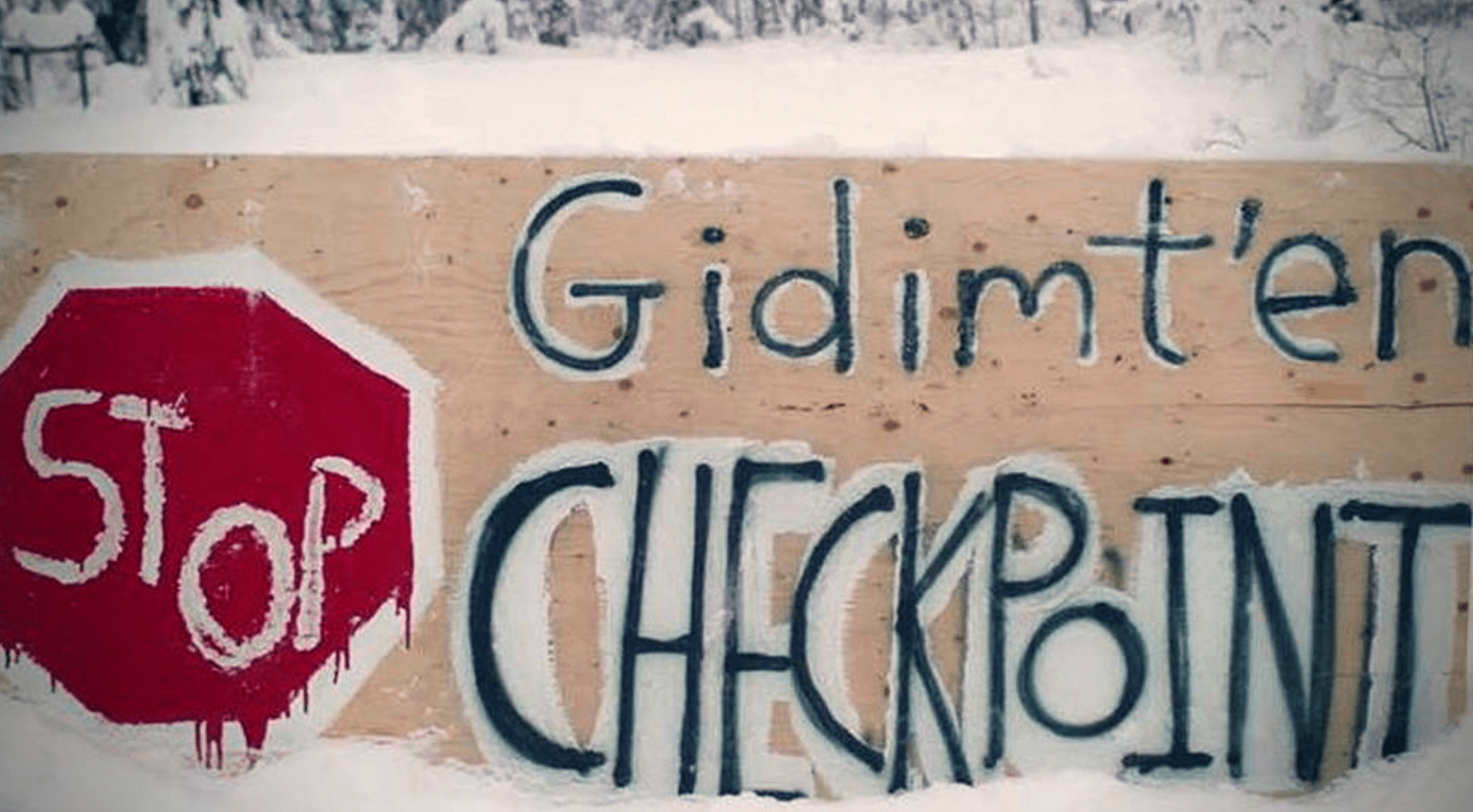 As First Nations increasingly adopt custom governance structures outside the Indian Act, they will have to clarify who speaks for the community when negotiating resource deals, and governments and companies will need to become more conversant with these new systems, writes Joseph Quesnel.
By Joseph Quesnel, January 11, 2019
Internal governance disputes within a First Nation can complicate relations with resource companies, particularly in the current politically loaded atmosphere.
Take for example the situation on the Wet'suwet'en First Nation in the northwestern central interior of British Columbia. A group of hereditary elders erected a blockade on a remote forestry road at the Unist'ot'en camp to block the proposed Coastal Gaslink gas pipeline to Kitimat, B.C. This week they reached a tentative agreement with the RCMP to comply with a B.C. Supreme Court ruling that they must allow gas workers into the site.
Wet'suwet'en First Nation is one of 20 First Nations that has signed project agreements with Coastal GasLink. In 2014, the elected First Nation leadership of Wet'suwet'en signed an LNG pipeline benefits agreement with the Province of British Columbia. The deal involves approximately $2.8 million from the province at three different stages in the project: $464,000 upon signing the agreement, $1.16 million when pipeline construction begins, and $1.16 million when the pipeline is in service.
The province's Ministry of Indigenous Relations and Reconciliation said that, "The Wet'suwet'en First Nation will also receive a yet-to-be-determined share of $10 million a year in ongoing benefits per pipeline."
Thus, there is plenty at stake for both the Wet'suwet'en people and TransCanada, as well as the entire regional economy. It is in everyone's best interest to peacefully develop these resources, save for climate change protesters who are pushing back against the Canadian oil and gas industry at every turn. As continues to happen across Canada, even at a time when more Indigenous groups are participating in the resource economy, local governance structures within First Nation communities across Canada and in B.C. complicate the process for these agreements.
The legal duty to consult and accommodate Indigenous communities requires the Crown – or in this case the private parties to which the government offloads its procedural consultation duties – to engage in good faith negotiations with First Nation governments. Each province, including B.C. has its own duty to consult policies and framework.
B.C.'s Interim Policy for Consulting First Nations (2010) speaks to this matter and the preparation phase identifies the first step as "identifying First Nations", or as the policy reads: "The preferred groups for consultation purposes may be bands or larger community groups or nations that share a common language, traditions, customs and historical experiences. Whether a band, tribal council or more than one group should be involved in the consultation will depend on the history of the particular First Nation groups, what they have previously told government about their preferred consultation relationships, and whether any agreements exist on the matter."
The B.C. government's consultation protocols establish a clear obligation on the part of the Indigenous community to share its preferred governing relationship with the Crown and the resource company proponent that is handling the procedural aspects of consultation. It is also important to note that the duty to consult also includes a duty on the part of the Indigenous side to not "frustrate" consultation. Aboriginal people, like other governments, must develop reasonable processes to allow for effective consultation.
But Indigenous groups did not establish the rules of the game and are often uncomfortable playing by the government's rules. In British Columbia, many First Nation communities maintain that they govern their lands through matrilineal clans, led by hereditary chiefs. These chiefs are responsible for specific territories, as well as their resources.
The decision by many First Nations to adopt custom election provisions allow the First Nation to remove themselves from the parts of the Indian Act dealing with elections and to re-design their governance structures, oftentimes creating their own checks and balances within their system to offset the power of the elected chief and council.
Wet'suwet'en First Nation – the community in question here – is one of more than 100 First Nations in B.C. governed by custom systems rather than Indian Act provisions. The majority of B.C. Indigenous communities are custom bands.
Although the Indigenous-driven movement away from the colonial-era Indian Act is a good development, it has raised strong differences of opinion within First Nations over governance. The differing views on elected leadership and hereditary leadership among grassroots Indigenous people affect resource development and other areas of land use policy when people on the ground differ on which governance body has responsibility over what aspect of First Nation jurisdiction.
For instance, in a recent interview with Maclean's magazine, Chief Robert Joseph, a hereditary chief of the Gwawaenuk First Nation in B.C., said that a fault line occurs because elected chiefs are seen as responsible for things only on the reserve lands, whereas hereditary chiefs could speak for the broader traditional territory.
Now, enter a resource company into this situation. Companies do not automatically assume that it is their role to adjudicate between the groups. That is mainly a First Nation matter – especially for a custom band like Wet'suwet'en – but it also involves Indigenous Affairs. What makes this situation more frustrating is that in May 2014 the elected chief and council signed a protocol agreement with the hereditary chiefs to work together for the benefit of the community.
The hereditary leaders claim they were not consulted properly, but Coastal GasLink said recently that they had more than 100 in-person meetings and many other contacts over the past five years with hereditary groups.
Arguably, the issues at stake here must be resolved first and foremost at the level of the First Nation. It is important that they present a unified front to the industry proponent, in as much as unity is ever possible on something as controversial as energy development. Also, the government could better clarify its consultation policy to make it clear what they expect from their Indigenous partners.
Moreover, the fact that an increasing number of First Nations are adopting custom systems means this issue may become more prominent over time. To boil this down to the basics, governments and companies will have to become more conversant with Indigenous governance systems, and Indigenous communities will have to decide who they want to represent them in their relations with resource sector.
Joseph Quesnel is program manager for the Macdonald-Laurier Institute's Aboriginal Canada and the Natural Resource Economy project.