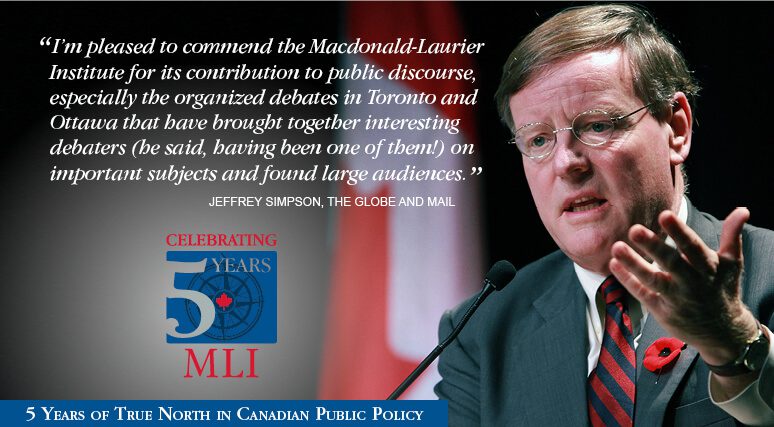 Globe and Mail national affairs columnist Jeffrey Simpson is offering his congratulations to the Macdonald-Laurier Institute as it celebrates its fifth year of thought leadership in Canada.
"I'm pleased to commend the Macdonald-Laurier Institute for its contribution to public discourse, especially the organized debates in Toronto and Ottawa that have brought together interesting debaters (he said, having been one of them!) on important subjects and found large audiences", says Simpson.
Simpson is a past participant in the Great Canadian Debates, the Macdonald-Laurier Institute's annual series of live events designed to discuss the biggest issues facing Canada. Other past participants include Postmedia columnist Andrew Coyne, former cabinet minister Lloyd Axworthy and author Tom Flanagan.
On Nov. 7, 2012 Simpson argued in favour of the motion "The War of 1812 has been over-hyped".
Throughout 2015, MLI is marking five years of true north in Canadian public policy by celebrating its unique contributions to thought leadership in Canada.
This includes our work on fixing Canadian health care, unmasking the true impact of "social licence" claims over natural resource projects, explaining why balanced budgets matter and our work on Aboriginal prosperity.
Other influential Canadians to pass along their congratulations include former prime minister Paul Martin, former New Brunswick premier Frank McKenna and McGill economics professor William Watson.
For all of the details of MLI's celebrations, check out our fifth anniversary page.