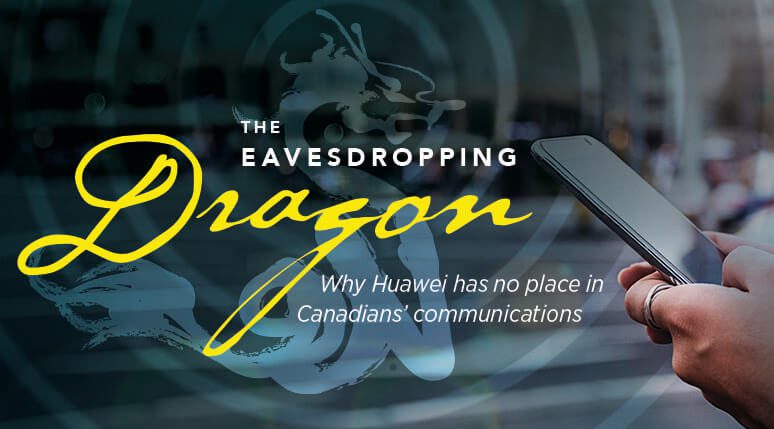 OTTAWA, ON (June 4, 2020) On June 2, 2020, two of the three chief telecom companies in Canada, Bell and Telus, announced that they would not use equipment from Chinese telecommunications giant Huawei as they begin to build their 5G (Fifth Generation) wireless network. The third major, Rogers, had already made a similar announcement. At least for the time being, then, Huawei equipment will not be used in Canada's 5G network.
This development is entirely consistent with the advice that the Macdonald-Laurier Institute's experts have been urging on both Canada's telecommunication companies and the federal government for several years now.
The principal reason for this advice is our experts' assessment that Huawei is not a bona fide private corporation, but is for all intents and purposes an instrument of the will of the Chinese Communist Party regime in Beijing and Huawei equipment represents an unacceptable threat to the security and integrity of Canadians' data and communications.
It is too early, however, to think the battle is won. Ottawa, which has final authority over Canada's national security interests, has yet to make a formal decision on Huawei's eligibility to participate in Canada's 5G, raising the possibility that Huawei equipment might yet find its way into the new network. In the judgment of MLI's experts, it remains vital for Ottawa to ban Huawei formally from this country's 5G.
This week's victory is only the latest in a series of significant policy wins against China's many attempts to make inroads into critical infrastructure development in this country. MLI experts played a leading role in informing the government's decision to block the sale of Aecon to Chinese state-owned enterprise CCCI. MLI experts also helped to inform the government's actions on China's National Offshore Oil Company's (CNOOC) proposed takeover of Nexen.
Yet more work must still be done, not least for the government to ban Huawei officially and explicitly from 5G.
China's sharp power efforts to reshape Canadian society in the Chinese Communist Party's image remain among the most pressing challenges facing policy-makers in Canada and the democratic world, and MLI's experts will continue to shape the debate on this issue.
For more information or for comment on this important issue, media are invited to contact:
Brett Byers
Communications and Digital Media Manager
613-482-8327 x105
brett.byers@macdonaldlaurier.ca