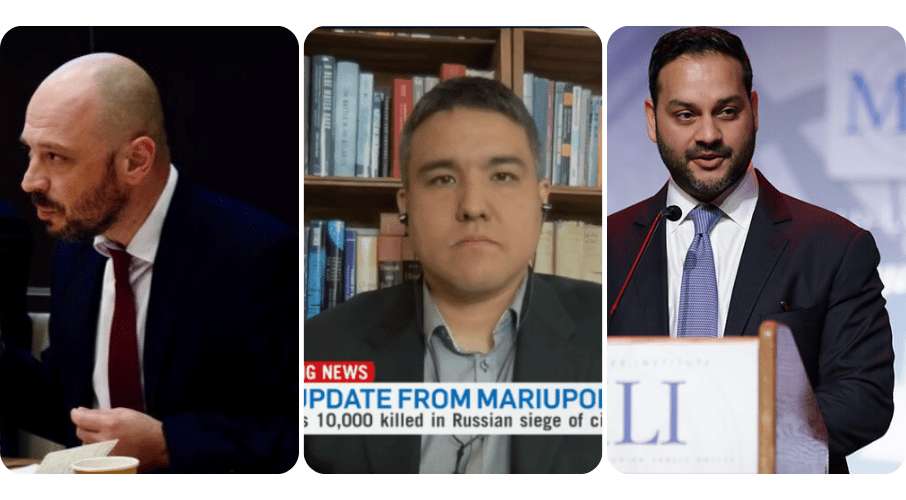 OTTAWA, ON (April 21, 2022): Here we go again! For the second time in as many months, MLI's experts have been sanctioned by the Kremlin for their work in combatting Russia's malign disinformation, calling out its illegal and brutal invasion of Ukraine, and stemming the regime's efforts to undermine our democracy.
MLI's Marcus Kolga was named on the Russian black list back in March, one of very few individuals who are not MPs to be so named. Now, the following MLI experts have been added to the sanctions list alongside politicians, media figures, and other prominent officials:
Shuvaloy Majumdar, Foreign Policy Program Director and Munk Senior Fellow
Balkan Devlen, Senior Fellow and Transatlantic Program Lead
Richard Shimooka, Senior Fellow
"It is clear the thuggish regime in Moscow believes that what the experts at MLI have to say is so important and influential that we must be sanctioned repeatedly," says MLI Managing Director Brian Lee Crowley.
"Canadians can rest assured that we are having significant influence on the opinions of policy-makers and the public across the country and around the world. And more people here at home might want to discover just why Putin thinks what we say is this important."
No other think tank in Canada has been singled out to this extent as MLI and our experts by the Kremlin. In the past, MLI has been similarly targeted by the Chinese Communist Party regime and other authoritarian actors.
In all these cases, the Institute remains undeterred; these sanctions from authoritarians are badges of honour and proof of our success.
"Slava Ukraini, and glory to all heroes who fight Vladimir Putin's imperial delusions," says Majumdar. "In the company of very honourable women and men, we can never be deterred from focusing principally on those who continue to pay the ultimate price for our freedoms – and not rest until justice is done and sovereignty is restored."
Commenting on the news, Devlen adds: "the value of our team at MLI is evident: we are second to none in Canada when it comes to our commentary on the challenges facing the transatlantic community. Putin's regime cannot tolerate our effectiveness on this file."
"I think this action is indicative of the culture of repression and fear the Russian Federation seek to impose on others" says Shimooka. "Any view even remotely contradictory to their narratives immediately become a target of retribution."
To learn more about MLI's work in promoting Canada's interests in the face of Russian aggression, read our previous release on the matter here.
For more information, media are invited to contact:
Brett Byers
Communications and Digital Media Manager
613-482-8327 x105
brett.byers@macdonaldlaurier.ca