OTTAWA, ON (July 27, 2018): Many Canadians are worried about the impact of disruptive economic and political forces on jobs and the economy. Even when the unemployment rate hit historic lows earlier this year, other economic indicators were already telling us all is not well.
Today, the Macdonald-Laurier Institute launches the first in a series of reports by prominent economist Philip Cross that dive deeper into the labour statistics to help Canadians and policy makers understand who's gaining and who's losing, and what it means for the economy as a whole.
The series follows on Cross's May 2018 report, titled "The Truth About the Unemployment Rate", which explains how  an obsessive focus on one statistic, the unemployment rate, has given Canadians a distorted view of the economy and labour market.
In this first Labour Market Report, titled "Feeling it in our wallets," Cross covers the second quarter of 2018 with a specific look at trends in wages. He finds that earnings growth has not been accelerating as some have claimed, despite low unemployment and Ontario raising the minimum wage.
Yes, the latest data from Statcan's Labour Force Survey show a year-over-year increase in wages of 3.6 percent, in keeping with a tight labour market. But this recent growth simply recoups a sharp drop in wages from the spring of 2016 to April 2017.
"What is surprising about the LFS measure of earnings was the sharp slowdown to less than 1 percent growth early in 2017, despite all the evidence that the economy was improving markedly at that time," writes Cross.
As well, more comprehensive data from the Statcan Survey of Employment, Payrolls and Hours (or, "Seph") paints a more detailed and much more worrisome picture. The Seph data show annual hourly earnings in April up only 2.2 percent from a year earlier, just keeping pace with inflation, implying no real increase in wages.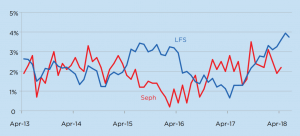 Finally, as Cross points out, weak consumer spending adds evidence that wages are not really improving.
It is particularly interesting to observe the impact of the increase in Ontario's minimum wage to $14 per hour in January. While it did raise wages in minimum-wage dominated industries, the increase had no effect on overall wages, and, according to Cross, "there is a prima facie case that higher minimum wages did hep suppress jobs in Ontario in the first half of the year while higher labour costs forced firms to raise prices."
In summary, the report finds that most measures of wage growth barely outpaced inflation in Canada, indicating that there is little to no real improvement in wage growth. What's more — again in the face of strong unemployment numbers — all the major indicators of Canada's labour market deteriorated in the first half of 2018.
Cross concludes these findings provide "another demonstration that the unemployment rate is not always a good indicator of the performance of the macroeconomy."
Traditionally, Keynesian economists argue that a too-low low unemployment rate leads to both increased wages and accelerated inflation – a phenomenon referred to as Phillips Curve. With wages remaining relatively stagnant at a time when unemployment is very low, Cross finds that there is reason to be increasingly skeptical about Phillips Curve.
Read the MLI Labour Market Report for Q2, 2018 to find out more.
For more information media are invited to contact:
Brett Byers-Lane
Communications and Digital Media Manager
613-482-8327 x105
brett.byers-lane@macdonaldlaurier.ca

***
Philip Cross is a Munk Senior Fellow with the Macdonald-Laurier Institute and former Statistics Canada Chief Economic Analyst.
The Macdonald-Laurier is the leading independent, non-partisan federal public policy think tank in Ottawa.