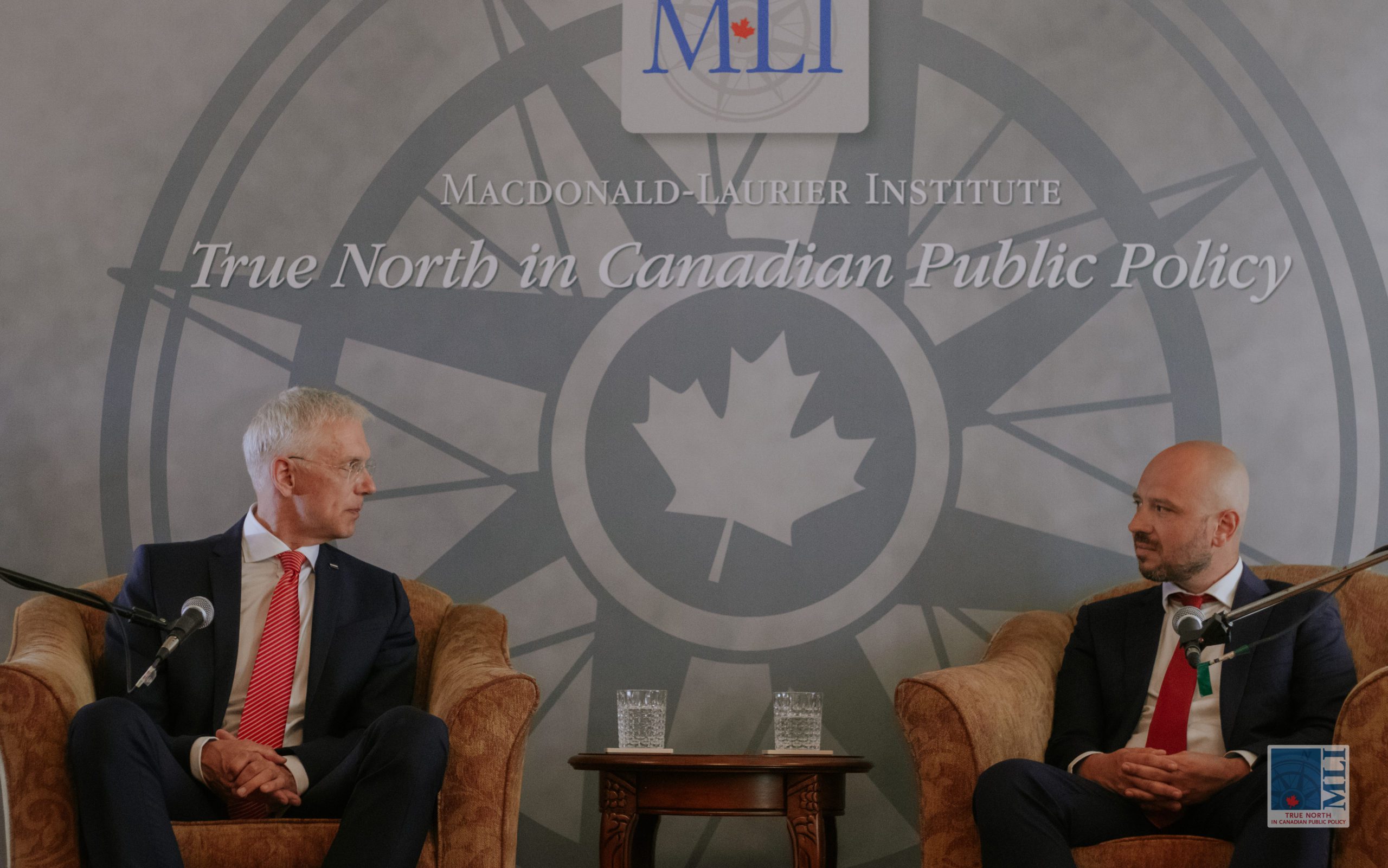 OTTAWA, ON (May 12, 2022): The Prime Minister of Latvia is encouraging Canada to help ensure Europe has energy security in light of Russia's war of aggression against Ukraine and its destabilizing impact on EU states as they move away from Russian energy sources. "Canada has a huge role to play in the future; in the fields of energy and cooperating with Europe," said the Prime Minister.
On May 11th, the Macdonald-Laurier Institute hosted Krišjānis Kariņš, Prime Minister of Latvia, at the historic Kildare House. The discussion with was moderated by MLI Senior Fellow Balkan Devlen. The key topics discussed were the Russian invasion of Ukraine and transatlantic trade between Canada and Latvia, with a focus on energy interdependence.
Speaking on Ukraine, the Prime Minister reiterated Latvia's support for Ukrainian independence, underlining the moral duty and the strategic necessity which should compel all free countries to resist Russian aggression. "The Ukrainians … are fighting our battle," said the Prime Minister. "They are fighting for the ideals of freedom, democracy, [and] the rule of law, not the rule of might."
The Prime Minister emphasized the importance of NATO cooperation, noting that NATO countries must re-evaluate their security strategy in anticipation of the upcoming NATO summit in Madrid. The Prime Minister added "We have to move from a tripwire strategy to a forward defence strategy, especially in the Baltics." He made further assurances of Latvia's commitments on defence spending and its integration into NATO command, warning that reluctance to do so would be perceived as weakness by the Putin regime.
Finally, the Prime Minister emphasized the strengthening of Canada-Latvia relations beyond close defence and security cooperation. He cited Latvia's investment in the field of electronics, and the potential for lucrative trade opportunities: "You have to look beyond the war right now, and you have to think [about] what happens in five, ten, fifteen years," he said.
He also lauded Canada's commitment to renewable energy, observing that it would yield greater opportunities for cooperation as Latvia also commits to renewable energy sources.
To see video of the discussion, click here.
For more information, media are invited to contact:
Skander Belouizdad
Communications Officer
613-482-8327 x111
skander.belouizdad@macdonaldlaurier.ca