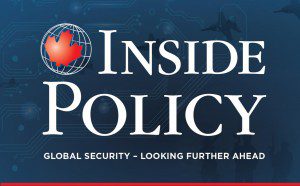 China has increased its diplomatic and economic presence in Georgia and the South Caucasus more generally, writes Michael Lambert. It may only be a matter of time before it looks to an expanded security presence too.
By Michael Lambert, Sept. 27, 2017
Much has already been written on Russia's destabilizing presence in Georgia, including in two partially recognized de facto breakaway states, Abkhazia and South Ossetia. That has provided an important obstacle to George's membership in the EU and NATO. Yet less well known has been China's emergence as an important player in Georgia – and more generally in the South Caucasus and other parts of what was once Russia's exclusive "near abroad." Indeed, China's role in founding large-scale infrastructure projects is expected to increase substantially. In 2017, Georgia even signed a free trade agreement with China that will allow them greater access to a market of more than 1.3 billion consumers.
China has also become the third largest source of annual direct foreign investment with more than US$ 195 million in 2014. The Hualing Group, a private group supported by the Chinese state, had emerged as a key stakeholder in the area. It has launched a number of different projects, such as the Tbilisi Sea Plaza – a new city next to the capital city of Tbilisi, with apartments under-construction and for sale, a trade area partly open, an international school for children, and a casino. It's impressive to see the project and witness how fast the Chinese workers based in Georgia are working, slowly changing the landscape. According to the Hualing website and the last investigation of the Black Sea Institute, the Plaza covers a territory of 150,000 square meters and will be the largest wholesale and retail trading center in the whole Caucasus around 2025.
From a trade perspective, China is looking for a partner close to Europe and Russia to export its "Made in China" products, transform them in Georgia, and then sell them to the EU under Georgia's recently signed Association Agreement. Looking at the location of Georgia, China will have the opportunity to reach a market of more than 700 million inhabitants, combining both the EU and the Commonwealth of Independent States (CIS). While keen on investing in key sectors, the Georgian government recently rebuffed Beijing's attempt to buy a bank. Tensions are rising between local inhabitants afraid to lose their identity and Chinese investors seeking Georgian properties to grow tomatoes and wine. The Georgian people are well known to be nationalist and attached to their religion, and Chinese influence is perceived as a threat in some parts of the population, especially among the elders.
Less well known has been China's emergence as an important player in Georgia – and more generally in the South Caucasus.
Georgia is not the only one looking at Chinese influence with skepticism. Even breakaway Abkhazia, located next to Russia, refused the settlement of 3,000 Chinese workers. Abkhazia is a small territory of 8,660 square kilometers with 240,000 inhabitants, trying to preserve its identity after several decades of Soviet influence. China is a potential source of income, but also an issue to preserve the identity. Through its Belt and Road Initiative (BRI), China would like to modernize the roads and the harbor, and invest in the Sukhumi airport, still being used by the Russian army. China never recognized Abkhazia, however, likely due to its own sensitivity on territorial integrity. Abkhazia is looking for new partners to export wine, tomatoes, and oranges. China has emerged as an important partner, but it is also perceived as a potential competitor to Moscow's influence in the area.
Russia has a strong footprint in the South Caucasus, but China's role as a development actor and investor has been growing exponentially in recent years. And not only with funding large infrastructures in Georgia. For example, it is also providing financial support to Armenia in the mineral sector. Looking at the current situation in Central Asia, the Export-Import Bank of China is also the largest creditor in countries like Kyrgyzstan, which is a direct participant in BRI and benefits from loans worth more than US$ 1.3 billion. Contrary to EU member states, which are interested in democracy and human rights, China doesn't care much about such norms. Also, unlike Russia, China's activities in the region are not fixated primarily on the oil and gas sector. China is investing across all sectors – from farming to high-tech industries.
The land route of China's BRI plan – the Silk Road Economic Belt – traverse South and Central Asia and the Middle East. So far, the Caucasus is not directly connected to China's BRI. Yet states that on the path of the new Silk Road are responsible for ensuring infrastructure security. And some are relying on Russia, Central Asian and Caucasian states to avoid terrorist attacks.
China doesn't seem to have any concrete wish to implement military facilities in the South Caucasus, and the question of Chinese peacekeepers in Abkhazia to avoid any future conflict is not even on the table of negotiations. Yet the growth in Chinese investments carries the potential to change things. Indeed, given the lack of stability between countries like Armenia and Azerbaijan over their conflict on Nagorno-Karabakh, the military question doesn't seem to be a fantasy anymore. For Armenia, Azerbaijan and Georgia, but also partially recognized/de facto states, China is a possible regional stabilizer. Due to the economic context and geopolitical difficulties, some states might prefer to have Chinese peacekeepers in Caucasus than another war.
The land route of China's BRI plan – the Silk Road Economic Belt – traverse South and Central Asia and the Middle East.
Tensions between China and Russia may arise on the long run, too. In 1999, Armenia acquired Chinese NORINCO WM-80 multiple-rocket system in what became the first Chinese military sale in the Caucasus, a market usually dominated by Russia. In 2013, reports surfaced of further Armenian purchases of missile artillery from China. Azerbaijan is also showing a growing interest for military equipment and training from China. The Russian products are of good quality, but the Chinese are similar and at a more affordable price. China has remained politically neutral in the dispute between Armenia and Azerbaijan so far, and even refused to back Russia during the conflict with Georgia and to recognize Abkhazia and South Ossetia. Yet, given its investments in the region and possible future military sales, it remains to be seen how long such political neutrality can last.
China's investments are impressive in numbers. But the lack of security might be an issue in the long run. So far, Beijing is relying on its partners to ensure safety in Caucasus. However, China may someday need to provide peacekeepers or settle military facilities to ensure its own interests, much as it's done in Africa. China's investment in the South Caucasus is an opportunity to reach both the EU and Russian markets, but the growing importance of trade may lead to unforeseen security issues. This is not simply an issue in the South Caucasus. Many of China's extensive infrastructure developments within its BRI umbrella are in unstable parts of the world, which could entice Beijing to play a greater security role far from its borders.
As such, China may eventually look towards ensuring safety in the area with military facilities, transforming the Caucasus into an outpost located between the European Union, Russia, and Turkey, on the border of the Black Sea where China already enjoys many partners. In fact, what happens in the Caucasus could presage greater Chinese security commitments elsewhere in Eurasia. The implications of such a possibility needs to be more seriously assessed in the capitals of Europe and North America – lest they assume China is only interested in building an economic bridge to the Europe market only to find a military outpost established on Europe's borders as well.
Michael Eric Lambert received a PhD in History of Europe & International Relations from Sorbonne University (France). He is the founder of the Black Sea Institute and is a Visegrad Fellow at the Institute of International Relations in Prague. Michael is working on soft power policies, de facto/partially recognized states in post-Soviet space, and Russia-China relations in Eastern Europe.