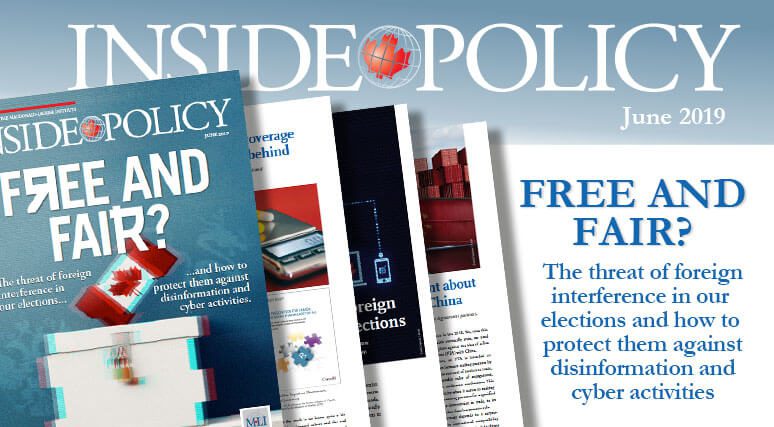 OTTAWA, ON (June 28, 2019): In our latest issue of Inside Policy, MLI's authors explore the threat posed by foreign interference in elections and what we need to do to protect our democracy. Since Canadians will be going to the polls in our upcoming federal election in October, we should be prepared for foreign interference through disinformation and cyber attacks.
Russia remains perhaps the most salient threat to our electoral process. As MLI Senior Fellow Marcus Kolga writes in our cover story, the Kremlin will likely "amplify narratives that threaten to divide Canadians, such as those which promote anti-immigration, anti-globalism, anti-pipeline on both the right and left."
"Canada's upcoming election will be targeted by foreign malign actors who will use disinformation and other active measures to polarize our national debate in an effort to create deep and perhaps permanent tears in the fabric of our society and to subvert our democracy."
Yet, while attention has rightly focused on Russia, Ottawa also needs to contend with the possibility of interference by Beijing. This possibility has become particularly acute following the arrest of Huawei CFO Meng Wanzhou in December 2018. MLI's Taipei-based Senior Fellow J. Michael Cole paints a worrisome picture of Beijing's possible interference in our cover story.
"Canada's arrest of one of its 'princesses'…seems to have convinced senior cadres in the Chinese Communist Party (CCP) of the need to teach Canada a lesson," writes Cole. "[T]he Chinese regime now has every reason to regard the upcoming elections as an opportunity to secure Meng's release and to engineer the election of a future government that is more to its liking."
The diplomatic storm between Canada and China that was triggered by Meng's arrests shows no sign of abating – a point reiterated by Senior Fellow Charles Burton. In light of that fact, Canada needs to be astute in dealing with China, which as Amy Lai reminds us is still the regime that killed thousands at Tiananmen Square.
Kolga, Gary Caroline and Chris MacLeod point to the use of targeted sanctions as a means to force China to free our political prisoners. And, as noted by Brian Lee Crowley, we should remain wary of a possible free trade agreement once this crisis finally ends.
Beyond an examination of the threat posed by foreign interference and the challenge posed by China, this issue of Inside Policy covers the full-range of public policy issues facing Canada's decision-makers, including:
Natural resources;
Indigenous autonomy and empowerment;
The innovation economy;
Pharmacare;
Intellectual property protection;
Iran's threat to the West;
Canada-India relations;
Turkey's role in NATO, and more.
Given what is sure to be a divisive Canadian election just a few months away, getting public policy right is more important than ever.
With that in mind, we hope you enjoy the latest edition of Inside Policy.