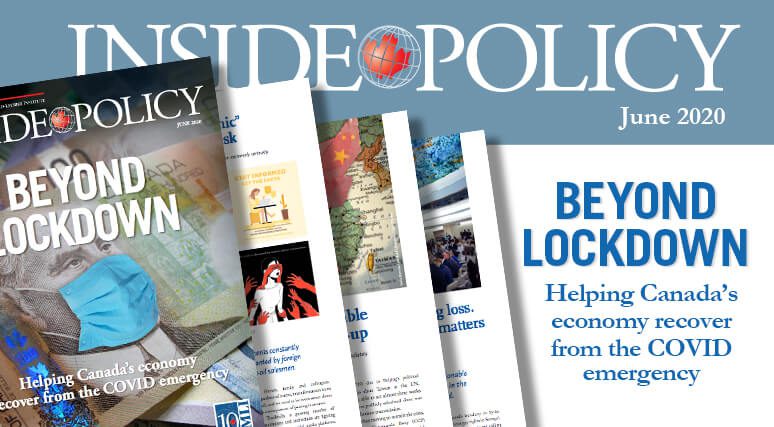 OTTAWA, ON (June 30, 2020): The COVID-19 outbreak that began in China has since spread around the world, resulting in accelerating fatalities, lockdowns, and an unprecedented economic slowdown. Only now is Canada finally moving beyond its lockdown to tentatively open up some sectors of its economy.
Reopening is going to require our continued vigilance against a possible second wave of the virus. Simply put, we cannot allow a second wave to result in another generalized lockdown, with its many different health and economic consequences. We need to better balance concerns around public health with our ongoing efforts to help Canada's economy recover from the COVID emergency.
To better understand these rapidly changing events, MLI is devoting our latest issue of Inside Policy to how Canada can best exit the lockdown. Brian Ferguson examines how we can open up our economy while safely avoiding a second wave of the virus, and Shawn Whatley looks at the lessons that we can learn from how Canada responded to COVID-19.
Jerome Gessaroli further explores the extensive financial assistance promised by government to businesses during this crisis.  Philip Cross warns about the danger of changing our society and economy after COVID-19, while Jack Mintz argues against the idea of a guaranteed basic income as it could impede returning to work.
Linda Nazareth highlights the trend of remote work as workers quickly adapt to working from home – a trend triggered by the COVID-19 crisis. And, in separate articles, Donald Savoie and Christian Leuprecht discuss the federal government's approach to governance during a time of crisis and the need for a strong, robust democratic process.
As Canada adapts to the COVID-19 era, policy-makers must also confront the global consequences. Marcus Kolga and Kate Roswell note that "disinformation from foreign actors have created an 'infodemic' about the virus." China's culpability for the virus outbreak is also the subject of articles by Cross, on one hand, and Charles Burton and Brett Byers, on the other.
In addition to our COVID coverage, this issue of Inside Policy covers the full-range of public policy issues facing Canada's decision-makers, including:
Energy market diversification
Wet'suwet'en political revitalization
Hong Kong's political future
Canada's foreign policy challenges
We hope you enjoy the latest edition of Inside Policy.
***
For more information media are invited to contact:
Brett Byers
Communications and Digital Media Manager
613-482-8327 x105
brett.byers@macdonaldlaurier.ca