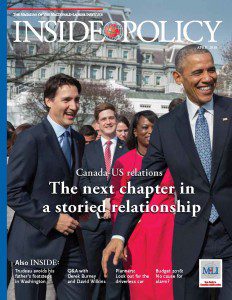 The latest edition of the Macdonald-Laurier Institute's flagship magazine examines the lasting impact of Justin Trudeau's Washington visit and US primary season for Canada-US relations
OTTAWA, April 19, 2016 – What does the future hold for the world's greatest cross-border relationship?
Outsider candidates like Democrat Bernie Sanders and Republican Donald Trump have trampled on the merits of free trade with Canada on their way to success at the ballot box. Meanwhile, a strong relationship between Canadian Prime Minister Justin Trudeau and US President Barack Obama is forming.
The April 2016 edition of Inside Policy, the magazine of the Macdonald-Laurier Institute, provides an in-depth look at the future of Canada-US relations.
To read the full version of the magazine, click here.
Sean Speer, an MLI Senior Fellow, argues in the magazine's cover story that Trudeau's recent high-profile trip to Washington was a success in establishing a strong relationship with Barack Obama and emphasizing the importance of engagement with the US. He has made a clear departure from Pierre Trudeau's US policies.
"Real leadership involves confident engagement with the United States rather than empty nationalism", writes Speer.
"Justin Trudeau's first trip to Washington passed this test".
Also in this issue:
Derek Burney and David Wilkins, former ambassadors to Washington and Ottawa respectively, detail their experiences on how to make the US-Canada relationship work for both sides;

Christopher Sands, a John Hopkins professor, examines how the anti-free trade rhetoric from U.S. primary season will impact the Canada-US relationship long-term;

Stanley Hartt explains why a Canadian outsider, such as TV personality Kevin O'Leary, is unlikely to replicate Trump's rise south of the border;

Elaine Carsley reflects on the unlikely appeal Trump's late-game conversion to Christianity holds for evalengicals.
Also in this issue: Speer responds to the odd backlash against those who are concerned about a return to federal deficit spending; cyber security expert Valarie Findlay explains how Canadian policy leaves us vulnerable to enemies online; Christian Leuprecht warns that the left should be careful about wishing for proportional representation; Philip Cross suggests that Canada's Finance Minister shouldn't have skipped the procedure for turning his heart to stone and saying no to funding demands; Brian Flemming says watch out policy makers, here comes the driverless car; Andrew Pickford and Jeff Collins explain how Canada and Australia are the perfect polar partners ; and Brian Lee Crowley offers up a more accurate name for the suddenly-popular living wage term: a tax on jobs.
***
Inside Policy, the flagship magazine of the Macdonald-Laurier Institute, is published six times a year.
The Macdonald-Laurier Institute is the only non-partisan, independent national public policy think tank in Ottawa focusing on the full range of issues that fall under the jurisdiction of the federal government.
For more information, please contact Mark Brownlee, communications manager, at 613-482-8327 x105 or email at mark.brownlee@macdonaldlaurier.ca.